Binance suspends SEPA withdrawals: Alert for users
Tue 22 Aug 2023 ▪
5
min of reading ▪ by
▪
Event
Unprecedented turbulence has just hit the crypto sphere, precisely at the heart of the Binance titan. A general alert for users: the platform is suspending its SEPA transfers. A thunderclap that resonates far beyond mere numbers and transaction codes.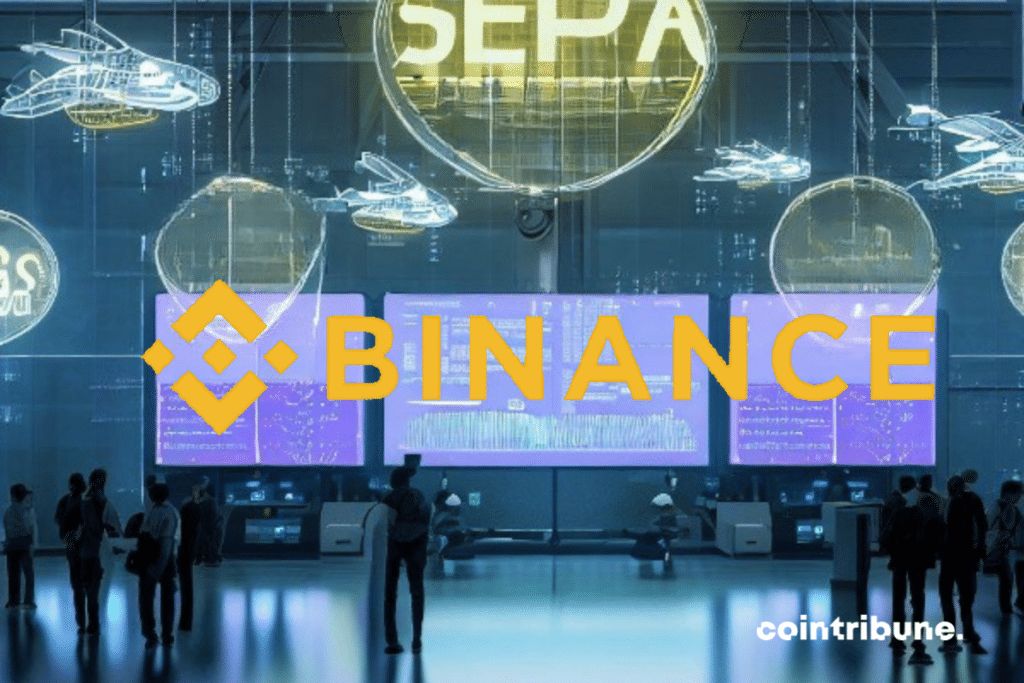 The collapse of the vital partnership between Binance and Paysafe
While nations such as France aspire to position themselves as beacons of cryptocurrency in Europe, the journey remains fraught with pitfalls. Indeed, this elevation has its share of turbulence and surprises.
The announcement shook the community: Binance revealed the imminent suspension of its SEPA credit transfers. The reason? The withdrawal of its major payment partner, Paysafe, marks a turning point. Paysafe has announced the cessation of its SEPA deposit services for Binance users.
Continuing on this shockwave, Binance Support clarified the situation:
We regret to inform you that we have temporarily suspended EUR withdrawals and deposits via SEPA. Unfortunately, our provider can no longer support these transactions. We understand the inconvenience this has caused, and we're actively working to resolve this as soon as possible.

Binance Support
A whole section of the Binance edifice seems to have been shaken, and with good reason: for many users, SEPA represented the royal road to Euro transactions.
As a result, some customers identified as intensive Paysafe users took specific action. These included the early closure of their Paysafe accounts.
This move is designed to facilitate and accelerate the refund process, ensuring that any remaining EUR/GBP funds are returned to the users concerned as quickly as possible.
But Binance is not standing still. Alternatives are already being proposed, such as the use of Visa cards or the platform's P2P service. Temporary solutions? Only time will tell. Because at the heart of this withdrawal lies a deeper problem: that of trust.
Binance sets things right: SEPA withdrawals continue until September 25
As the industry and users try to decipher the consequences of this announcement, Binance provides a crucial clarification. According to a recent tweet from their support, the first announcement that caused confusion was a mistake, and has since been removed. In a clarification, Binance support states:
The SEPA deposit and withdrawal service will continue until September 25, as originally announced.
As this date approaches, some users may occasionally be asked to provide additional information as part of normal compliance checks, which could lead to early closure of their accounts. We apologize for the inconvenience. And, we'll be rolling out alternatives for our users before then – stay tuned!

Binance clarifies SEPA withdrawal situation
This rectification underlines how even the biggest platforms can encounter communication challenges. The lesson for all: even official announcements sometimes deserve a double-check. For users, patience and caution remain the key words.
Reactions and repercussions: an ecosystem in turmoil
The echo of this decision reached the ears of John Reed Start, a recognized expert in consulting, who was quick to share his opinion. In his view, the SEC and FINRA must intervene, and even launch an investigation.
A tweet that, beyond its biting irony about Binance's lack of registration, serves as a reminder that the crypto ecosystem remains a minefield, where every decision can have far-reaching repercussions.
In this wake, many users are wondering whether the evil runs deeper, and whether this suspension heralds more storms to come.
However, for those who follow Binance closely, this situation is not unprecedented. Indeed, the platform has already faced major challenges in the past. Recently, Binance was the target of a massive hack, resulting in the liquidation of $5.5 million.
Binance's road is clearly littered with obstacles. And yet, the history of cryptocurrencies testifies to the resilience of the giants in the field. Will user confidence waver or strengthen? In this world, the ability to adapt is paramount. Let's watch with anticipation as Binance, a pillar of the sector, overcomes this challenge, just as it did in the face of the threat of liquidation.
Receive a summary of the news in the world of cryptocurrencies by subscribing to our new daily and weekly newsletter service so you don't miss any of the essentials of Cointribune!
Fasciné par le bitcoin depuis 2017, Evariste n'a cessé de se documenter sur le sujet. Si son premier intérêt s'est porté sur le trading, il essaie désormais activement d'appréhender toutes les avancées centrées sur les cryptomonnaies. En tant que rédacteur, il aspire à fournir en permanence un travail de haute qualité qui reflète l'état du secteur dans son ensemble.
DISCLAIMER
The views, thoughts, and opinions expressed in this article belong solely to the author, and should not be taken as investment advice. Do your own research before taking any investment decisions.