Bitcoin to $100k by 2024: Robert Kiyosaki warns about gold and silver
Wed 16 Aug 2023 ▪
3
min of reading ▪ by
▪
Invest
At the edge of our economic landscape, bitcoin is making waves. Robert Kiyosaki has sketched out a startling prediction for 2024 that cannot be ignored.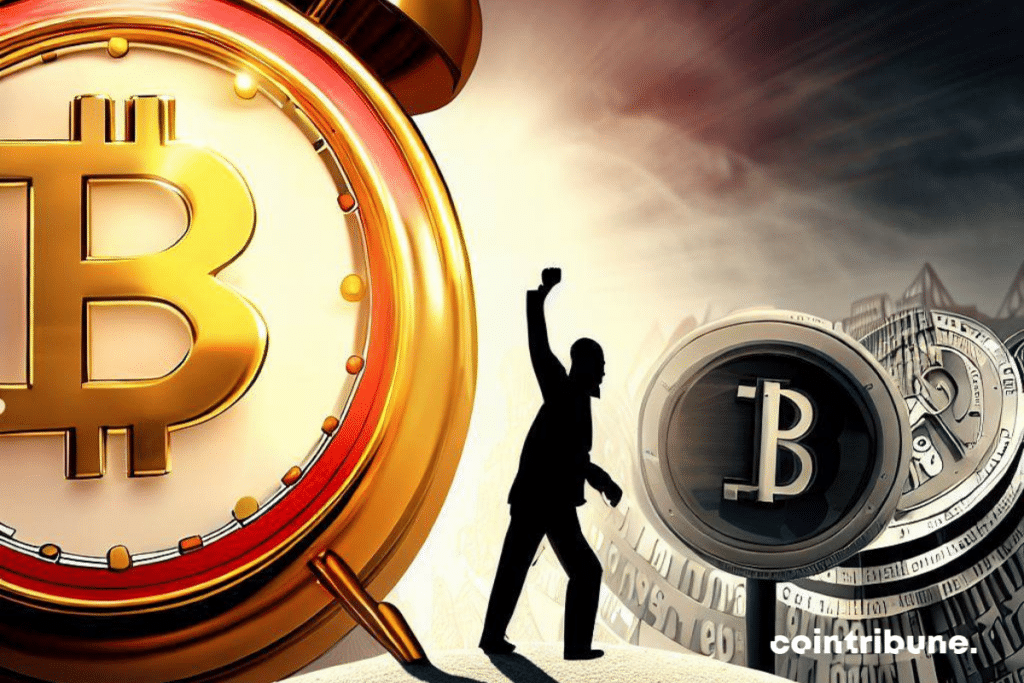 The ballet of precious metals
Bitcoin is making a name for itself in the US presidential election. This raises questions about its future role in the global economy. Its presence as a main topic shows its weight in the financial markets. It also raises issues for regulatory policies. Economic security is at stake. Finally, it could transform our traditional monetary system.
Gold and silver, described by Kiyosaki as "God's money", are immutable protagonists on the great economic stage. From the earliest days of civilization, these metals have embodied unshakeable guardians of value.
But what happens when an unexpected tenor enters the scene? Bitcoin, nicknamed "people's money", is that tenor. It turns our usual financial orchestration on its head, proposing a new, daring and sometimes cacophonous melody.
Yet behind this monetary symphony lurk dark omens. If the stock and bond markets were to stumble, gold and silver would rise like phoenixes from the ashes.
But the cataclysm of a global economy in freefall would present an even more resounding solo: gold at a million dollars, silver flirting with $75,000. A frightening concert, in which savers of US dollars would be the main victims, swept away by the tumultuous waves of oversized debt.
The shadow of debt
When counterfeit money engulfs families behind the scenes, out of the spotlight, the dark threads of global debt weave a dangerous web. Each thread represents a promise, a commitment, a debt that, if unwound, could swallow up "mom, dad and the kids".
Kiyosaki's bleak picture is a stark reminder of the fragility of our global economic fabric, where a simple cut could destroy everything.
But make no mistake. At the heart of this interpretation is a call for caution, an invitation to rethink our perspectives, embrace change, and above all, take care of each other.
Kiyosaki's hope is that his predictions are wrong, that his vision is veiled by too much caution. The curtain has not yet fallen. As we await the final act of this financial drama, one thing is certain: the world is watching, holding its breath, and hoping that, when it rises, it will be to applaud a happy ending. As for the renowned Michael Burry, star of 'The Big Short', he's not waiting and is betting decisively on the downside.
Maximize your Cointribune experience with our 'Read to Earn' program! Earn points for each article you read and gain access to exclusive rewards. Sign up now and start accruing benefits.
Fasciné par le bitcoin depuis 2017, Evariste n'a cessé de se documenter sur le sujet. Si son premier intérêt s'est porté sur le trading, il essaie désormais activement d'appréhender toutes les avancées centrées sur les cryptomonnaies. En tant que rédacteur, il aspire à fournir en permanence un travail de haute qualité qui reflète l'état du secteur dans son ensemble.
DISCLAIMER
The views, thoughts, and opinions expressed in this article belong solely to the author, and should not be taken as investment advice. Do your own research before taking any investment decisions.