Bitcoin on the edge? September 12, 2023 analysis
▪
Investissement
Bitcoin dropped by around -3% on Monday, September 11. Let's take a look at the prospects for the $BTC price.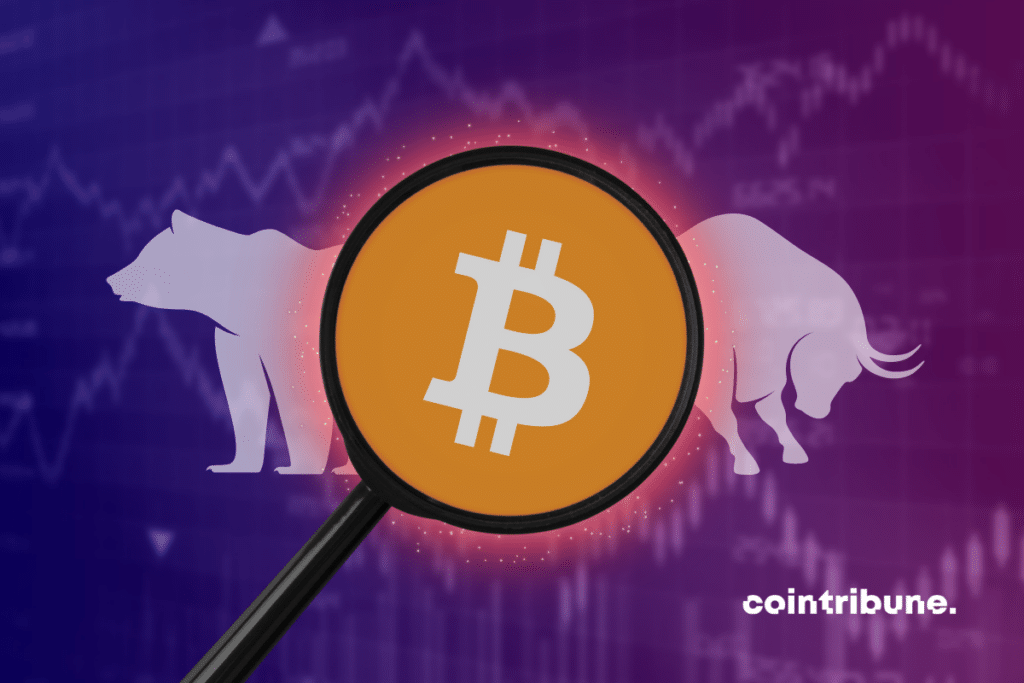 Current Bitcoin (BTC) status
At the start of this week, the Bitcoin price deviated from its price range, roughly between $25.5K and $26K. Bitcoin is now trading slightly above $25K.
This level has already proved its relevance in the past. We can see that BTC is now forming a double top, a chartist pattern suggesting a possible future decline.
The Bitcoin price is now officially forming a death cross. This suggests that Bitcoin's upward trend since the beginning of the year may be reversing. The daily RSI indicates persistent selling pressure.
However, it's worth noting that the bitcoin price is forming a bullish divergence, which may be comforting for buyers.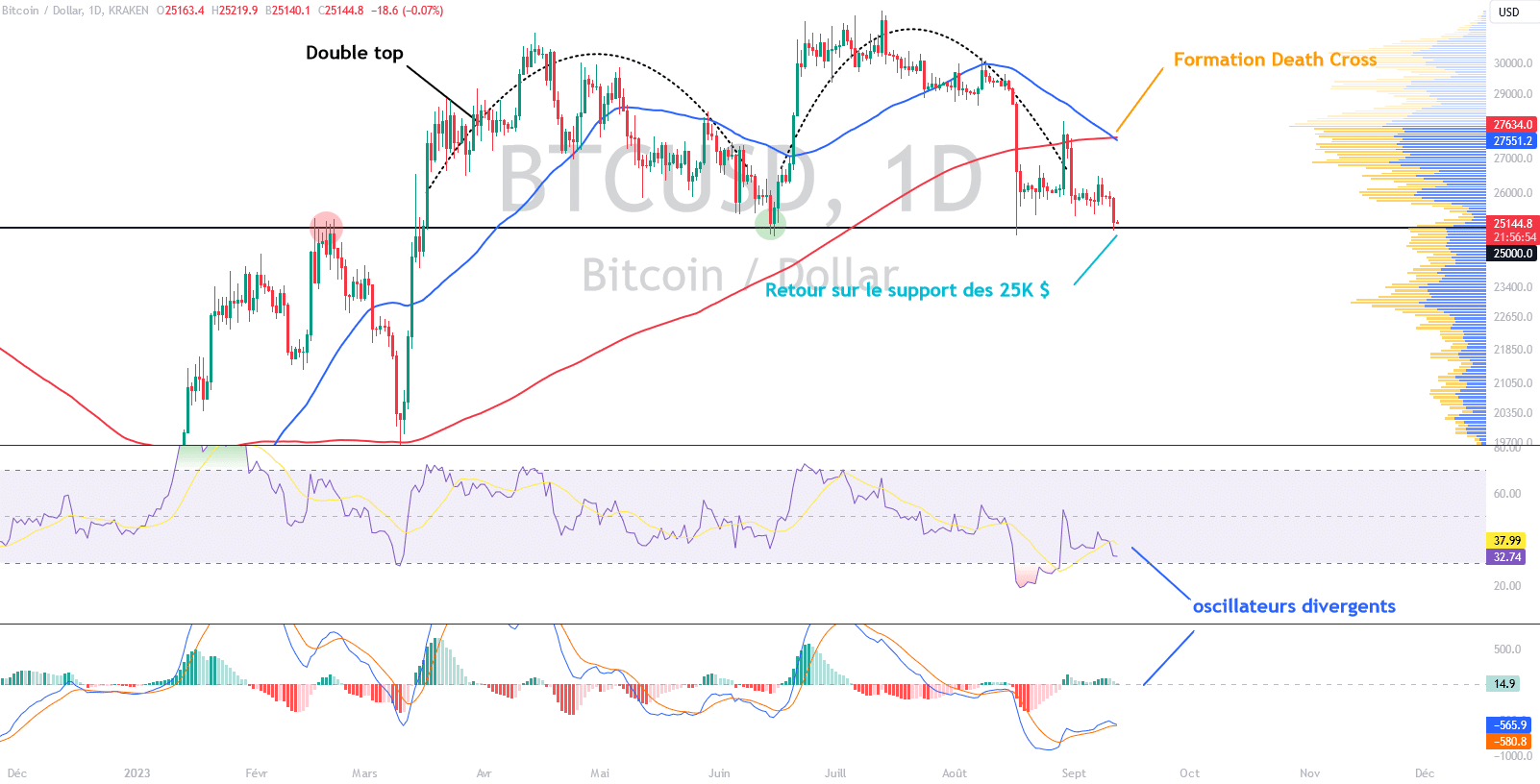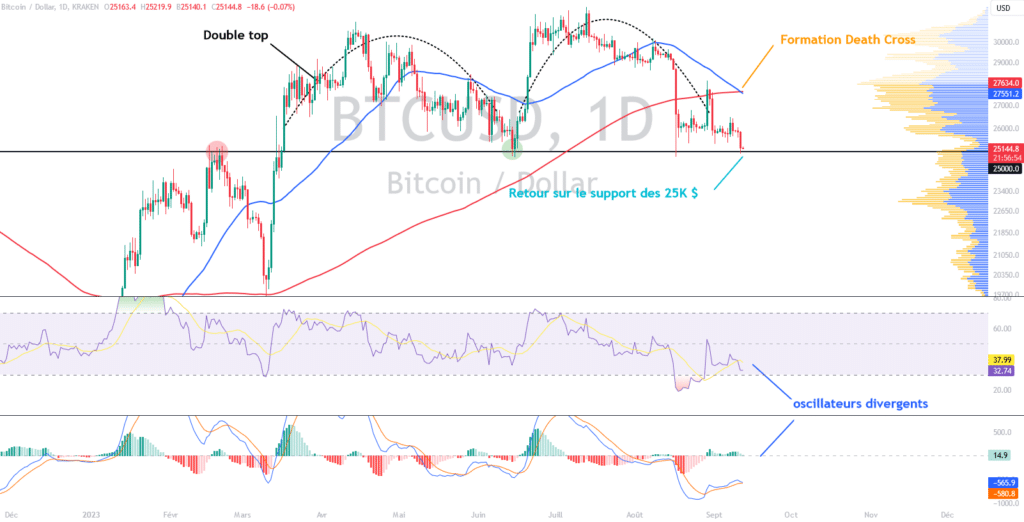 The current technical analysis was produced in collaboration with Elie FT, investor and trader with a passion for the cryptocurrency market. Now a trainer at Family Trading, a community of thousands of own-account traders active since 2017. Here you'll find live streams, educational content and mutual support around the financial markets in a warm, professional atmosphere.
Focus on derivatives (BTCUSDT)
Recent fluctuations in Bitcoin have led to the liquidation of long positions.
However, it's worth noting that Bitcoin's open interest has not been impacted – quite the contrary. In fact, it has been revised upwards.
This indicates that new positions have been opened, suggesting continued enthusiasm for the Bitcoin price at this level.
It's worth highlighting the BTC liquidity map.
The liquidity map is a trading tool that identifies price levels where market liquidity is highest. It shows the areas where numerous buy and sell orders are concentrated. This visualization helps traders spot the key market points likely to influence price fluctuations.
We can see that BTC is getting dangerously close to its key levels. This could trigger a large number of stop orders or forced liquidations. This scenario could naturally increase bitcoin's volatility in either direction.
Scenarios for the Bitcoin (BTC) price
If the Bitcoin price bounces back above $26K, we could anticipate a bullish continuation to the $27-28K level. The next resistance to consider at this stage will be the psychological threshold of $30K.
If the Bitcoin price fails to rebound above $25K, we could envisage a return to the $23-22K level. At this stage, the next support would be around $19-20K.
Conclusion
Overall, we can see that the momentum gained by bitcoin in early 2023 is waning. The $25K support level already seems to be showing its relevance. However, there's no guarantee that the latter will withstand selling pressure, especially as key levels could draw the BTC price down. We must therefore hope for a genuine return of buyers to avoid a bearish reversal. For a clear view, it will be important to observe the price's reaction on the various identifiable levels, to confirm or refute the various hypotheses made. Beware of potential fake outs and market squeezes on each of these situations. And remember that these scenarios are based solely on technical analysis. Cryptocurrency prices may evolve more or less rapidly, depending on other, more fundamental factors.
Receive a summary of the news in the world of cryptocurrencies by subscribing to our new daily and weekly newsletter service so you don't miss any of the essentials of Cointribune!
Family Trading est une Communauté de traders a compte propre active depuis 2017 offrant Lives, contenus éducatifs et entraides autour des marchés financiers dont celui des cryptomonnaies avec à ses côtés Elie FT, investisseur et trader de passion sur le marché crypto.
Disclaimer:
The contents and products mentioned on this page are in no way endorsed by Cointribune and should not be construed as its responsibility.
Cointribune strives to provide readers with all relevant information available, but cannot guarantee its accuracy or completeness. Readers are urged to make their own inquiries before taking any action with respect to the company, and to assume full responsibility for their decisions. This article does not constitute investment advice or an offer or invitation to purchase any products or services.
Investing in digital financial assets involves risks.
Read more