Friend.tech, the crypto social network that's outperforming Bitcoin
Tue 22 Aug 2023 ▪
4
min of reading ▪ by
▪
Tokenization
Barely launched, Friend.tech is setting new records. In just 24 hours, the decentralized social networking platform has generated 1.12 million fees. These statistics are beyond all comprehension: they surpass those of Uniswap and the Bitcoin network.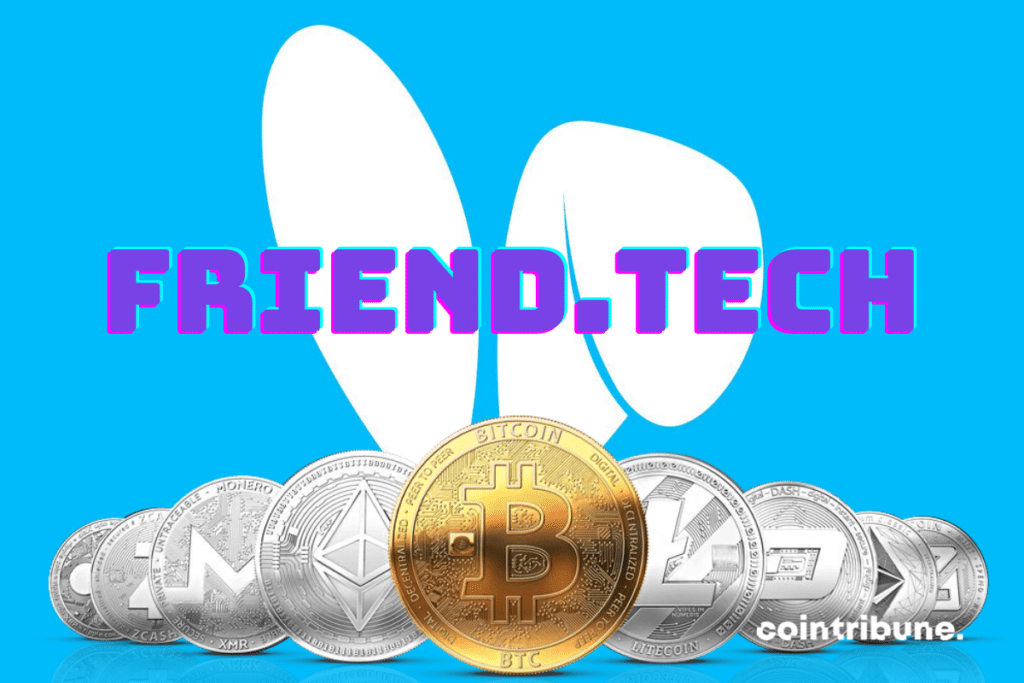 Friend.tech, unrivalled performance in 10 days
Base, Coinbase's Layer 2 Ethereum blockchain, may attract the interest of the malicious, such as scammers and crypto hackers, but it also attracts promoters of novel crypto projects.
The deployment of Friend.tech on this decentralized network proves the point.
This tweet announces the official activation of the beta version of the decentralized social network or DeSo, Friend.tech.
According to Cointelegraph, this DeSo allows users to trade (buy and sell) shares of connections to their social network. In other words, any crypto investor registered on Friend.tech will be able to send private messages to a shareholder. And this is part of a process of tokenization of social networks.
10 days after the launch of Friend.tech, crypto analysts have taken a look at this intriguing phenomenon. DefiLlama's stats have enough to blow them away:
1.2 million in fees in a single day;
2.8 million in fees in ten days;
818,620 in total revenue for Friend.tech;
650,000 transactions recorded on the social platform ;
60,000 unique crypto traders.
Friend.tech is said to have been developed by pseudo-developer Racer, already the author of social networks such as Stealcam and TweetDAO. His goal with Friend.tech is to attract the most followed crypto influencers in search of royalties on trading fees.
In addition, Web3 project developers looking to strengthen their relationships with venture capitalists and big names in the crypto-sphere are invited to join Racer's DeSo platform.
What makes this crypto project interesting?
In his Twitter thread, the Talk Markets founder also speaks of the limits of the Friend.tech developers' approach. He believes that share prices will rise in line with the increase in the volume of share sales.
As a result, there will be a proliferation of small or – at the very least – alternative groups.
He also pointed out that the decrease in the number of shares outstanding would increase the U.S.-dollar value of the spread (the room owner's profits). So, this approach only benefits the crypto influencer backed by Friend.tech. Every share sold by the latter has a negative impact on the percentage of other investors.
In other words, users can choose to join certain groups, and at the same time earn a share in said group by paying the base price. This is how participation fees are managed. By leaving the same group, they can part with the shares they initially acquired.
Friend.tech, which was able to dethrone the Bitcoin network, Uniswap and MakerDAO, will no longer fly under the radar of crypto-enthusiasts. Those with an interest in Social Finance (SocialFi) are in for a treat after this discovery.
Receive a summary of the news in the world of cryptocurrencies by subscribing to our new daily and weekly newsletter service so you don't miss any of the essentials of Cointribune!
La révolution blockchain et crypto est en marche ! Et le jour où les impacts se feront ressentir sur l'économie la plus vulnérable de ce Monde, contre toute espérance, je dirai que j'y étais pour quelque chose
DISCLAIMER
The views, thoughts, and opinions expressed in this article belong solely to the author, and should not be taken as investment advice. Do your own research before taking any investment decisions.