U.S. Lawmakers Push the SEC to Approve Spot Bitcoin ETF
Wed 27 Sep 2023 ▪
3
min of reading ▪ by
▪
Crypto regulation
In a climate of heightened anticipation, the crypto community eagerly awaits the SEC's verdict on Bitcoin spot ETFs. Several U.S. lawmakers, recognizing the significance of the matter, are actively urging the SEC to approve these ETFs without further delay.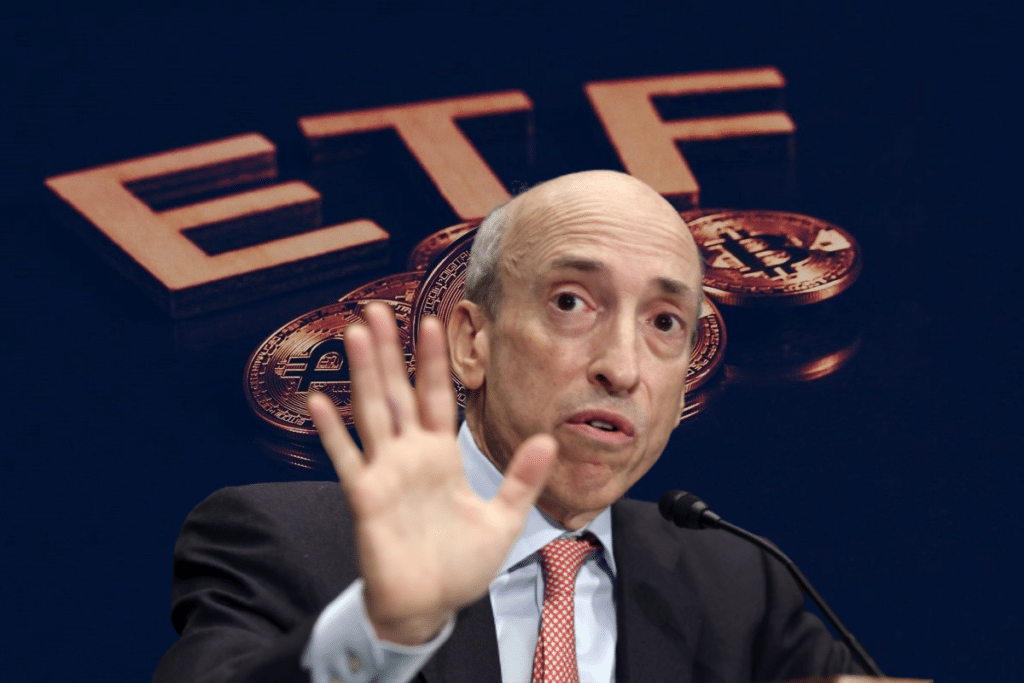 A Bipartisan Call for Spot Bitcoin ETF Approval
With the growing global demand for cryptocurrencies, the approval of a Spot Bitcoin ETF in the United States could mark a major turning point.
Facing the SEC's reluctance, influential members of the House Financial Services Committee are raising their voices. Four of them, including Representative Tom Emmer, have sent a letter to Gary Gensler, SEC Chairman, advocating for Bitcoin ETFs.
This move reflects an increased recognition of Bitcoin's legitimacy in financial and political circles. Legislators have emphasized the urgency of this approval, stating that the SEC's current position is "unsustainable in the future."
"The SEC's current posture is untenable moving forward," said the letter from Reps. Mike Flood (R-Neb.), Tom Emmer (R-Minn.), Wiley Nickel (D-N.C.) and Ritchie Torres (D-N.Y.). "Following the Court of Appeals' decision, there is no reason to continue to deny such applications under inconsistent and discriminatory standards."
This political pressure comes after the SEC lost a legal battle against Grayscale regarding the rejection of its Bitcoin ETF application. Such a legal context highlights the need for the SEC to reconsider its position, deemed "arbitrary and capricious" by the U.S. Court of Appeals.
The Significance of Approval
The approval of a Spot Bitcoin ETF represents much more than a mere issue for applicant companies like Fidelity, BlackRock's iShares, and Grayscale Investments. It also symbolizes a significant advancement for investors and the cryptocurrency market in general.
ETFs offer simplicity and accessibility, enabling broader adoption of Bitcoin not only in the United States but also globally.
In the current geopolitical context, where digital currency gains legitimacy and Bitcoin adoption progresses, the SEC's decision could have significant repercussions. It would send a strong signal to international financial markets and could influence the stance of other regulators worldwide.
The pressure exerted by U.S. lawmakers for Bitcoin Spot ETF approval marks a pivotal moment for crypto and global finance. The outcome of this initiative could not only reshape the financial market structure but also redefine Bitcoin's role on a global scale. In light of these developments, the future of Bitcoin and cryptocurrencies appears more promising than ever.
Maximize your Cointribune experience with our 'Read to Earn' program! Earn points for each article you read and gain access to exclusive rewards. Sign up now and start accruing benefits.
Passionné par le Bitcoin, j'aime explorer les méandres de la blockchain et des cryptos et je partage mes découvertes avec la communauté. Mon rêve est de vivre dans un monde où la vie privée et la liberté financière sont garanties pour tous, et je crois fermement que Bitcoin est l'outil qui peut rendre cela possible.
DISCLAIMER
The views, thoughts, and opinions expressed in this article belong solely to the author, and should not be taken as investment advice. Do your own research before taking any investment decisions.