Muslim Coins (MUSC) to be listed on Probit 1st November
Wed 29 Sep 2021 ▪ 14h00 ▪
5
min read — by
The Muslim Coins project will soon be listed on the Probit international exchange. Its aim is to deploy its MUSC cryptocurrency for use around the world, focusing particularly on the Islamic financial world.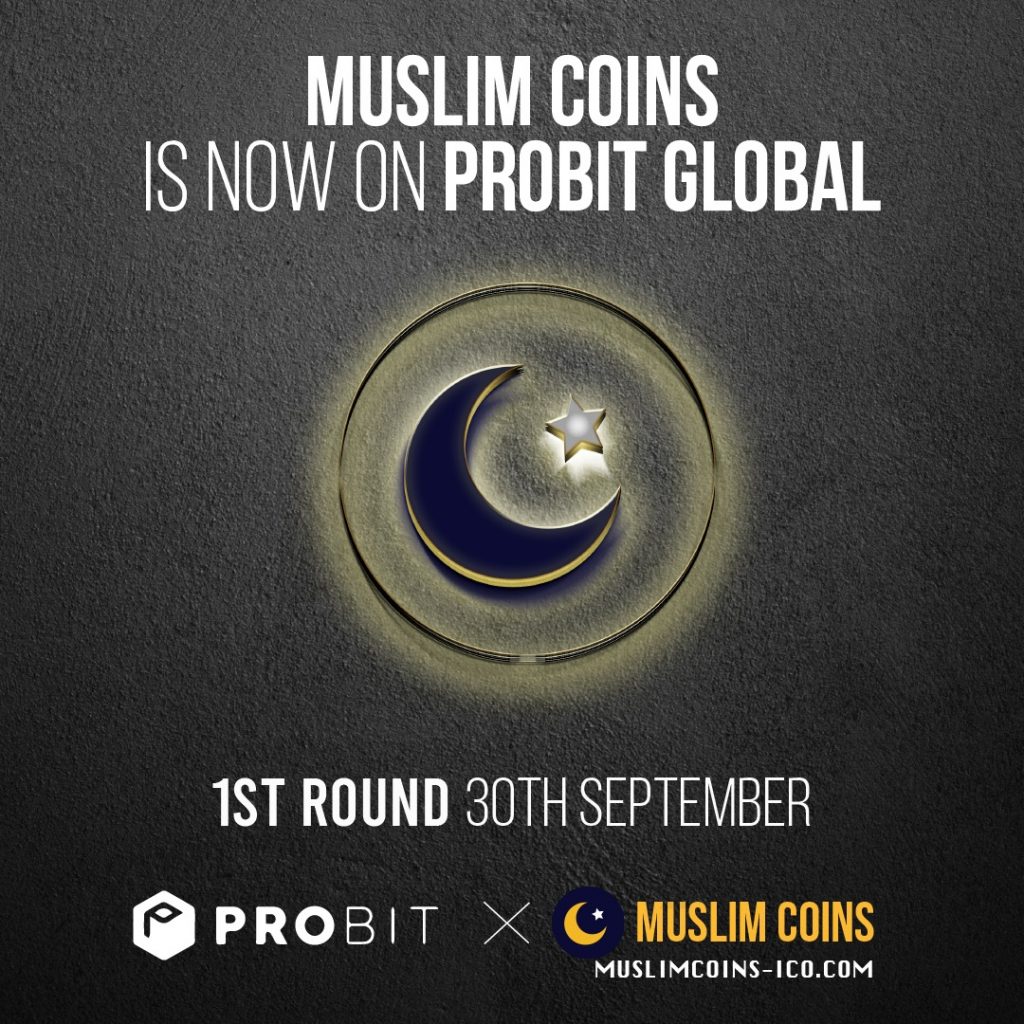 Note: This article is brought to you by Muslim Coins. Cryptocurrency investments carry an inherent risk. Do your own research and never invest more than you can afford to lose. This article does not constitute an incentive to invest.
The project is currently preparing to launch its IEO on the same platform, on 30th September. So, if you're reading this article, there still could be time to participate in the IEO. Now, let's move on to the listing details.
What you need to know about the listing
Available at 0.035 USDT during presale and then 0.04 USDT at the moment of IEO, the MUSC token will be listed on the Probit exchange on 1st November for 0.05 USDT. Thus, all the users of the platform are now able to purchase and sell MUSC tokens at the price of 0.04 USDT, by participating in the IEO, and then will have to pay the amount set after the listing.
Immediately after the event, Muslim Coins intends to list its token on the Pancakeswap decentralised exchange. Thereby, MUSC will be accessible to as many people as possible everywhere in the world, whilst the necessary amount of liquidity will be provided to allow for seamless exchange of value.
Muslim Coins' ambitions
The Muslim world is a community consisting of 1.8 billion people living on the planet and, according to the World Bank, their number will reach 2.3 billion by 2030-2040. From Algeria to Indonesia, from Kazakhstan to Tanzania, MUSC intends to establish itself as a cryptocurrency that enables exchanging it both locally and internationally, while remaining available to everyone, regardless of origin, faith or income, as long as they intend to use it in good faith. All of this is made possible thanks to Binance's secure technology and its BEP-20 standard which lie at the basis of the MUSC cryptocurrency and make it impossible to forge these digital assets, nor to manipulate their quantity and value.
Furthermore, the Muslim Coins project includes a 2% tax on transactions that will be carried out on decentralised exchanges. This tax will be used to pay Zakat, one of the Five Pillars of Islam, which aims to redistribute wealth to help those in need. Thus, the funds raised for Zakat will be donated to such recognised charities as the International Red Cross and Red Crescent Movement, or Muslim Aid in particular, and will allow Muslim users to fulfill their moral duty and let others do good deeds in order to help those most in need.
Finally, after listing, the project's roadmap, drawn up by an experienced team and which we have presented in our article introducing Muslim Coins, suggests the recruitment of a dedicated technical team that will handle the exclusive task of developing and deploying a wallet that will let you store and exchange MUSC tokens. A credit card is also on the horizon, allowing cashback and Zakat payments. Its long-term goal will be to simplify transactions and encourage the establishment of legal businesses.
A great opportunity to join a promising project
To conclude, the Muslim Coins project has enormous potential to introduce a cryptocurrency that will be at the heart of daily life, especially in the Muslim world. You have a marvelous chance to join the project early on Probit or Pancakeswap! Until then, you can still participate in the ongoing IEO currently running on Probit.
Recevez un condensé de l'actualité dans le monde des cryptomonnaies en vous abonnant à notre nouveau service de newsletter quotidienne et hebdomadaire pour ne rien manquer de l'essentiel Cointribune !
Derrière la signature générique « Rédaction CT » se trouvent de jeunes journalistes et des auteurs aux profils particuliers qui souhaitent garder l'anonymat car impliqués dans l'écosystème avec certaines obligations.
DISCLAIMER
The views, thoughts, and opinions expressed in this article belong solely to the author, and should not be taken as investment advice. Do your own research before taking any investment decisions.