NFT scams: These high school students became rich overnight
Tue 20 Jun 2023 ▪
4
min of reading ▪ by
Getting informed
▪
They're in high school, but are already as rich as Croesus. How did they achieve this feat? By using unorthodox techniques such as phishing-based NFT scams. Currently, several million dollars have found their way into their hands. You'll never guess how they're squandering their ill-gotten gains.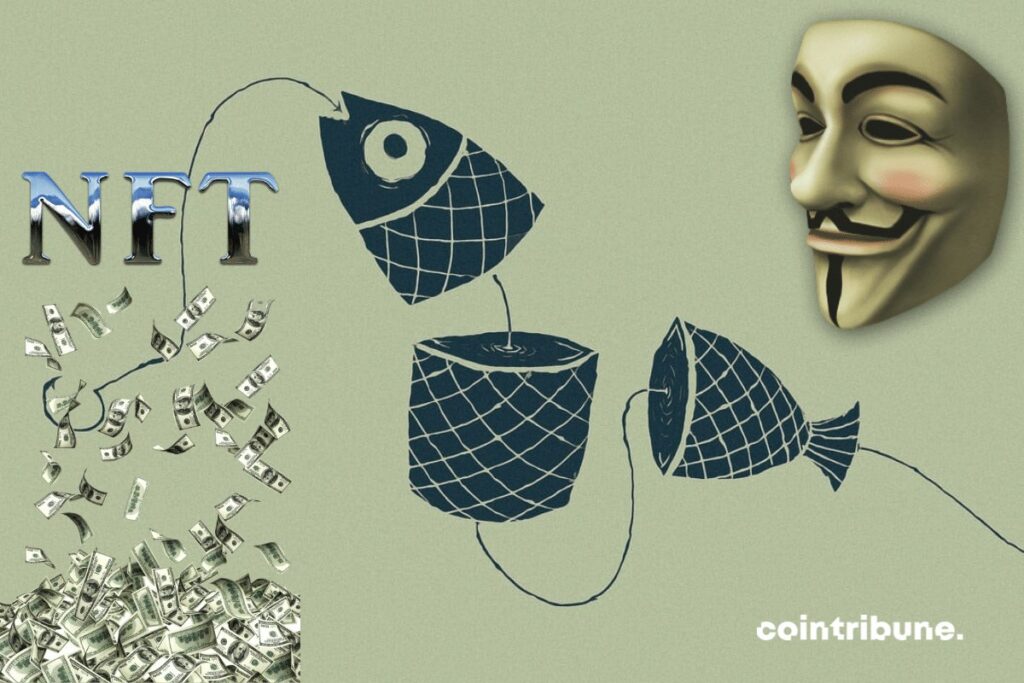 Very young NFT scammers
The arrest of the PlugWalkJoe gang has made it clear that Bitcoin and NFT scams have already conquered the hearts of young people. As for NFT scammers, their numbers continue to grow, according to The Block.
Reporting statistics on PeckShield, this crypto-blockchain media outlet pointed out that, overall :
NFT scammers were able to steal NFTs and tokens worth around $73 million;
around 32,000 wallets were mined in just 9 months;
around 900 Discord servers were affected.
As for the victims, they range from well-known companies like Orbiter France, Flare, Evmos, LiFi, etc., to crypto wallets like Zerion and celebrities like Steve Aoki.
According to security researcher Plum:
"95% of them are under 18 and still in high school. I've personally spoken to several of them and I know they're still at school. I've seen photos and videos of several of them in their schools. They talk about their teachers, the fact that they're failing their classes or that they have to do their homework".
How did they manage to achieve such feats?
The heavy toll is the result of evil deeds on Telegram, Discord and Twitter. In most cases, young NFT scammers contact developers under false identities. Once they've gained their trust, the latter allow them to sell drainers (a set of codes to be integrated into a website). In return, the scammers promise to pass on 20-30% of revenues to the developer-sellers.
Unfortunately, this transfer heralded the beginning of the developer's misadventures. Orbiter France suffered the consequences. Last May, the company's Discord moderators were contacted by a fake crypto journalist. All he asked was to fill in a form occasionally.
Don't be fooled into thinking that his NFT scammers are uncommon. Recently, PeckShield has mentioned the existence of:
Monkey (2,200 NFTs stolen, worth over $15 million);
Venom (2,000 NFTs drained and over 15,000 victims);
BlockDev (which stole $14,000 from Venom);
Pink;
Inferno;
Pussy.
How do they spend the loot earned from NFT scams?
"They buy a laptop, phones, shoes and spend huge amounts of money on Roblox. Most of them play. This allows them to buy the coolest gear for their Roblox avatar, video games, skins and stuff like that," says Plum.
Online poker betting, which Drake is used to doing on Stake.com, is also one of their hobbies.
Receive a summary of the news in the world of cryptocurrencies by subscribing to our new daily and weekly newsletter service so you don't miss any of the essentials of Cointribune!
La révolution blockchain et crypto est en marche ! Et le jour où les impacts se feront ressentir sur l'économie la plus vulnérable de ce Monde, contre toute espérance, je dirai que j'y étais pour quelque chose
DISCLAIMER
The views, thoughts, and opinions expressed in this article belong solely to the author, and should not be taken as investment advice. Do your own research before taking any investment decisions.