Robert Kiyosaki predicts dollar collapse and bitcoin boom
Tue 18 Jul 2023 ▪
3
min of reading ▪ by
▪
Trading
Thunder rumbles on the economic horizon. Robert Kiyosaki paints a bleak picture of the future of the US dollar. At the heart of his prognosis is the bold prediction of a "giant crash" that would mark the agony of fiat currency.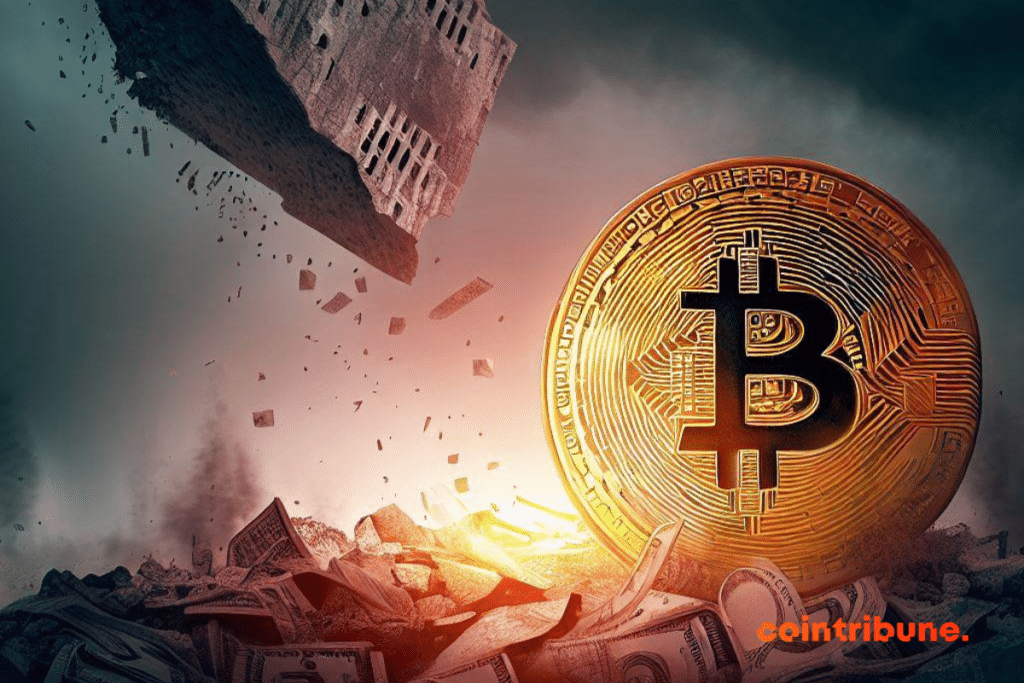 Kiyosaki's alarms: the twilight of the dollar
Following his audacious prophecy of a Bitcoin reaching $120,000, the eminent author of "Rich Dad Poor Dad", Robert Kiyosaki, sparked much discussion. But he's not stopping there. Continuing to make waves, he stands out as a powerful voice in the financial arena.
Kiyosaki has tirelessly warned of a catastrophic fall in the dollar, calling it a "fake" currency. The voice of the author, whose book has been translated into over 51 languages and sold more than 32 million copies, resonates like a clarion call in the economic tumult. His warnings take on added weight in view of the possible creation of a common currency by the BRICS economic bloc, which could be backed by gold.
Via Twitter, Robert Kiyosaki recently issued a stark warning: Giant Crash Ahead. This ominous prediction seems to correspond to an emerging trend. The threat of inflation is growing, with trillions of US dollars about to "come home".
The rise of bitcoin: the solid alternative
In the midst of this desolate scenario, Kiyosaki sees a glimmer of hope in gold, silver and especially bitcoin. The latter, which he sees as "the people's money", seems destined to become a safe haven in the "unstable times" ahead.
This advice comes against the backdrop of the elimination of the "debt ceiling", which led to a surge in the stock market. Yet, according to Kiyosaki, this has resulted in the impoverishment of America, while only the rich continue to prosper.
While the economic future seems uncertain, Kiyosaki's predictions highlight a number of concerns. In particular, they underline the need to reflect on the role of fiat currency in our society. The emergence of cryptocurrencies could well represent a major financial revolution, while the supremacy of the dollar is gradually being eroded.
Receive a summary of the news in the world of cryptocurrencies by subscribing to our new daily and weekly newsletter service so you don't miss any of the essentials of Cointribune!
Fasciné par le bitcoin depuis 2017, Evariste n'a cessé de se documenter sur le sujet. Si son premier intérêt s'est porté sur le trading, il essaie désormais activement d'appréhender toutes les avancées centrées sur les cryptomonnaies. En tant que rédacteur, il aspire à fournir en permanence un travail de haute qualité qui reflète l'état du secteur dans son ensemble.
DISCLAIMER
The views, thoughts, and opinions expressed in this article belong solely to the author, and should not be taken as investment advice. Do your own research before taking any investment decisions.