Who Created Bitcoin and Why?
Mon 25 Jan 2021 ▪ 23h27 ▪
5
min read — by
The inventor of Bitcoin introduced himself under the pseudonym Satoshi Nakamoto. Their choice of pseudonym aroused and still arouses much curiosity. Rumours even suggest that this might be a name that hides not just one individual but a group of people.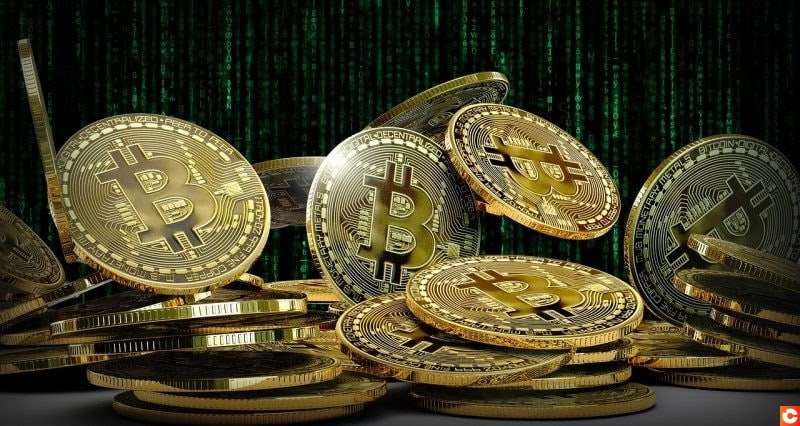 Bitcoin in summary
Bitcoin (BTC) was the very first of its kind – a decentralised digital currency, aka cryptocurrency. Launched in 2009, it operates based on blockchain technology – a technology which records, simplifies and secures peer-to-peer (P2P) transactions.
The Bitcoin project was designed to avoid using a centralised third party when making a transaction. This digital currency is therefore neither managed by a government nor a bank (central or retail).
In addition, Bitcoin is fully dematerialised, which ensures the anonymity of both buyers and sellers. Its value tends to fluctuate a lot over the course of a week, and even a day. You can follow the Bitcoin price in real time here.
Who invented Bitcoin?
The inventor of Bitcoin is Satoshi Nakamoto, who explained his project in a white paper published in 2008. In particular, he describes how Bitcoin could be created. A year after the white paper was published, Nakamoto's project was put into practice.
Do we know Satoshis's background?
It is impossible to describe who Bitcoin's inventor is, as it is difficult to identify accurately who they are, especially since rumours are always rife. Between those suspected of being Satoshi Nakamoto, and those who claimed to be Satoshi Nakamoto, the topic is shrouded in mystery with no solid evidence.
In 2014, the journalist Leah McGrath Goodman said she discovered Nakamoto's true identity. According to her, Bitcoin's inventor was a Japanese-American man in his sixties, whose real name is Dorian Satoshi Nakamoto.
This former computer engineer had once worked on secret projects. Although he initially confessed that he was indeed the creator of Bitcoin, he later retracted the claim, saying that he did not understand the questions he had been asked, believing that he was being quizzed about his former activities. This affair concluded with a concise message from the actual 'creator' on one of their old internet accounts stating: "I am not Dorian Nakamoto".
Several investigators who have studied Satoshi's writing and linguistic styles through the 'Cryptography Mailing List' document claim the inventor is Nick Szabo. The latter denied being the creator of cryptocurrency, although his contribution to the creation of Bitcoin's fundamental principles is proven. In the 1990s, he was an active member of the Cypherpunks movement, a community of people interested in cryptography who campaigned for digital freedom.
Suspicion then turned to Craig Steven Wright, an Australian entrepreneur in his forties. He claimed to be Satoshi Nakamoto, apparently confirmed by Gavin Andersen, a director and main developer of the Bitcoin Foundation – the non-profit whose mission is to standardise, protect and promote the development of the Bitcoin ecosystem.
However, Wright's and Andersen's claims have been questioned by internet users, as well as by major figures in the crypto-world like Ethereum's creator Vitalik Buterin.
Others that have been suspected of this pseudonym include the more eccentric hypotheses of the CIA, Elon Musk, a group of researchers composed of Neal King, Vladimir Oksman and Charles Bry, or even a company consortium of Samsung, Toshiba, Nakamichi and Motorola (do you see it?). None of them have been substantiated, and so the mystery of Satoshi Nakamoto continues.
Why did Satoshi Nakamoto create Bitcoin?
Satoshi Nakamoto created Bitcoin in response to the traditional banking system, which is based on fractional reserves, which themselves are backed by debt. A clear message is put forward in its very first block (also known as the Genesis Block), containing an article from the Financial Times published on 3rd January 2009, citing the bailout of British banks by the UK Chancellor for a second time.
Nakamoto rejects such a system, which is based on debts and infinite growth at the expense of natural resources and the planet. He wants to replace gold, the traditional safe haven, with Bitcoin, and put an end to the mechanism of banknotes that eat away at the purchasing power of citizens in every country. This desire is also coupled with some other basic principles: private transactions and an absence of centralised third parties. Of course, such a network operates thanks to its community and through what has been coined as 'mining'. Find out here what mining is and how to do it here.
Recevez un condensé de l'actualité dans le monde des cryptomonnaies en vous abonnant à notre nouveau service de newsletter quotidienne et hebdomadaire pour ne rien manquer de l'essentiel Cointribune !
Just your average global millennial embracing, and interested in, the future of money and finance. Excited by blockchain tech as well as fintech but have a special passion for DeFi and Yield Farming, what will this technological disruption bring next?
DISCLAIMER
The views, thoughts, and opinions expressed in this article belong solely to the author, and should not be taken as investment advice. Do your own research before taking any investment decisions.