Bancor 3 now offers 100+ Tokens, HODL & EARN Solution for DeFi's next chapter
Wed 15 Jun 2022 ▪
4
min of reading ▪ by
There are currently over 100 token pools, including AAVE, BAT, ENJ, MATIC, SNX, USDC, wNXM, WOO, and YFI, on the Bancor v3 protocol less than four weeks following its successful launch. These tokens are beside the ETH, DAI, LINK, and BNT pools which went live on the launch date.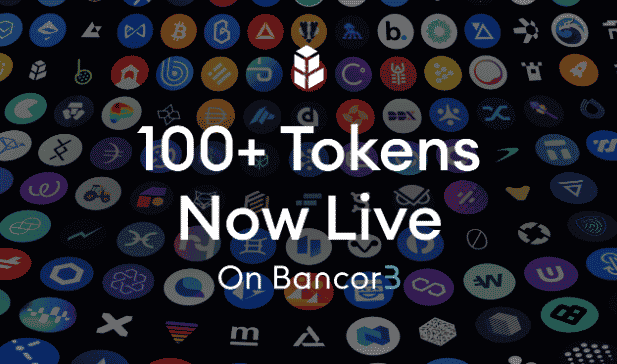 This development is a massive milestone for Bancor, the first DeFi protocol to deploy on Ethereum, showcasing the capabilities of decentralized liquidity and trustless token swapping. For their exciting innovation and promotion of decentralized trading, the Bancor project received one of the highest crowdfunding amounts in ICO history in 2017. 
Bancor has since evolved. The release of the v3 protocol highlights the team's tireless building and dedication to enhancing user experience and sustainability. Through the over 100 token pools, projects, including whales and individual token holders, can supply limitless liquidity to any approved pool and earn steady and reliable high yields. Because Bancor v3 supports single-sided liquidity, liquidity providers receive instant impermanent loss protection. 
Each approved token pool has at least 10k BNT worth of the token. Users who supply liquidity receive high yields generated from trading fees. At the same time, the Bancor DAO has certified each listed pool as secure with zero risk of token loss, compliant with their tight security guidelines. Nine more tokens, USDT, OCEAN, SAO, JRT, BAND, BUSD, sBTC, SRM, and sUSD, are currently being considered from the Bancor v2.1 whitelist for approval and migration to Bancor v3. However, this migration will happen once the issuing project has resolved all smart contracts' concerns, addressing risks. If not, their whitelisting and absorption into the Bancor V3 will depend on the DAO member vote.
Bancor v3 is built on sustainability and security prioritization for risk-averse and decentralized crypto projects. The issuers of the over 100 tokens listed on Bancor v3 know the risks associated with unsustainably high yields. A notable observation during the last bull cycle was the proliferation of DeFi protocols offering high but dangerous yields. 
Bancor v3 HODL and Earn solution is a safe avenue for users to park their assets as they build valuable on-chain liquidity. At the same time, they earn high yields with an instant protection against impermanent loss. Bancor v3 yields are generated from real user activity rather than "short-term inflationary incentives". Since risks associated with impermanent loss or smart contract weaknesses are eliminated, Bancor is building a culture of HOLD and boosting DeFi confidence.
Bancor v3 plans to deploy Dual Rewards and Auto-Compounding Rewards features in the weeks ahead. These are in the final phases of testing and auditing. On launching, Bancor has revealed that over 30 DAOs plan to leverage the Dual Rewards tool to incentivize on their v3 pools.
Maximize your Cointribune experience with our 'Read to Earn' program! Earn points for each article you read and gain access to exclusive rewards. Sign up now and start accruing benefits.
Lorsque j'ai commencé à travailler dans la crypto en 2017, 95% des gens ne savaient presque rien à ce sujet. À vrai dire, peu de choses ont changé depuis. Cependant, il semble y avoir une lumière au bout du tunnel, et je tiens à l'opportunité d'y être impliquée
DISCLAIMER
The views, thoughts, and opinions expressed in this article belong solely to the author, and should not be taken as investment advice. Do your own research before taking any investment decisions.