Binance and CZ Accused of Triggering FTX Collapse
Tue 03 Oct 2023 ▪
4
min of reading ▪ by
▪
Crypto regulation
Did Binance exacerbate the situation as FTX showed signs of fragility? That's what Nir Lahav and his group believe, and they didn't hesitate to file a class-action lawsuit accusing CZ and Binance of contributing to their competitor's downfall through tweets from November.
Class-Action Lawsuit Filed Against Binance and CZ
U.S. regulators have often had Binance in their crosshairs, but this time, it's residents filing a lawsuit against the leading crypto exchange platform.
On October 2, a resident of California, Nir Lahav, filed a class-action lawsuit in the Northern District of California against Binance.US and Binance CEO Changpeng Zhao.
The main allegations revolve around violations of federal and California laws on unfair competition, arguing that Binance attempted to monopolize the crypto market by harming its competitor, FTX.
CZ's Tweets: Central Element of the Case
The central element of this case concerns tweets posted by Changpeng Zhao (CZ) about FTX in November of last year. These tweets were published alongside Binance's decision to liquidate its holdings in the FTX FTT utility token. According to the plaintiffs, Binance held up to 5% of all FTT tokens.
In a tweet, CZ announced that Binance had signed a letter of intent to acquire FTX but had withdrawn from the deal one day later. The plaintiffs argue that CZ disseminated this information on Twitter to harm FTX, which led to its collapse. As a result, the price of FTT allegedly plummeted significantly, dropping from $23.1510 to $3.1468.
"Zhao publicly disseminated this information [about the withdrawal of the acquisition offer] on Twitter and other social media platforms to harm FTX entities, which ultimately led to a precipitous and unprecedented collapse of FTX entities," the plaintiffs state.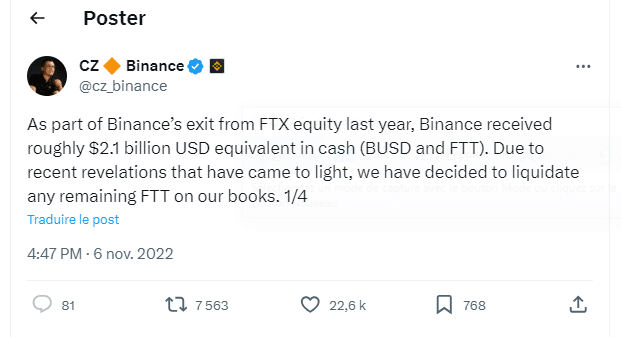 Binance Called to Repair the Damage Inflicted on FTX
The collapse of FTX was abrupt, with the price of its FTT token falling significantly. The plaintiffs argue that this rapid decline pushed FTX entities into bankruptcy, leaving the company's leaders with no opportunity to rectify the situation.
The class-action lawsuit seeks monetary damages, legal fees, and restitution of ill-gotten gains, alleging that there are thousands of proposed group members.
"Zhao's tweet caused a drop in the price of FTT from $23.1510 to $3.1468. This significant drop thereby plunged FTX Entities into bankruptcy, leaving the executives and board of FTX Entities without the ability to salvage the situation or implement protective measures for their customers and end-users."
It's worth noting that both Binance and FTX are already facing actions from the Securities and Exchange Commission (SEC). The criminal case against Sam Bankman-Fried, the former CEO of FTX, is set to begin on October 4 in New York. While CZ denied any allegations of unfair competition at the time in a tweet, speculation continues to circulate within the crypto community.
Maximize your Cointribune experience with our 'Read to Earn' program! Earn points for each article you read and gain access to exclusive rewards. Sign up now and start accruing benefits.
Passionné par le Bitcoin, j'aime explorer les méandres de la blockchain et des cryptos et je partage mes découvertes avec la communauté. Mon rêve est de vivre dans un monde où la vie privée et la liberté financière sont garanties pour tous, et je crois fermement que Bitcoin est l'outil qui peut rendre cela possible.
DISCLAIMER
The views, thoughts, and opinions expressed in this article belong solely to the author, and should not be taken as investment advice. Do your own research before taking any investment decisions.