Bitcoin: The 17.7 Trillion Assault by Financial Titans!
Tue 19 Sep 2023 ▪
4
min of reading ▪ by
Getting informed
▪
Invest
In a world where bitcoin fever continues to gain momentum, a new chapter looks set to open, promising far-reaching upheavals in the global financial landscape. A veritable tidal wave seems to be in the making, orchestrated by asset management titans who control colossal fortunes. These giants, armed with their trillions, are ready to invest massively in bitcoin. Such an incursion could well redefine the financial paradigms we know today. But what if a significant fraction of this financial windfall were to make its way into the crypto market?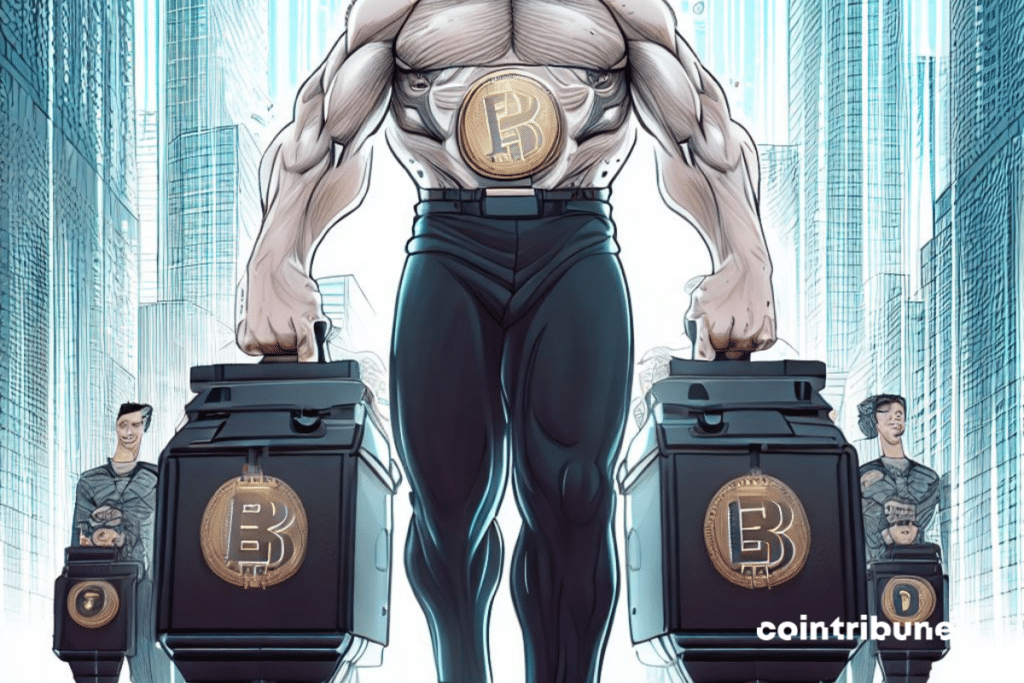 A look at the key players
BlackRock, with $10 trillion in assets under management, leads the way, closely followed by Fidelity, which controls $4.5 trillion. These two giants are complemented by a host of other influential asset managers, including Invesco Galaxy and Franklin Templeton, each managing around $1.5 trillion. But that's not all.
WisdomTree, VanEck, GlobalX, ARK Invest, Valkyrie and Bitwise are also part of this dynamic, adding billions to an already gargantuan kitty.
These titans, holding a staggering $17.7 trillion in assets under management, look set to take the bitcoin market by storm, creating potentially monumental waves. The question remains: on what scale will this incursion take place? An investment of 1% of their combined portfolios could well be the catalyst for a meteoric rise in bitcoin, upending conventional economic outlooks.
The future of bitcoin: A new horizon
In this bold conjecture, bitcoin could be on the verge of an unprecedented revolution. A massive investment of this scale would not simply be a validation of Bitcoin's potential. Indeed, it would be a loud and clear proclamation of its maturity as a viable financial asset.
Imagine a world where Bitcoin is no longer a mere curiosity for sophisticated investors, but a fundamental component of the financial portfolios of the world's largest institutions.
This transition would not only mark bitcoin's ascent to the next level, but could also reshape the global financial landscape, ushering in a new era of prosperity and innovation.
So, are we at the dawn of a new era, where bitcoin is not just another crypto, but the beacon of a financial revolution? A world where decentralization, security and financial freedom are not just ideals, but tangible reality?
Maybe yes, maybe no. Time, as always, will tell. What is certain is that the eyes of the world will be riveted on these titans and their strategic moves in the Bitcoin ecosystem. As a wise man once said, "NOBODY IS BULLISH ENOUGH". Perhaps it's time to rethink our perception of bitcoin's potential. It's not for nothing that Morocco said yes to Binance and no to France.
Receive a summary of the news in the world of cryptocurrencies by subscribing to our new daily and weekly newsletter service so you don't miss any of the essentials of Cointribune!
Fasciné par le bitcoin depuis 2017, Evariste n'a cessé de se documenter sur le sujet. Si son premier intérêt s'est porté sur le trading, il essaie désormais activement d'appréhender toutes les avancées centrées sur les cryptomonnaies. En tant que rédacteur, il aspire à fournir en permanence un travail de haute qualité qui reflète l'état du secteur dans son ensemble.
DISCLAIMER
The views, thoughts, and opinions expressed in this article belong solely to the author, and should not be taken as investment advice. Do your own research before taking any investment decisions.