Bitcoin: A new era begins with Sats Names
Tue 04 Jul 2023 ▪
4
min of reading ▪ by
S'informer
▪
Tokenization
Le Bitcoin débute une nouvelle ère avec l'introduction des Noms Sats. Cette norme de dénomination innovante et en pleine expansion est en train de redessiner les contours de l'écosystème Bitcoin. Quelle est donc cette innovation majeure et comment façonne-t-elle le paysage des cryptomonnaies ?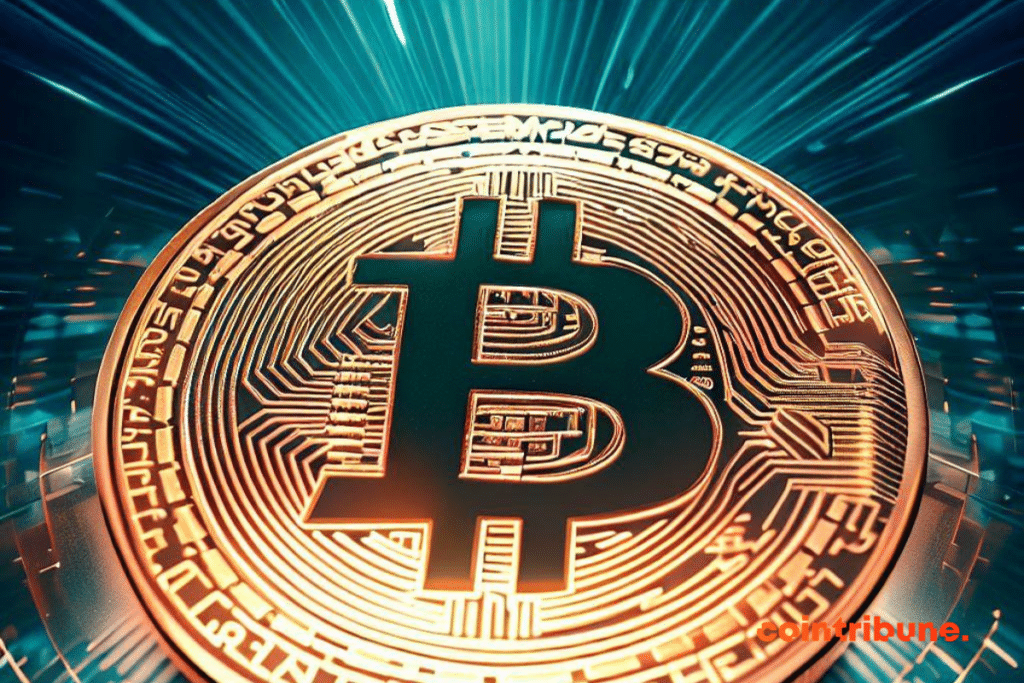 L'éclosion des noms Sats de Bitcoin : une tendance en plein essor
Depuis le 26 juin 2023, l'écosystème Bitcoin connaît une effervescence singulière. Les inscriptions ordinales, basées sur la blockchain Bitcoin, ont grimpé en flèche, atteignant les 14 millions seulement six jours après avoir dépassé les 13 millions.
Cette fulgurante activité, loin de s'essouffler, n'a cessé de s'amplifier, dévoilant une nouvelle norme de dénomination : les Noms Sats de Bitcoin, ou Sats Names.
Le développement des Noms Sats est à l'image de l'ascension du Bitcoin : rapide, innovant et pourvoyeur d'opportunités. En effet, à la date du 1er juillet 2023, plus de 14,41 millions d'inscriptions étaient recensées.
Cette tendance a enrichi les mineurs de Bitcoin de 1 799,65 BTC supplémentaires, soit l'équivalent de 54 millions de dollars de frais liés à l'inscription.
Les Noms Sats de Bitcoin : un virage technologique déterminant
Les Noms Sats représentent une avancée technologique inédite et significative. Ils offrent aux utilisateurs la possibilité de créer des noms lisibles par l'homme sur la blockchain Bitcoin.
Les Noms Sats viennent compléter les fichiers classiques tels que les JPG et PNG, ainsi que les jetons fongibles et non fongibles (NFT) BRC20. Ils constituent ainsi une preuve tangible de l'expansion continue et dynamique de l'univers Bitcoin.
En plus d'être une révolution technologique, les Noms Sats sont également une opportunité économique. Ils peuvent être achetés sur divers marchés orientés vers les ordinaux, fonctionnant sur le principe du "premier arrivé, premier servi". Un utilisateur peut choisir un nom avec une extension comme .sats ou .xbt, comme satoshi.sats ou jimmy.sats, favorisant ainsi une personnalisation inégalée.
Vers une décentralisation croissante des noms
L'idée de services de noms décentralisés ne date pas d'hier. Il s'agit d'un concept qui a vu le jour avec Namecoin en 2011. Par la suite, il a depuis été intégré à d'autres blockchains, comme la norme Ethereum Name Service (ENS).
Cependant, les Noms Sats marquent une étape clé dans cette progression vers une décentralisation croissante.
L'émergence et l'essor des Noms Sats sont le reflet d'une tendance plus vaste vers une décentralisation et une personnalisation accrue au sein de l'écosystème crypto. En ouvrant la voie à l'innovation et à la créativité, ils confirment le rôle prépondérant du Bitcoin en tant que pionnier et leader du secteur des cryptomonnaies. Que nous réserve l'avenir ? Nul ne le sait, mais une chose est sûre, il sera décentralisé. Vous pouvez apprendre comment analyser le niveau de décentralisation d'une blockchain.
Maximize your Cointribune experience with our 'Read to Earn' program! Earn points for each article you read and gain access to exclusive rewards. Sign up now and start accruing benefits.
Fasciné par le bitcoin depuis 2017, Evariste n'a cessé de se documenter sur le sujet. Si son premier intérêt s'est porté sur le trading, il essaie désormais activement d'appréhender toutes les avancées centrées sur les cryptomonnaies. En tant que rédacteur, il aspire à fournir en permanence un travail de haute qualité qui reflète l'état du secteur dans son ensemble.
DISCLAIMER
The views, thoughts, and opinions expressed in this article belong solely to the author, and should not be taken as investment advice. Do your own research before taking any investment decisions.