Cardano ready to bounce back? September 14, 2023 analysis
▪
Invest
Cardano suffered a decline of around -37% this summer 2023. Let's take a look at the prospects for the ADA price.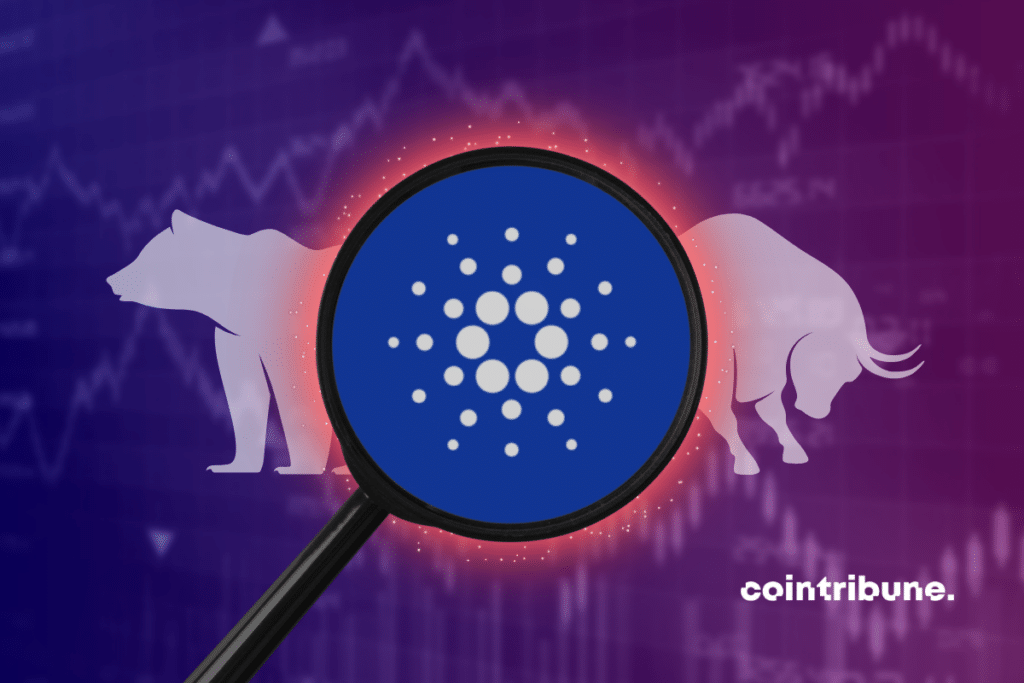 Cardano (ADA) situation
After rejecting the $0.35 mark in mid-July 2023, the Cardano price continued its decline to the $0.24 mark. This level corresponds to its latest low since its ATH. From a chartist's point of view, ADA appears to be forming a cup with an inverted handle. This figure suggests a possible decline ahead. Cardano is now below its 50- and 200-day moving averages, which are trending and crossing downwards. This indicates that the cryptocurrency's trend is indeed bearish. As for oscillators, Cardano's RSI and daily MACD indicate persistent selling pressure. However, it is interesting to note the formation of a bullish divergence. Once confirmed, this will be encouraging for a potential bullish reversal.
The current technical analysis was produced in collaboration with Elie FT, investor and trader with a passion for the cryptocurrency market. Now a trainer at Family Trading, a community of thousands of own-account traders active since 2017. Here you'll find live streams, educational content and mutual support around the financial markets in a warm, professional atmosphere.
It's interesting to observe the Cardano CVD (Spot). Since the beginning of August, this indicator has been diverging with the decline in the ADA. This phenomenon suggests that buyers are interested in Cardano despite the fall in its price. As such, it could be a comforting factor for a possible trend reversal.
Focus on derivatives (ADAUSDT)
Cardano's latest rises have clearly caused its open interest to fall. However, we can see that the data on liquidations are not significant. Profit-taking or lack of conviction… what we can understand is that sellers seem to have capitulated.
Scenarios for the Cardano (ADA) share price
If the Cardano price rises back above $0.26, we could anticipate a bullish continuation to the $0.28 level. The next resistance to be taken into account at this stage will be the psychological threshold of $0.30.
If the Cardano price gives way on the $0.24 support, we could envisage a bearish continuation to the $0.22 level. Unfortunately, if this level doesn't hold, it could be dragged, more or less quickly, towards $0.20.
Conclusion
Cardano is still in a bearish structure. However, in addition to bouncing off its support, a number of indicators suggest that it could soon be revised upwards. Of course, nothing is certain yet. That's why it will be important to keep a close eye on the price's reaction at the various levels identified, to confirm or refute the various hypotheses made. Watch out for potential fake outs and market squeezes on each of these situations. It should also be remembered that these scenarios are based primarily on technical analysis. Cryptocurrency prices may evolve more or less rapidly, depending on other, more fundamental factors.
Receive a summary of the news in the world of cryptocurrencies by subscribing to our new daily and weekly newsletter service so you don't miss any of the essentials of Cointribune!
Family Trading est une Communauté de traders a compte propre active depuis 2017 offrant Lives, contenus éducatifs et entraides autour des marchés financiers dont celui des cryptomonnaies avec à ses côtés Elie FT, investisseur et trader de passion sur le marché crypto.
Disclaimer:
The contents and products mentioned on this page are in no way endorsed by Cointribune and should not be construed as its responsibility.
Cointribune strives to provide readers with all relevant information available, but cannot guarantee its accuracy or completeness. Readers are urged to make their own inquiries before taking any action with respect to the company, and to assume full responsibility for their decisions. This article does not constitute investment advice or an offer or invitation to purchase any products or services.
Investing in digital financial assets involves risks.
Read more