Crypto and Environmental Impact: The EU Aims to Learn More!
Fri 29 Sep 2023 ▪
4
min of reading ▪ by
▪
Crypto regulation
The European Union is to fork out nearly €1 million (in fiat or crypto?) to assess the environmental impacts of cryptocurrencies and bitcoin mining activities. Does this mean that Brussels prefers strict regulation of these activities to the ban? In any case, crypto-enthusiasts will be sure to follow the progress of this study, especially the publication of the first reports. The fate of bitcoin mining and crypto activities in Europe will in fact depend on it.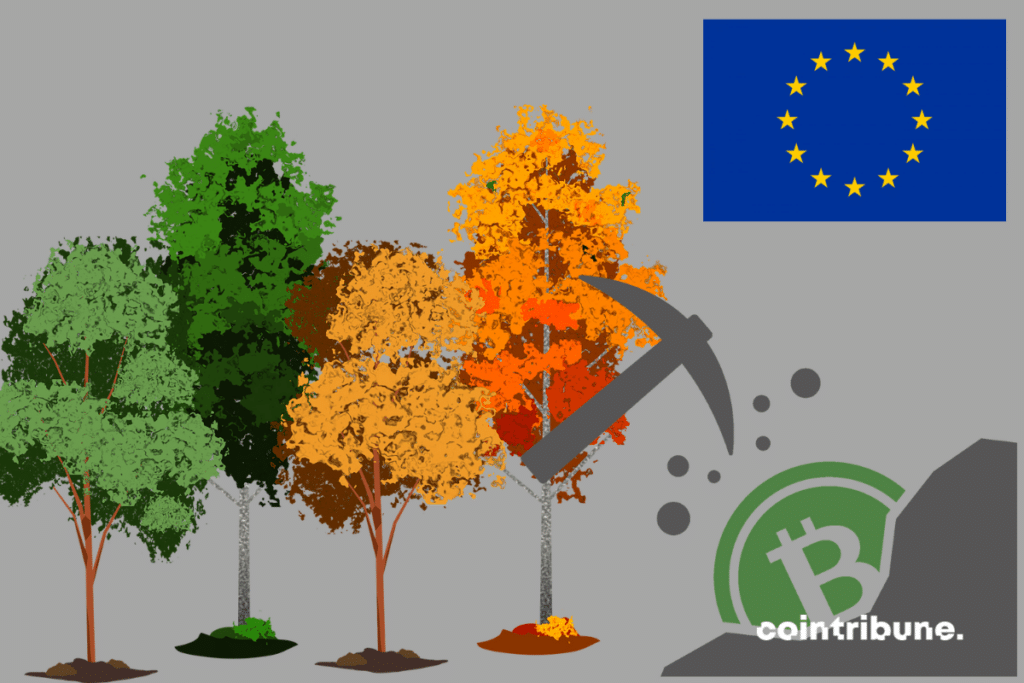 Bitcoin mining and other cryptos in the EU's sights
In July 2022, one of our confreres reported that Joe Biden's administration had conducted a study into the environmental impact of Proof-of-Work (PoW). The aim being to minimize CO2 emissions and ensure that cryptocurrencies become eco-friendly. Or more precisely, "developed responsibly".
14 months later, Europe is following in the United States' footsteps, and announcing serious investigations into the climate impacts of cryptos.
According to CNN, this 13-month study will be limited solely to the environmental impact of cryptocurrencies.
As you know, crypto-skeptics are constantly peddling that cryptocurrencies consume far too much energy. Bitcoin's Proof-of-Work, in particular, only encourages unnecessary emissions. However, the opposing camp believes that the balance sheet put forward by bitcoin's detractors is overstated.
Troy Cross, a member of the Bitcoin Policy Institute, has probably given the skeptics the cold shoulder in his latest report on the energy footprint of bitcoin mining. For this professor at Reed College, PoW mining could reduce the carbon footprint of the Bitcoin network, and even lower energy production costs.
So, the European Union must quickly find out which of the two camps is right. Deciding on this delicate issue will take more time, and should be left to the environmental experts and the best bidders.
If you're one of those concerned, the deadline for submitting bids is November 10.
Analyzing the various crypto validation mechanisms
Here's a description of the study in question nicked from the Tenders Electronic Daily page:
"There is evidence that crypto-assets can cause significant harm on the climate and environment and generate negative economic and social externalities, depending on the consensus mechanism used to validate transactions. The increasing demand for crypto-assets and expansion of crypto-mining, including within the EU, could undermine EU's efforts to achieve its climate and sustainability goals, in line with the Paris Agreement. The action aims at enhancing the EU capacity to assess and mitigate the impact of crypto-mining and develop specific sustainability standards."
The aim of this "preparatory action" is to identify a methodology for :
measure the climate and environmental impact of the mechanisms adopted by cryptos ;
assess the adaptability of environmental sustainability standards for crypto-assets.
Once this methodology has been identified, the prospect of revising current regulations concerning cryptos will be considered. Are we heading for a MiCa bis?
In August, we reported some very tantalizing data concerning BTC. In particular, the Bitcoin Mining Council (BCM) paper highlighted a 70% year-on-year increase in Bitcoin's mining hash rate in the first quarter of 2023, and a 1% rise in its sustainable power. At that time, the global BTC mining network used a sustainable power mix valued at over 63%.
In other words, bitcoin, with which the energy-hungry Proof-of-Work is often associated, just keeps on performing. Its impact on the climate and the environment is diminishing accordingly.
Maximize your Cointribune experience with our 'Read to Earn' program! Earn points for each article you read and gain access to exclusive rewards. Sign up now and start accruing benefits.
La révolution blockchain et crypto est en marche ! Et le jour où les impacts se feront ressentir sur l'économie la plus vulnérable de ce Monde, contre toute espérance, je dirai que j'y étais pour quelque chose
DISCLAIMER
The views, thoughts, and opinions expressed in this article belong solely to the author, and should not be taken as investment advice. Do your own research before taking any investment decisions.