How To Sign Up To Coinbase
The Coinbase platform offers several benefits and is considered one of the biggest players on the market. It provides its users with an interface that is both simple and secure. You can buy, store and sell various cryptocurrencies such as BTC, ETH, XRP, LTC, BCH and XMR. In addition, you can take advantage of its wallet (a storage solution for your cryptocurrency) that is constantly offering more and more features. Everything you need to know about Coinbase and how to get started is in this guide.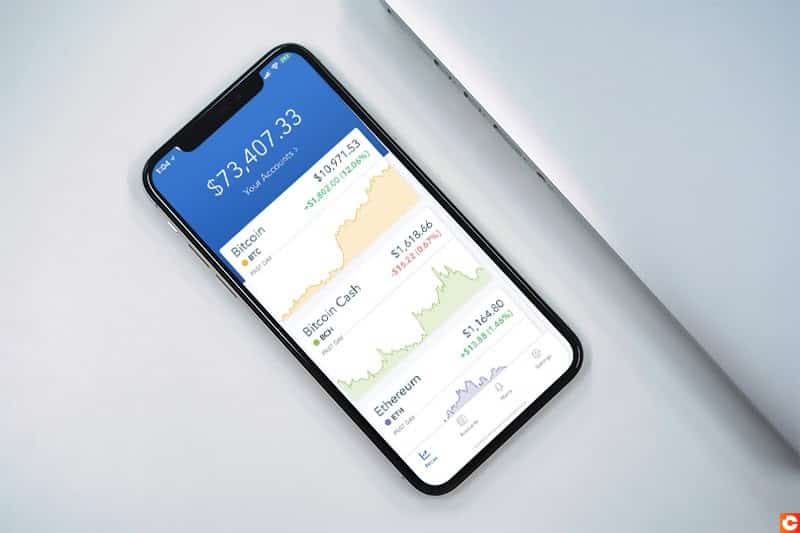 There are some simple steps to sign up to Coinbase, starting with visiting coinbase.com. Once the page is loaded you should see 'Get started' in the top right hand corner, the other option is to enter your email address in the middle of the page followed by a click on 'Get started', this time in green. If you would like to start with a bonus of $10 click through this referral link here when you buy at least 100$ of Bitcoin – easy money!
How to sign up to Coinbase?
Creating your account
After clicking on 'Get started' you will be redirected to a page titled 'Create your account'. Here you will need to enter the following information:
Your first name and last name
A valid email address
A password of your choice
You should choose a password that includes lowercase and uppercase letters, numbers and symbols. If you cannot think of anything you can use a password generator – aim to have a password that has a full green circle next to it. Also, don't forget to write this password down and keep it safe, remembering to never share it with anyone!
You will then need to tick the box certifying that:
You are of legal age (over 18)
You understand and accept the terms of the Coinbase User Agreement and Privacy Policy
After clicking 'Create account' there will also be a page which you will have to 'next' regarding Coinbase's commitment to the EU's General Data Protection Regulation (GDPR). A final page invites you to 'Stay in the know' about Coinbase's products, services and special offers. No matter what you click ('Yes' or 'No') it will have no bearing on your use of the platform, but it is a good idea to click 'Yes' if you want to use Coinbase on a daily basis. If, on the other hand, you prefer not to receive too many emails, choose "No".
Once you have done this you might have to solve a CAPTCHA puzzle in order to prove that your registration was not automatically generated by a robot.
How to validate your email address?
You should now see a page where Coinbase informs you that a verification email has been sent to your email entered. This means that a message with a link you need to click is waiting for you in your inbox.
By clicking on this link, you confirm that your address works, but also that you are ready to complete your registration on Coinbase.
All you need to know about Coinbase's authentication and identity checks
At a time when data hacks still cause many problems, additional checks should be seen as a way to combat cybercrime, furthering an additional level of protection.
As the Coinbase exchange platform is renowned for the quality of its security, it is not surprising that these verifications are mandatory.
How to set up two-factor authentication (2FA), and why?
The principle of 2FA is to add an extra 'layer' of security to that first layer, which is your password. This additional level is generally in the form of a text or via a mobile app. This code is used to verify that the person trying to log into their account has their email address and password, but also that they have their own phone in their hands. In other words: you are supposed to be the only person who can fill in all this information.
A third party who has obtained access to your email and passwords will still need to provide Coinbase with a code received on the registered device that only you should have. Hence, significantly reducing the chances that a hacker will be able to log into your account.
Once your email address has been verified, Coinbase then invites you to enter your telephone number, here you will need to:
Select the country of your phone number
The appropriate dialling code appears in the box below (i.e. +44 for the UK)
Then type in your mobile number, omitting the first 0 (because +44 is already included)
Click on the 'Send code' button
Two-step verification on Coinbase
Good to know: make sure you have your mobile phone on you and make sure that you have signal so you can receive the text!
A new page will appear inviting you to enter the code received by text. Click 'Submit' to continue.
How to verify your identity on Coinbase?
The next step is to provide further information about your identity. The more serious trading platforms are required to play their part in the fight against money laundering. It is not possible to operate anonymously on Coinbase! It is for this reason you will have to fill in the following list of personal information:
First and last name (should already be entered)
Date of birth
Full address
The reason for using Coinbase
Your source of funds
Your employment status
These questions are intended to provide Coinbase with statistical information about its users and will not affect your personal use of the platform.
Coinbase, again for security reasons, will also require you to present valid ID during your registration as part of a very standard KYC procedure. The process is relatively simple, because the platform provides its users with an interface through which you can upload a picture of your passport, driver's licence or national ID card. The following options are available:
Take a photo of your ID via your webcam
Take a photo of your ID via your smartphone/tablet
Upload a file/picture from your computer
Good to know: Make sure, if you take a photo of your ID, that it is a clear and legible picture.
How to log in and use your Coinbase account?
It will take a few minutes to have your ID verified, but once it is you can log in – normally you will be logged in automatically. If not, click the three lines on the top right and then 'Sign in', followed by your email and password.
Logging in
Once logged in, you can then start buying and selling cryptocurrency on Coinbase! To do this, add a payment method. There are two main means of payment:
A UK/EU bank account
A credit/debit card
Note: The fees vary depending on the payment method chosen – usually 1.49% to 3.99%.
If you are new to cryptocurrencies, check out our guide to get started!
Don't forget to earn a free $10 (around £7.50) if you buy more than $100 (£75) of Bitcoin or any other cryptocurrency.
Exchanges like Coinbase offer the advantage of providing a reassuring and easy-to-use environment for those wanting to buy and sell cryptocurrency. After a few easy steps, you can execute your first transaction. Another advantage of using Coinbase is that it also offers much more than just a standard buy and sell platform. It has an online wallet as well as even offering a Visa card designed for spending cryptocurrency. However, beware that Coinbase charges higher fees compared to the competition as well as not offering as many cryptocurrencies.