Envelop recap of Coinfest Asia 2023 festival
▪
Event
This year Coinfest reached new levels of excellence, combining location, high-level guests, influential speakers and exciting side events. The open-air atmosphere gave the event an unmistakable flavor. During the main event, the island of Bali became the epicenter of incredible side events, thus forming a full-fledged "crypto-week" in a tropical paradise.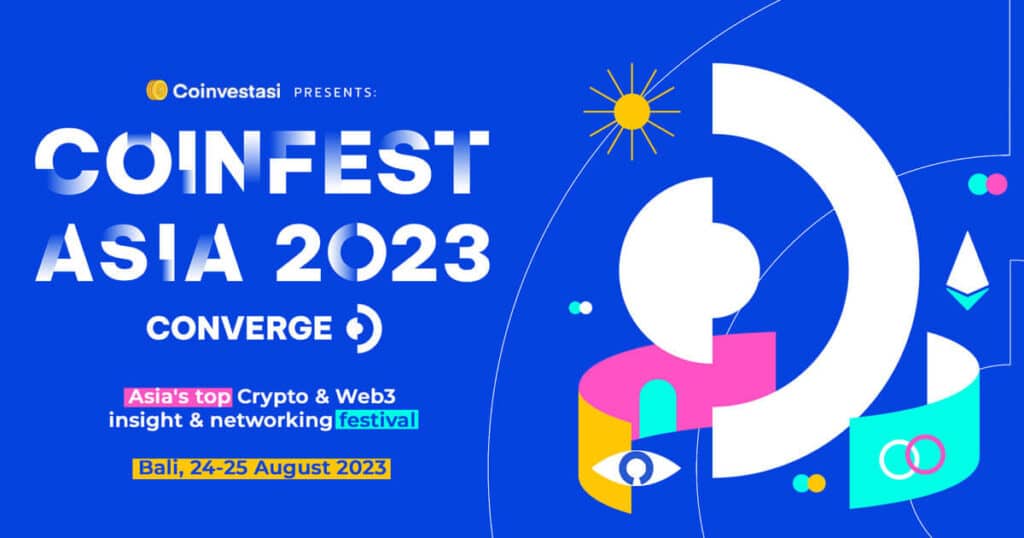 Among the main themes was the push for regulation of the cryptocurrency and the integration of blockchain technology into the real economy. One of the key narratives of the event was the merging of Web2 and Web3, representing an innovative way to attract mass users to the world of cryptocurrencies. Important details of this concept were hiding the seed phrase from the user (automatic creation of custodial wallets in applications) and authentication through Google and social media accounts.
When considering the potential benefits and advantages of working with crypto-assets, the risks associated with investing, regulatory issues, and institutional implementation strategies were not forgotten.
The main focus was on local projects and nearby countries. The basic trend was the creation of convenient user "super-Dapps" with the ability to instantly exchange cryptocurrency into the national currency. Stablecoins linked to the local Indonesian rupiah play a key role here.
Speakers included representatives from cryptocurrency ecosystems, including BASE, whose protocol has found potential use through discussions with Coinbase officials. The BASE project intends to bring an entire billion new users into the crypto. Their plan includes simplifying processes, engaging traditional financial companies, tokenizing assets and creating grant programs to support innovative projects.
Yat Siu's presentation from Animoca Brands, dedicated to NFTs, the Metaverse, and the development of Web3, was particularly impressive. His strong focus on decentralization was evident in his presentation, especially through the Mocaverse project. NFT holders in this project can actively participate in asset management, with Ape DAO being the first step in this direction. Decisions within this project are made through voting among Moca holders (including Envelop DAO, which owns 6 Moca).
Yat Siu also emphasized that in the world of cryptocurrency, technology is not the only crucial component. The narrative and the project's story play a huge role in attracting new users. Projects that incorporate elements of play-to-earn (P2E) are a bright example of this concept because P2E encompasses not just games but also gamification of other aspects, such as education and financial literacy.
It's important to note that not only Yat Siu but also major corporations like Alibaba recognize the importance of transitioning to Web3 approaches and values. This recognition allows them to better understand their audience and build mutually beneficial relationships with it. However, there is a natural barrier in the form of outdated views held by corporate leaders, many of whom are in the 50–60 age range and are accustomed to traditional business models. It's likely that the implementation of more flexible and modern approaches will only be possible with a change in leadership.
From a technical point of view, the main thing is to simplify the user experience in Web3 and protect users from such complexities as seed phrases and the need for secure storage. This will make the cryptoworld more accessible and understandable for users who are used to Web2.
Financial institutions and banks are also realizing the inevitability of transitioning to Web3 and gradually merging with traditional finance and asset tokenization. An example of this is the platform developed by DBS bank. The near future likely belongs to hybrid models, and therefore the concept of Web2.5 is actively applied, despite varying views on its regulation, ranging from full regulation to a symbiotic relationship with minimal intervention.
During the panel discussion on market cycles, the BTC ETF and its potential positive impact on the market, similar to what has happened with other assets, such as gold, was actively debated. The speakers are optimistic about 2024. Real-world asset (RWA) tokenization was once again a key trend, and even areas such as gambling and sports betting were mentioned as potentially successful scenarios for crypto-tools.
The Blockchain Association of Indonesia deserves praise for its proactive stance and interest in new solutions. Many of their employees previously worked at major cryptocurrency exchanges such as Indodax and Pintu but made the choice to create something truly meaningful for the industry in Indonesia. This approach creates significant opportunities for the implementation of programmable assets in individual projects and entire industries.
The metaverse and play-to-earn (P2E) are in an active stage of development, and projects are now taking into account previous mistakes in tokenomics that led to significant asset inflation. Key points will include improving gameplay and moving towards high-quality gaming products. The P2E approach will evolve, possibly to a play-to-own (P2O) model or even a free-to-play model with subsequent financial mechanisms. The Envelop DAO case of tokenizing traits (skill tokens) in NFTs could play an important role in the development of this concept. The skill tokens market could also become a separate focus alongside the gaming NFT market. Without a doubt, Asia is the epicenter of the cryptocurrency market, and conference participants and speakers are particularly hopeful about the Philippines and Vietnam.
The letters "ZKP" have become a real hit in the cryptocurrency world, and this trend was noticed even at the Web3 festival in Hong Kong earlier this year.At Coinfest, attention was also paid to this topic, with a panel discussion featuring representatives from projects like ZKlend and ZKex, among others. The importance and potential of this technology are unanimous, but there are nuances regarding its compatibility with current legislative norms, primarily concerning the "know your customer" (KYC) procedure. Opinions on ZK vary from the belief that it's a savior for the industry and regulators should support it to proposals to regulate and introduce third parties that would serve as intermediaries between ZK and regulators — verification is conducted, but personal data remains hidden.
TON presented its wallet and shared development plans. Currently, a custodial wallet is available on Telegram, and by the end of the year, the release of a non-custodial solution within the main Telegram application is planned. Additionally, there are plans to create their decentralized exchange (DEX) and swap service, as well as launch grant programs.
Jagad project (a local unicorn) aims to compete with Binance P2P in the Indonesian market. It also seeks to integrate its stablecoin into the Indonesian rupiah (IDR), which could make it a significant player in the market. For Envelop DAO, Jagad appears to be a promising partner for integration with the Bridgeless Swap project, enabling decentralized exchanges between crypto and fiat.
An important element to note is the understanding of the need for reputation-based transactional systems for projects focused on community engagement. This is especially crucial for projects like Islamic Coin (HAQQ), where reputation and compliance with religious norms play a key role. Envelop DAO sees many potential use cases for collaboration with such a project. A significant aspect here is our alternative approach to derivatives and indices, which stands out favorably from existing products in the market. There's a lot of work ahead, but the market in front of us is enormous. Just Indonesia alone represents 270 million predominantly young Muslims.
The main conclusion is that the market is ready for the transition to programmable assets, transactional reputation systems and account abstraction. This applies not only to the cryptocurrency market, but also to traditional financial markets and asset tokenization — perhaps at the intersection of these areas we will see a narrative for a new cycle, for which Envelop DAO already has a wide range of solutions.
Are you ready to build NFT2.0 with Envelop?
There was a party atmosphere at the festival …
and irony…
Envelop is a collateral-backed and price discovery cross-chain protocol to provide NFT2.0 with inner value and liquidity.
Receive a summary of the news in the world of cryptocurrencies by subscribing to our new daily and weekly newsletter service so you don't miss any of the essentials of Cointribune!
L'équipe éditoriale de Cointribune unit ses voix pour s'exprimer sur des thématiques propres aux cryptomonnaies, à l'investissement, au métaverse et aux NFT, tout en s'efforçant de répondre au mieux à vos interrogations.
Disclaimer:
The contents and products mentioned on this page are in no way endorsed by Cointribune and should not be construed as its responsibility.
Cointribune strives to provide readers with all relevant information available, but cannot guarantee its accuracy or completeness. Readers are urged to make their own inquiries before taking any action with respect to the company, and to assume full responsibility for their decisions. This article does not constitute investment advice or an offer or invitation to purchase any products or services.
Investing in digital financial assets involves risks.
Read more