Earn crypto while exploring Web3 with Massa
▪
Founded in July 2021, Massa Ecosystem has emerged as a major player in the blockchain space. Its primary goal: solving the trilemma of performance, decentralization, and security. The success of Massa Ecosystem hinges on a unique combination of high performance, Web3 innovations, and support for projects. In this article, discover how Massa sets itself apart by offering an unparalleled blockchain experience through the Massa Quest dashboard, emphasizing community participation and rewards.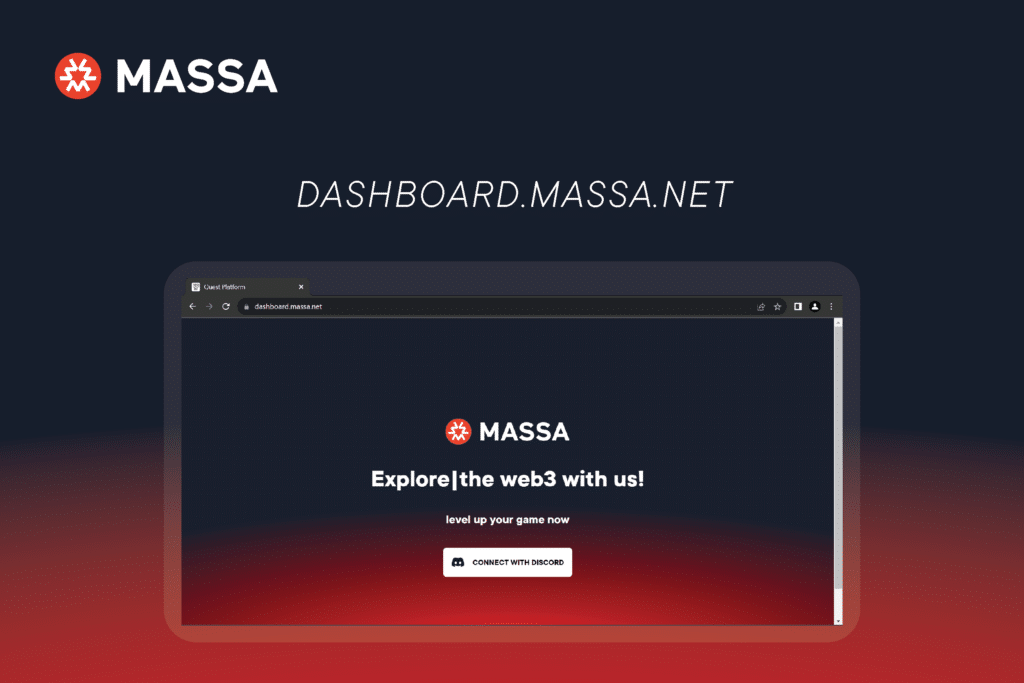 What you need to know about Massa Ecosystem
Massa Ecosystem represents the pinnacle of an ambitious project that has successfully solved the blockchain trilemma. This complex challenge involves balancing three distinct elements:
Performance,
Decentralization,
Security.
Since its modest beginnings in July 2021 as a testnet, Massa has come a long way to become a vibrant hub in the blockchain ecosystem. Today, it is attracting the attention of more than 16 major projects.
But what really sets Massa apart from its peers is its commitment to maintaining a perfect balance between high performance and authentic decentralization.
Massa aims to be a testing ground open to all users wishing to participate in the testnet. This openness enables users to discover the protocol at first hand. But that's not all! They will also have the opportunity to see the ongoing improvements. Massa successfully tackles common problems of Layer-1 blockchains, including :
high fees,
limited throughput,
centralization risks.
Massa also shows remarkably organic growth, setting it apart from the many other Layer-1 blockchains that often depend on more centralized initiatives.
Massa Quest Dashboard and its rewards
Recently, Massa launched its Massa Quest Dashboard. This is a centralized platform that opens the doors for all community members to participate in exciting quests within the ecosystem. This dashboard allows participants to track their rankings and earn rewards.
The concept is simple: every week, new quests are added from various Massa ecosystem projects. The aim is to encourage users to return regularly to maintain or improve their position in the rankings.
To complete your first quest and link your Bearby wallet, follow these steps:
Connect to Discord: join Massa Discord and access the Massa dashboard to link your Discord account (make sure your Discord account is verified on mobile to be eligible).
Download Bearby: for your first quest, download the Bearby add-on from the add-on store.
Link your Bearby wallet: return to the Massa dashboard, click on "Profile" and link your Bearby wallet to unlock new possibilities.
Check quest status: completed quests will be updated every 24 hours, allowing you to track your progress and anticipate future rewards.
Track your ranking: check the "Ranking" section of the Massa Quest dashboard regularly. You'll be able to see your current position. It's a great opportunity to compete with other members of the community and aim for the top spots.
Plan weekly visits: you need to participate actively to earn more rewards. New quests are added regularly every week. This means that your Massa Quest adventure is constantly being renewed.
In short, the Massa Quest dashboard offers community members an exciting opportunity to :
get actively involved,
compete against other participants
earn attractive rewards while exploring the Massa ecosystem.
This innovation adds to the growing list of reasons why Massa continues to attract the attention of developers and blockchain enthusiasts worldwide. Massa isn't just a blockchain, it's a dynamic community that's driving innovation to new heights in the exciting world of Web3.
If you have any questions or require assistance with the Massa Quest dashboard, please visit the Dashboard Support section of Massa Discord. A dedicated team is on hand to help and guide you through this exciting adventure.
Receive a summary of the news in the world of cryptocurrencies by subscribing to our new daily and weekly newsletter service so you don't miss any of the essentials of Cointribune!
Je m'appelle Ariela et j'ai 31 ans. J'oeuvre dans le domaine de la rédaction web depuis maintenant 7 ans. Je n'ai découvert le trading et la cryptomonnaie que depuis quelques années. Mais c'est un univers qui m'intéresse beaucoup. Et les sujets traités au sein de la plateforme me permettent d'en apprendre davantage. Chanteuse à mes heures perdues, je cultive aussi une grande passion pour la musique et la lecture (et les animaux !)
Disclaimer:
The contents and products mentioned on this page are in no way endorsed by Cointribune and should not be construed as its responsibility.
Cointribune strives to provide readers with all relevant information available, but cannot guarantee its accuracy or completeness. Readers are urged to make their own inquiries before taking any action with respect to the company, and to assume full responsibility for their decisions. This article does not constitute investment advice or an offer or invitation to purchase any products or services.
Investing in digital financial assets involves risks.
Read more