How Do I Buy or Sell Tezos (XTZ)?
Thu 08 Apr 2021 ▪ 23h41 ▪
10
min read — by
When you first get interested in a crypto project, sooner or later you will ask yourself where you can buy or sell the project's tokens. In this guide, we will see how you can buy or sell Tezos (XTZ).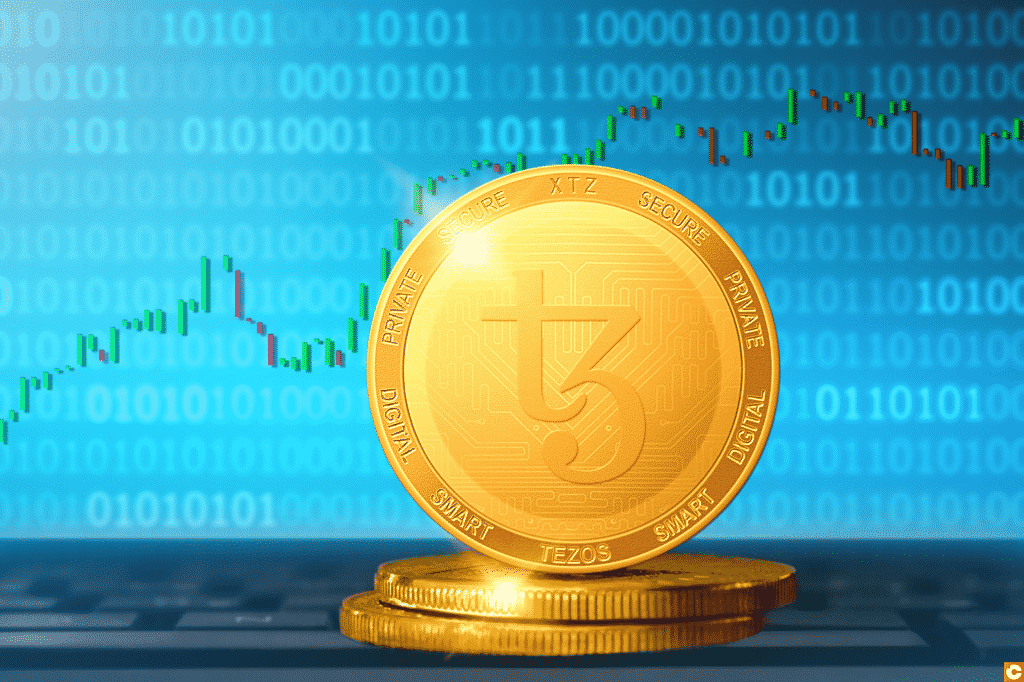 As you'll see, there are many different options available for getting and selling XTZ tokens. The list is not meant to be exhaustive, but our explanations will make it easy for you to sell or buy XTZ.
The importance of using a reliable buying or selling platform
The first thing to consider before you want to buy (or sell) Tezos is to go to a reliable buying platform. If you go to the wrong exchange site, you run a big risk of never being able to withdraw the money you deposited on it.
There are hundreds of different exchanges and it's not always easy to know where to go to buy XTZ. However, with our many years of experience in the crypto industry, we know which reliable platforms you won't be at risk on.
To help you, we have set out a small list of reliable trading sites where you can safely sell or buy Tezos. Of course, you are free to go to another platform to do your transactions, but be careful not to fall into a trap as it can be a very costly mistake.
The options available to you to buy XTZ
To buy XTZ, you have several options at your disposal. Because Tezos is an established digital asset, you have a lot of different choices to get XTZ tokens.
In this section, we will explore the most common methods with which you can buy Tezos. There are others, but the ones we are going to present to you are the main ones and the most popular.
Buy Tezos with a credit card
Although it is not always possible to buy Tezos with a bank card as you could do for Bitcoin, there are still plenty of exchanges that allow it. Compared to other altcoins, Tezos is one of the few digital assets that can be purchased directly via a credit card.
However, on some exchange sites you may not have direct access to XTZ tokens. In this case, you will then have to start by buying ETH or BTC and then transfer them to a platform that will allow you to buy Tezos in exchange for one of these virtual currencies.
Buy XTZ tokens with a bank transfer
Generally, when it is possible to purchase Tezos with a credit card, it is also possible to buy them via bank transfer on the same platform. To do this, simply choose the bank transfer option when you want to deposit money on the exchange.
On some platforms, it may not be possible to buy XTZ directly with a bank transfer. You will first have to go through an intermediate cryptocurrency and then exchange it for Tezos on another site.
What are the other options for buying XTZ tokens?
While it is possible to obtain Bitcoin or Ethereum via many different options, it will be much more difficult to buy XTZ tokens with PayPal, paysafecard, skrill or with cash. Some sites allow you to use these methods to invest in cryptocurrencies, but you usually only have access to the most capitalised digital assets and Tezos is often not on this list.
Buy Tezos with Bitcoin or Ethereum
As you may have noticed, Tezos is available for purchase on several platforms directly for fiat (pounds, dollars, etc.). However, this is not necessarily the case everywhere.
In situations where you cannot purchase XTZ directly, you will have no option other than having to start by buying highly popular cryptocurrencies such as Bitcoin or Ethereum.
Once these digital assets are in your possession, you will need to transfer them to a trading platform where ETH / XTZ or BTC / XTZ trading pairs exist. Fortunately, almost all exchanges offer these pairs and you will be able to buy Tezos on all the platforms we present to you at the beginning of the article.
How do I keep my XTZ secure?
Once your XTZ tokens are in your pocket, you will need to secure them in order to avoid any hacking attempts. Although some exchanges are safer than others, the fact remains that most cryptocurrency thefts take place on these platforms.
To keep you safe, we advise you to use a Tezos wallet (insert link) on which you can secure your XTZ.
How do I sell my Tezos?
You may also want to sell your Tezos. If you already have it in your possession, it means you probably already know how to get it. Therefore, the sale of Tezos tokens shouldn't be too complicated for you to understand.
To sell your XTZ for fiat, you need to go to a platform that allows you to do this directly. Once you have the pounds or dollars in your possession, simply take them out of your bank account or credit card.
It may also be the case that your chosen site does not allow you to directly exchange Tezos for a legal currency. In this case, simply convert your XTZ tokens into a popular digital currency like BTC or ETH. Then you should exchange your Bitcoin or Ethereum for real money.
Why would I sell my XTZ?
Everyone can freely sell their XTZ without having to give a justification. However, some people may not really know when to part with some of their Tezos. There are dozens of different reasons, but here are a few that we believe should push XTZ holders to sell at least some of them.
When you invest in a project, you should follow any developments closely. You also need to take a look at what the team behind the project is doing. Unfortunately, you may not have time for this or have too many projects to watch at the same time. In this case, we advise you to sell your XTZ tokens in order to focus on a smaller number of digital assets.
In some cases, XTZ may suddenly explode in value, without a precise reason why. If, despite your research, you cannot explain this, then you should be careful and secure some of your profits by selling Tezos. In our experience, if this happens, prices will generally fall shortly afterwards.
You may also be the type to set levels from which you feel you have achieved your profitability goals. If this is the case, then this is a good reason to sell your Tezos. In life, you should never be too greedy and know how to respect your initial goals.
Do I have to pay taxes when selling XTZ?
The UK is ahead of the game when it comes to defining what a crypto asset like Tezos is and where you stand from a tax point of view. In short, if you are trading XTZ (or any other cryptocurrencies for that matter) like you would shares or securities, when you dispose of them into fiat (i.e. £) you are liable to pay capital gains (currently 10% and 20% depending on your income tax level – this is of course after your £12,300 Capital Gains tax-free allowance).
Regulations vary by country, so we recommend that you do more research based on the country where you are based.
Conclusion
Our guide to buying and selling Tezos tokens is now complete and we hope it has been helpful to you.
Tezos is a relatively old (well-established!) cryptocurrency and it is possible to buy it directly with fiat money on exchange platforms that make the link between the crypto world and the real world. However, some of them may be limited to the most capitalised digital assets such as BTC or ETH. In this case, you will first have to buy one of these virtual currencies and then transfer it to an exchange that will allow them to be traded against XTZ.
The similar reasoning applies when you want to sell your Tezos. If the exchange site offers a direct link between the fiat world and your XTZ, then you can directly convert your tokens into a real currency. However, if this is not the case, they must first be converted into Bitcoin or Ethereum before exchanging them for legal tender.
If you would like to learn more about XTZ, we recommend you check out our Tezos guide page. You can learn about anything you want to know about this renowned crypto project.
Recevez un condensé de l'actualité dans le monde des cryptomonnaies en vous abonnant à notre nouveau service de newsletter quotidienne et hebdomadaire pour ne rien manquer de l'essentiel Cointribune !
J'ai découvert le monde des cryptomonnaies en janvier 2018. Arrivé au pire moment pour investir, je n'ai depuis lors jamais cessé de me former et partage désormais mes connaissances afin de faciliter l'adoption des cryptos.
DISCLAIMER
The views, thoughts, and opinions expressed in this article belong solely to the author, and should not be taken as investment advice. Do your own research before taking any investment decisions.