How To Buy Ether (ETH) With Cash?
Mon 15 Feb 2021 ▪ 1h21 ▪
7
min read — by
While Ethereum is (just a) little lesser known compared to Bitcoin, this cryptocurrency is still enjoying an ever growing success. Want to get your hands on some ETH? There are many ways to get your hands on ether, the Ethereum currency.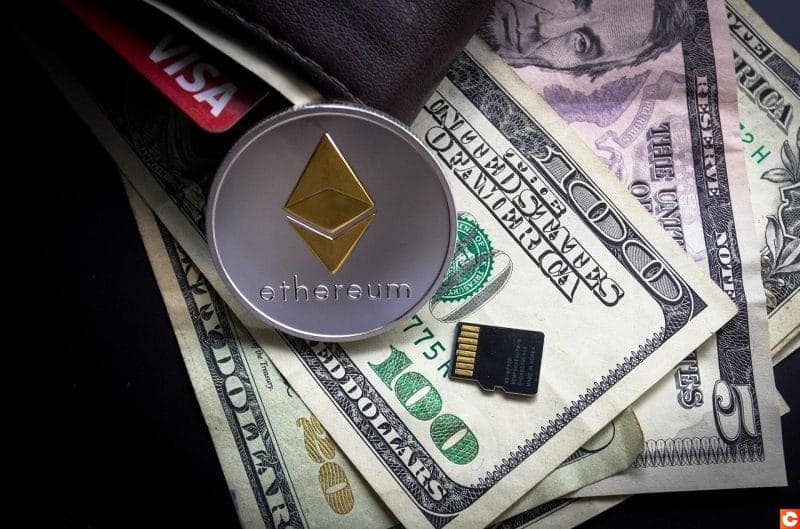 One way to acquire ether is by exchanging it for another cryptocurrency or purchasing it using fiat (which is becoming easier and easier as more options become available). Using fiat-to-crypto exchange platforms, you can buy ether by either doing a bank transfer or paying with your credit/debit card. However, what happens if you want to buy ETH with cash? A cash payment ensures maximum confidentiality, since the transaction is carried out without consulting your bank.
Option 1: Peer-to-peer exchange
The cryptocurrency Ethereum on a smartphone wallet
The concept might seem inappropriate when talking about a dematerialised currency like Ethereum, but it is important to know that it is actually possible to execute a direct exchange, but how does it work?
The first step is to go to a peer-to-peer (P2P) exchange platform like LocalCryptos.
These decentralised platforms function in the same way as e-commerce marketplaces like eBay or Etsy, which connect sellers with buyers. In the same vein, LocalCryptos allows you to get in touch with an ether seller. Most platforms include an internal messaging service that allows you to chat with the seller before completing the deal and arranging a rendezvous. 
You should be aware that we are talking about buying cryptocurrency from a complete stranger. Therefore, the basic safety rules apply. Firstly, it is your responsibility to choose a reliable platform and we advise to do your due diligence and use only those which have good reviews and a professional looking webpage.
Secondly, be aware that the platform's responsibility stops as soon as you come into contact with the potential seller. That means you have to be able to assess the reliability of the seller. You can do this by checking their profile, history and the reviews left by other platform users. Don't forget to also take the time to chat with them on the messaging system in order to collect enough information to be able to gauge their reliability/authenticity.
Thirdly and finally, choose an appropriate meeting point to do the exchange. Where would you choose to sell your car for example? Most probably in a public place or somewhere safe like in a bank. The same principles apply to purchasing of ETH. Some users offer to meet up first before setting up a second meeting to execute the transaction.
Option 2: ATMs
Another option is to purchase ether directly from a cryptocurrency ATM.
Websites like CoinATMradar will allow you to locate nearby available distributors. Open an account, choose which ATM you want to go to and proceed with the transaction. You will have to go through identity verification, then choose your wallet and deposit your cash. The equivalent amount in ether will automatically be transferred to your wallet.
Option 3: Postal orders
Another, more complicated option to buy Ethereum is by filling out a postal order. Some cryptocurrency platforms accept payment by postal order, such as ZeBitcoin. There are Post Office branches everywhere in the UK, so finding one won't be hard. 
Visit your local branch, fill in the postal order form and hand it into the nearest available counter. The money is then deposited into the bank account specified, but the maximum amount that can be sent is capped at £250 per order. Also note that there are high transaction fees that apply.
Option 4: Prepaid cards
Another option is to use a Paysafecard prepaid card. This card can be purchased with cash at various shops, bars and supermarkets. It can then be used to make secure transactions online using its PIN number on cryptocurrency platforms that accept it, such as eToro.
The Neosurf card is another prepaid card that also can be used to purchase ether. Available at some petrol stations and corner shops, the card also has a PIN code and has the advantage of being accepted by more cryptocurrency exchange platforms, including Bitboat or ZeBitcoin.
Using the same principle, you can also buy a prepaid Digycode top-up from tobacconists if you are abroad in France and have some euros in cash. Once you have created your account on the Digycode site, enter the secret code located on the card. You can then use the money on your Digycode card to purchase ETH.
What should you remember when buying ether with cash?
It's possible to buy cryptocurrency with cash. This payment method is particularly suitable for buyers wishing to ensure their anonymity. It is a direct way to buy cryptocurrency without going through the services of a bank. You have several options, the first is to make an appointment with a seller through a peer-to-peer exchange just like a regular business transaction.
The second solution is to opt for a paperless transaction which some sites allow through the use of ATMs. Finally, a postal order and the use of cash purchases of prepaid cards are two other ways to obtain ETH.
Every payment method has its disadvantages and advantages and only you can decide which is best for you.
Now you know that buying ETH with cash is possible – whether that's through P2P exchanges, ATMs, postal orders or prepaid cards. Choose the one that best suits your circumstance, monitor Ethereum's price and then go buy your ether! Make sure though before completing your transaction that you have chosen the right ether wallet. Find out how to choose the best ETH wallet here!
Recevez un condensé de l'actualité dans le monde des cryptomonnaies en vous abonnant à notre nouveau service de newsletter quotidienne et hebdomadaire pour ne rien manquer de l'essentiel Cointribune !
Just your average global millennial embracing, and interested in, the future of money and finance. Excited by blockchain tech as well as fintech but have a special passion for DeFi and Yield Farming, what will this technological disruption bring next?
DISCLAIMER
The views, thoughts, and opinions expressed in this article belong solely to the author, and should not be taken as investment advice. Do your own research before taking any investment decisions.