How To Mine Ether (While You Still Can)
Mon 15 Feb 2021 ▪ 3h05 ▪
8
min read — by
Ethereum is the name of a network but more precisely of a blockchain. Each person who makes their own computing power available to the Ethereum blockchain receives ether (ETH), the currency of the network, in return. Therefore, when you mine Ethereum it means you earn ETH in return for an IT sacrifice, which helps make the Ethereum blockchain sustainable and secure.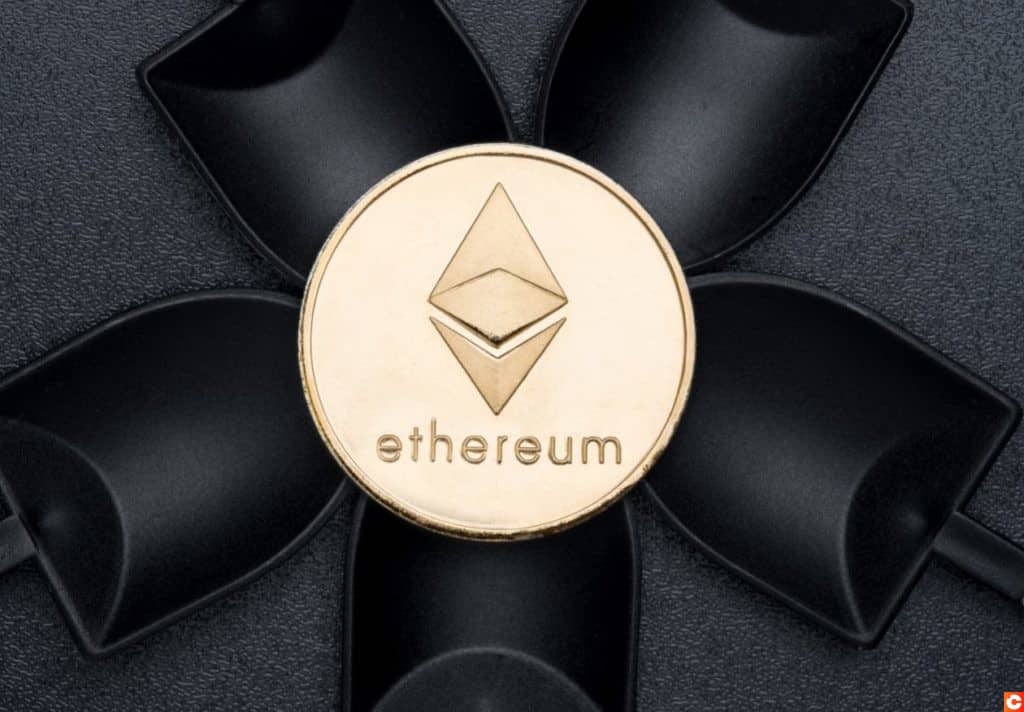 What is Ethereum mining?
As alluded to above, mining ETH essentially equals a miner's computing power being made available in order for new blocks to be created as well as new information being able to be recorded on the Ethereum blockchain, for which miners are compensated (in the form of ETH).
Did you know? Unlike Bitcoin blocks, which take around ten minutes to issue, on average 15 seconds are enough to generate an Ethereum block. Currently miners receive two ETH for each block integrated into the blockchain.
To counteract the increasing amounts of power required to mine Ethereum, the blockchain controls the difficulty of the calculations and maintains the intervals, by closely observing the mining rate, at about 15 seconds.
What you need to know before mining Ethereum?
Now let's take a look at how you can get started with mining Ethereum, from the hardware you need and any potential pitfalls.
How to ensure profitable Ethereum mining?
Before continuing you need to be aware that at the time of writing, Ethereum has plans to replace the proof-of-work (PoW) consensus algorithm with a proof-of-stake (PoS) one, although it has been plagued with delays! Being aware of this change and when it might happen is very important as you will not be able to mine once it becomes PoS.
In order to mine ether, as well as other cryptocurrencies, you will need a graphics card (GPU), which can be resold if no longer required. However, GPUs lose their value over time, especially due to the intensive work involved in mining and the release of increasingly efficient processors.
Remember to also take into account the cost of equipment, electricity or any other costs when calculating your ROI (return on investment) in order to give yourself the best chance of making a profit.
Good to know: there are profitability calculators (like cryptocompare.com) that will estimate the profits of a mining operation under the conditions you set.
What do you need to mine ETH?
It is important to do your research about the various graphics cards and associated systems on offer so you can best determine which equipment combines the best ratio of energy consumption, performance and price. For example, GPUs offered by the US manufacturer AMD offer excellent value for money.
On the operating system side of things, Windows 10 64-bit version works just fine as well as some versions of Linux. However, to date, no iOS is compatible with Ethereum mining. Also, don't forget to pay attention to the quality of your power unit to avoid disappointment.
Lastly, there are mining devices called Application-Specific Integrated Circuit machines or ASICs for short. These are very powerful devices with a higher hash rate (calculating speeds) than any conventional GPUs you can find. One of the best known is the Antminer, which has several models depending on your budget. You can find them on Bitmain.com.
The ETH mining options
Whether you want to work alone or in a group, have a look at what's best below:
Mining ETH alone
Make sure you have dedicated computer hardware and software. For example, Claymore Dual Miner software can offer excellent stability and improved efficiency. However, no set-up is complete without a reliable ETH wallet to secure your hard-mined funds. Read our guide on choosing the best ETH wallet!
Good to know: The size of the blockchain will only ever get bigger, which means you will constantly need increased power to continue mining. Do this by investing in the newest and best hardware.
Mining ETH in an Ethereum mining pool
Joining a mining pool like Cruxpool means teaming up with other miners to combine computing power so you can mine faster. As you work together, the rewards earned are redistributed among the pool's participants.
Just as if you are mining by yourself, you will need to set up your equipment and install the requested software all the same. Don't forget, as with before, to have a secure wallet and address for it, a dedicated email address is also highly recommended.
Cryptocurrency markets are ruled by competition as well as supply and demand, so earnings (in fiat) will depend on your computing power, even within a pool. However, putting together teams makes it possible to compete with other Ethereum miners.
Mining Ethereum via cloud mining
Rather than investing in hardware (which can cost thousands of pounds) you can rent a share of someone else's computing power. By renting computing capacity from an external infrastructure, you limit your expenses in terms of hardware and power consumption. Of course, when expenses are limited, the gains are too.
There are different Ethereum cloud mining companies, however cloud mining is a tricky business full of scams, so be sure to do your own research. Why not look at our trusted partner Feel Mining!
Why mine ETH?
There are several reasons why mining Ethereum is a good idea. One main motivation should be the desire to contribute to the development of the Ethereum project. Being a decentralised system, Ethereum relies on its community, but that doesn't mean there are no other advantages to mining ETH.
The advantages of mining ETH
Here a some reasons why you should mine for the world's second largest cryptocurrency (by market capitalisation):
Ethereum made smart contracts famous
There are many big investors who believe in Ethereum's future
Ethereum is an open source system that allows everyone to join the network and contribute to its development
The transaction costs are relatively low
The Ethereum network is fully decentralised
The risks of mining ETH
Mining Ethereum can be profitable but there are some risks that you should be made aware of:
While mining is quick, transactions are not so fast
Mining Ethereum is not possible without an internet connection
There is a growing, and ever more powerful, competition
Ethereum manages many platforms (registers, smart contract generators, etc.), which tend to slow it down
What to remember when mining ETH
The Ethereum mining process, at the time of writing, is very similar to that of Bitcoin and remains accessible to individuals, groups and cloud miners alike. However, you should take some precautions before you start mining, including calculating its profitability.
With Ethereum 2.0, the PoW system will be replaced by a PoS one. When this happens, mining will cease to exist and instead we will speak of minting.
This popular cryptocurrency is undergoing big changes and the biggest of them all, a change of its consensus algorithm, will surely have an impact on Ethereum's price. As always, it is up to you to assess the risks and rewards that Ethereum mining can offer.
Recevez un condensé de l'actualité dans le monde des cryptomonnaies en vous abonnant à notre nouveau service de newsletter quotidienne et hebdomadaire pour ne rien manquer de l'essentiel Cointribune !
Crypto-enthousiaste de la deuxième heure, rien n'a plus d'importance à mes yeux que d'accompagner l'adoption globale et la démocratisation des trésors que nous propose la blockchain.
DISCLAIMER
The views, thoughts, and opinions expressed in this article belong solely to the author, and should not be taken as investment advice. Do your own research before taking any investment decisions.