Crypto: Huobi loses $7.9 million in a hack
Tue 26 Sep 2023 ▪
4
min of reading ▪ by
▪
Crypto regulation
Huobi has become a hacker's latest target! While the cryptocurrency exchange, now known as HTX, had a bright future ahead of it, an unfortunate event has disrupted its day-to-day operations. However, things should be less difficult to deal with as the identity of the hacker is not unknown.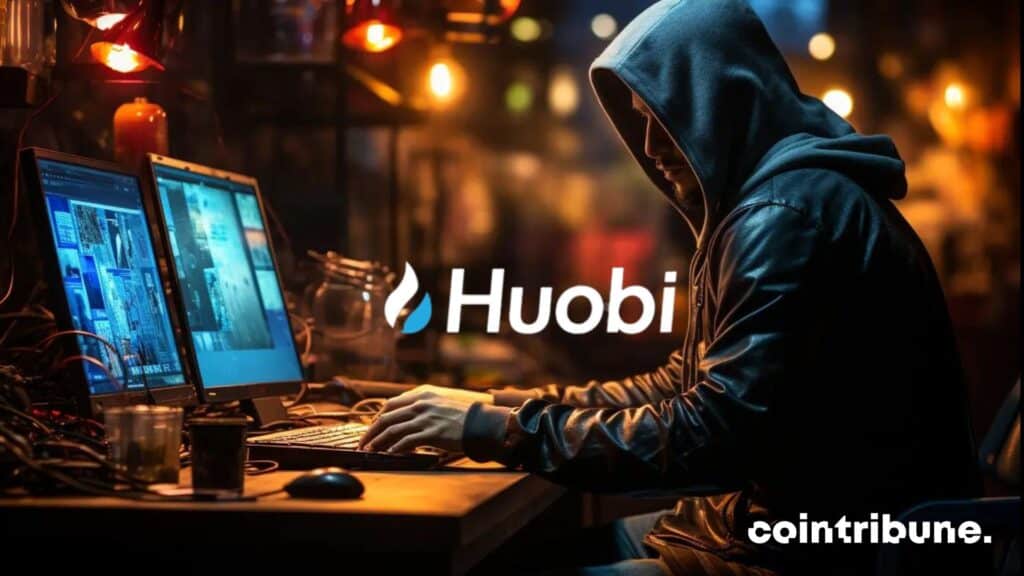 $7.9 million stolen, Huobi is not happy
Yet another hack in the crypto ecosystem. After many predecessors, it's Huobi's turn to suffer an attack. But this one is different from the scams that have occurred so far. Indeed, it would appear that the hacker's address is none other than that of the crypto exchange platform Huobi.
According to a report by blockchain analysis platform Cyvers, Huobi Global's HTX was hacked at 10am on September 24. In all likelihood, a Huobi hot wallet would have transferred $7.9 million, or 4,999 Ether, to an address with no antecedents.
A day after the hack, a separate crypto wallet belonging to the exchange platform made contact with the hacker. The message clearly asks him to return the stolen funds or face legal action. Indeed, HTX knows the hacker's identity, but instead of attacking him, offers him a deal instead. The crypto exchange asks him to refund only 95% of the funds and keep the rest, but the offer is time-limited.
Solidarity in the crypto industry, Binance gets involved
Rivalries have no place in troubled times, and Binance's move proves just that. In the wake of the Huobi hack, the CZ-based exchange hasn't been sitting on its hands – on the contrary, it's offering to help track down the hacker's funds. This is a welcome offer, even if we know that HTX had already made arrangements.
Indeed, his offer to the hacker is only valid until October 2. However, no help is too much to ask, especially given Binance's dominant position in the crypto market. It's worth remembering that life hasn't always been rosy for the hacked platform.
This year, it went through many difficulties, and some analysts were predicting the downfall of Justin Sun's exchange. Nevertheless, the company continues to hold its ground, and even if it is going through a tumultuous period of its own, the support of a giant is not to be sniffed at.
Huobi is the victim of a crypto hack, but the team remains confident, since the identity of the hacker is not unknown. Now that the die has been cast, all that remains is to hope that the cryptocurrency exchange can recover the funds siphoned off.
Maximize your Cointribune experience with our 'Read to Earn' program! Earn points for each article you read and gain access to exclusive rewards. Sign up now and start accruing benefits.
Le monde évolue et l'adaptation est la meilleure arme pour survivre dans cet univers ondoyant. Community manager crypto à la base, je m'intéresse à tout ce qui touche de près ou de loin à la blockchain et ses dérivés. Dans l'optique de partager mon expérience et de faire connaître un domaine qui me passionne, rien de mieux que de rédiger des articles informatifs et décontractés à la fois.
DISCLAIMER
The views, thoughts, and opinions expressed in this article belong solely to the author, and should not be taken as investment advice. Do your own research before taking any investment decisions.