Molitor Paris: The famous Paris hotel launches an NFT art collection
Fri 01 Sep 2023 ▪
9
min of reading ▪ by
▪
Non-Fungible Token (NFT)
Inaugurated in 1929, Molitor was for 60 years the most popular swimming pool in Paris, with its two pools and avant-garde atmosphere. Closed in 1989 and listed as a historical monument, the building was taken over by artists and became a temple of alternative culture, mixing street art, artistic performances, concerts and more. Now transformed into a luxury hotel complex, Molitor MGallery has always placed great emphasis on its artistic flair. Now, with a new collection of NFT d'Art, the hotel wants to share its artistic side with collectors.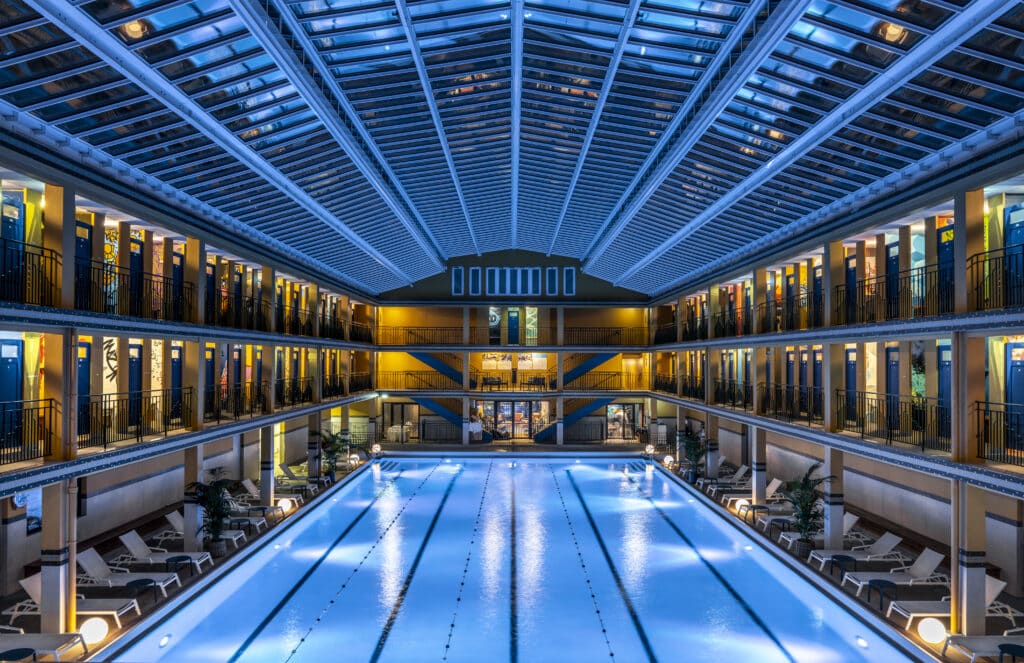 Molitor Paris, a place to discover urban art
To understand how Molitor Paris came to be a hot spot for street art, we need to look back at its history.
An Art Deco-style nautical complex
When it first opened, Molitor quickly developed its own character. It opened its doors in 1929 as a municipal swimming pool in the 16th arrondissement of Paris. The venue became a staple of the Parisian scene, mainly thanks to its two emblematic pools: the outdoor pool, or "The place to be" in the city, and the indoor pool, both resolutely Art Deco.
Molitor is the place to swim, tan (and skate in winter!), but not just that. It's also the place where fashion is made. Some of the most provocative trends of the era were born at Molitor. The first modern bikini designed by Louis Réard, for instance, was unveiled at the Molitor pool in 1946. The venue also hosted fashion shows, galas and other prestigious parties.
Urban art takes over Molitor
In the 70s, the Molitor swimming pool began to lose popularity. It lost momentum and finally closed in 1989. It was then listed as a historical monument to prevent its destruction. With the pool closed, the premises were taken over by street artists, notably graffiti artists, who transformed the establishment into a huge urban art space. The Molitor became a hub for graffiti art in Paris.
The Olympic-sized pools became the scene of rave parties, alternative concerts and teknivals. Skateboarders, meanwhile, found the perfect place to ride. In 2008, the Accor Group undertook the renovation of the Molitor's summer and winter pools. A luxury hotel and wellness center were also integrated into the construction.
Molitor, now an MGallery-branded hotel complex, reopened in 2014. The original Art Deco architecture was restored. The free art heritage was also preserved.
Over the years, many renowned artists have been invited to tell the story of contemporary urban art through frescoes that cover the former changing cubicules of the indoor pool, from wall to ceiling. The 78 cabins are each an immense gallery of contemporary urban art. Every year, the hotel organizes cultural events featuring the artwork.
From mural to digital
In 2023, Molitor is inviting new artists to express themselves on this iconic urban art stage: the walls of the winter pool. This year, Molitor is breaking new ground with its first NFT collection created by 3 exceptional artists: Does, Nasty and Marko93. Based on their physical works created in 2018, the 3 street artists have each come up with a collection of 100 NFT artworks. The physical works will be destroyed within the year. Collectors of the 390 NFT works will keep a share of these digitized pieces. The 390 NFT artworks are part of The Legacy Collection.
Molitor will be selling these 390 digital artworks. The acquisition will provide collectors with access to unique experiences. In particular, the 390 collectors will be invited to the Legacy Party, held on November 25. A vernissage of a different kind, so to speak. Thirty other collectors will be randomly selected to enjoy a sit-down dinner in the indoor pool. Finally, 3 lucky collectors (again selected at random) will be able to meet the 3 artists behind the pieces during a preview visit of the cubicles.
3 artists for 390 NFTs
The Legacy Collection features the work of 3 exceptional artists: Does, Marko93 and Nasty.
DOES
DOES, whose real name is Joos van Barneveld, is a multi-disciplinary artist from the world of street art. DOES is a painter, sculptor, graffiti artist and former Dutch professional footballer. His style can be recognized by his well-balanced color schemes and his ability to control the purity of contours. His specialty is controlled dripping with vertiginous, stretched colors.
DOES constantly pushes back the limits of his artistic research to navigate new conceptual directions. He considers graffiti to be an archive that embodies his artistic roots.
Marko
Marko 93 grew up in Paris. He took up street art and graffiti in the 80s, inspired by the hip-hop movement, which was already very popular in Europe and the USA. The artist's distinctive style is calligraffiti, a skilful blend of graffiti and Arabic calligraphy executed in an abstract style. Although the artist has a keen sense of design, his work seems to evoke spontaneity and casualness due to the inclusion of paint drips and splattered edges.
Marko is also a talented light painter. He has been cultivating this art form since 1999 and has used it on numerous occasions to convey powerful statements, such as messages of peace, around the world. He reinvents light painting by using computers and cameras to capture and render streaks of light in real time.
Nasty
Nasty is a notorious French street artist. He is best known for his enamelled RATP plaques, which he has been using for over 25 years. In 1988, he left his mark on walls and subways, making a name for himself in French graffiti circles. Along with his contemporaries, he strongly influenced and defined the codes of Parisian graffiti culture in the 90s. His signature? Sleek lettering, explosive colors and bold contours.
His style is particularly characterized by bright colors, such as pink, purple and blue, to contrast with the gloomy gray of concrete. For Nasty, what could have been mere childishness and vandalism has turned into an incredible artistic journey, featuring exhibitions in galleries and museums, as well as equally rewarding collaborations with brands.
The Legacy Collection: the project's roadmap
The Hotel Molitor Paris introduces its Legacy Collection project to NFT art collectors on September 1st. The hotel also opens its waitlist to them. The private sale will be launched one month later, on September 29, closely followed by the public sale the next day (September 30). Molitor will then invite the 390 collectors to the Legacy Party on November 25, 2023, in the indoor swimming pool. A collector's dinner at the bottom of the indoor pool will also be held in early 2024.
Conclusion
Molitor Paris continues to capture, share and perpetuate the artistic spirit of the establishment with its street art NFT collection, The Legacy Collection. In addition to ensuring the prosperity of street art, Molitor is bringing this still overly exclusive and marginalized world to a wider public through its project.
To sign up for the waitlist, visit the project's website. There will be 390 NFTs, each NFT being unique. Price: €590, or 0.35 ETH.
Receive a summary of the news in the world of cryptocurrencies by subscribing to our new daily and weekly newsletter service so you don't miss any of the essentials of Cointribune!
Disclaimer:
The contents and products mentioned on this page are in no way endorsed by Cointribune and should not be construed as its responsibility.
Cointribune strives to provide readers with all relevant information available, but cannot guarantee its accuracy or completeness. Readers are urged to make their own inquiries before taking any action with respect to the company, and to assume full responsibility for their decisions. This article does not constitute investment advice or an offer or invitation to purchase any products or services.
Investing in digital financial assets involves risks.
Read more