Revolution in Turkey: More than half of citizens turn to crypto!
Mon 04 Sep 2023 ▪
3
min of reading ▪ by
Getting informed
▪
Event
Amid alarming inflation, a new trend is emerging in Turkey: more than half the population is now embracing cryptocurrencies as a financial haven. Here's an overview of this transformation.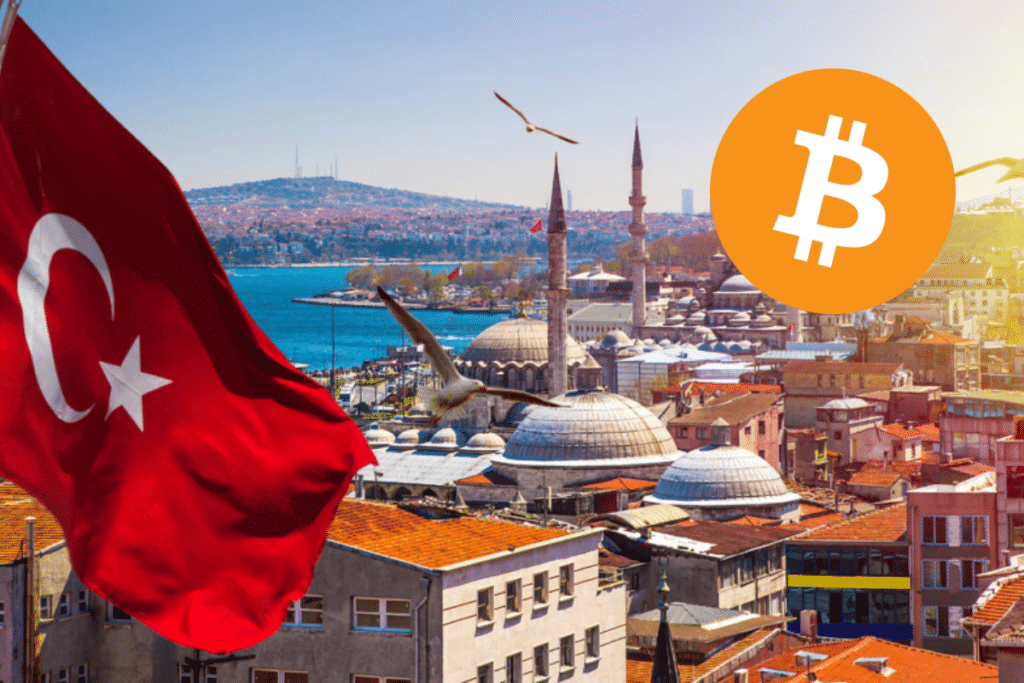 Key points:
Massive crypto adoption in Turkey following rapid inflation;
Bitcoin and Ethereum dominate investment choices;
Young Turkish women show growing interest in crypto.
Increased crypto adoption in Turkey amid inflation
Facing unbridled inflation, Turkey is witnessing a growing infatuation with cryptocurrencies. According to a recent study by KuCoin, Turkish adoption of cryptos has soared from 40% to a notable 52% in just eighteen months.
KuCoin, one of the world's leading cryptocurrency exchange platforms, highlighted this development. Their study indicates that more and more Turks see crypto assets as a shield against the rapid depreciation of the Turkish lira. Faced with a lira that has fallen by more than 50% against the dollar, citizens are looking for solid financial alternatives.
"Our observations on Turkey, combined with other previous country studies, show that the increase in the number and percentage of crypto investors reflects a growing confidence and infatuation with cryptocurrency. This is all the more marked with the Turkish lira having lost more than 50% of its value against the US dollar," a KuCoin representative told Decrypt.
However, Turkey is not an isolated case. Similar trends have been noticed in Brazil and Nigeria. Cryptocurrencies seem to offer a safe haven for many people in the face of depreciating local currencies. The figures bear this out: 58% of those surveyed see cryptocurrency as a long-term investment, while 37% see it as a reliable means of preserving their capital.
From Bitcoins to women investors: Turkey redefines the Crypto landscape
Turkish investors' enthusiasm for Bitcoin is undeniable: 71% of them hold BTC. Ethereum comes next, chosen by 45% of investors. While historically the world of crypto investing has been predominantly male, in Turkey the situation is changing. Today, almost half (47%) of investors in the 18-30 age bracket are women.
Beyond its growing adoption of cryptocurrencies, Turkey is nurturing broader ambitions. It is also considering setting up its own central bank digital currency, the Digital Lira.
In conclusion, in the face of its economic challenges, Turkey sees crypto as a notable opportunity. More than a mere observer of the rise of cryptos, it aspires to position itself as a key player in the digital revolution with its own central bank digital currency, the Digital Lira.
Receive a summary of the news in the world of cryptocurrencies by subscribing to our new daily and weekly newsletter service so you don't miss any of the essentials of Cointribune!
Passionné par le Bitcoin, j'aime explorer les méandres de la blockchain et des cryptos et je partage mes découvertes avec la communauté. Mon rêve est de vivre dans un monde où la vie privée et la liberté financière sont garanties pour tous, et je crois fermement que Bitcoin est l'outil qui peut rendre cela possible.
DISCLAIMER
The views, thoughts, and opinions expressed in this article belong solely to the author, and should not be taken as investment advice. Do your own research before taking any investment decisions.