Solana revolution: Crypto welcomes digital euro
Thu 24 Aug 2023 ▪
4
min of reading ▪ by
Getting informed
▪
Event
A revolution is underway at Solana. The prestigious blockchain has welcomed EUROe, the first native euro stablecoin, carefully designed to integrate with its ecosystem. Behind this innovation stands Membrane Finance, a Finnish startup specializing in fintech blockchain. Thanks to EUROe, the happy encounter between the crypto sphere and the digital euro has finally materialized. Let's find out more.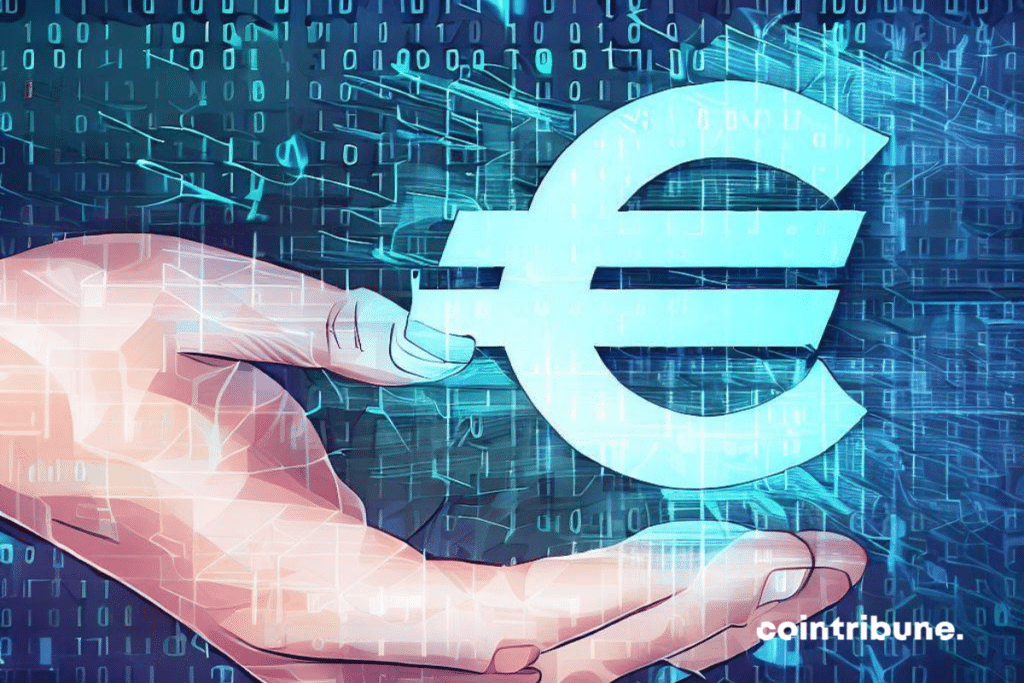 A new era for solana
The inauguration of EUROe marks a major turning point for Solana. The blockchain can now count on a native digital euro currency, with all its attendant benefits.
EUROe paves the way for new blockchain applications such as currency conversions, euro card payments and value preservation.
In particular, EUROe guarantees Solana's compliance with the future MiCA regulation, due to come into force in 2024. This makes Solana a strong EVM blockchain competitor on the European market.
According to Patrik Elias Johansson, Chief Compliance Officer at Membrane Finance, this regulation will bring "an unprecedented degree of accountability and protection" to the crypto sector. With EUROe, Solana now ticks all the boxes to attract European companies.
A compliant and secure cryptocurrency
But what is this famous EUROe? It's a stablecoin backed by the euro, with reserves fully guaranteed. Each EUROe in circulation is backed by €1 held by Membrane Finance with European financial institutions.
EUROe also offers a 1% equity guarantee. This guarantees compliance with the future MiCA framework, and provides a high level of security for users. Stablecoin can be issued and spent free of charge, in a 1:1 ratio with the euro.
More good news: EUROe is already enjoying massive adoption. Since its launch, stablecoin has been supported by Wirex, a well-known crypto payment app. Its 6 million users can now use their EUROe at over 40 million merchants!
Wirex also makes it possible to instantly exchange EUROe for over a hundred different currencies. This makes it the perfect tool for widespread daily use of EUROe.
According to Pavel Matveev, co-founder of Wirex, "the arrival of EUROe on Solana guarantees optimum flexibility for managing your finances".
Towards the future of finance
With its speed, low costs and reliability, Solana represents the ideal terrain for a digital currency. What's more, its dynamic community will encourage the development of numerous applications around EUROe: decentralized finance, NFT, online games, etc.
According to Juha Viitala, one of the founders of Membrane Finance, this launch marks a significant milestone: "We believe that Solana is now poised for success in Europe".
The future looks bright for blockchain, to say the least, with the long-awaited arrival of the new-generation euro. France's decision to take the next step in crypto regulation seems justified.
Receive a summary of the news in the world of cryptocurrencies by subscribing to our new daily and weekly newsletter service so you don't miss any of the essentials of Cointribune!
Fasciné par le bitcoin depuis 2017, Evariste n'a cessé de se documenter sur le sujet. Si son premier intérêt s'est porté sur le trading, il essaie désormais activement d'appréhender toutes les avancées centrées sur les cryptomonnaies. En tant que rédacteur, il aspire à fournir en permanence un travail de haute qualité qui reflète l'état du secteur dans son ensemble.
DISCLAIMER
The views, thoughts, and opinions expressed in this article belong solely to the author, and should not be taken as investment advice. Do your own research before taking any investment decisions.