Swiss Bitcoin Pay: Bitcoin payments at your fingertips!
Mon 14 Aug 2023 ▪
5
min of reading ▪ by
▪
Payment
The innovative Swiss Bitcoin Pay platform simplifies the way businesses integrate Bitcoin as a payment method. With a range of services designed for merchants and customers alike, Swiss Bitcoin Pay is positioned as an efficient and independent solution for Bitcoin transactions.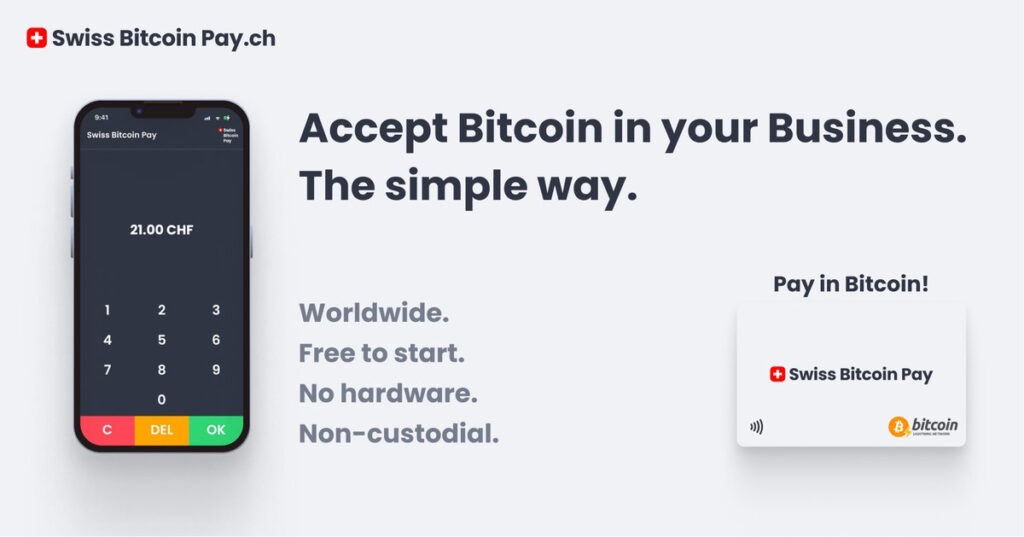 Swiss Bitcoin Pay is an innovative new player in the Bitcoin payment sector. The company offers two flagship products: the Bitcoin payment processor and the Bitcoin Pay NFC card. As bitcoin adoption continues to grow, these products offer the opportunity to adapt to an ever-changing financial landscape.
Bitcoin Payment Processor : Simplify your transactions
"1 minute to integrate Bitcoin into your business". This is the promise made by Swiss Bitcoin Pay to its customers. To keep this promise, every effort has been made to ensure that this turnkey solution makes it easy for the uninitiated to receive Bitcoins as part of their business activity. Ergonomics have therefore been given particular attention, and initial configuration is very simple, with no KYC identification procedure required. You can choose Swiss Bitcoin Pay wherever you are in the world, and you'll receive your Bitcoins every 24 hours, on your own wallet, on-chain or Lightning.
Businesses in Europe and Switzerland can also choose to receive their payments in Swiss francs or euros via bank transfer. All with a maximum fee of 1%. Interesting point, Lightning -> on-chain conversion and transaction fees are always covered by Swiss Bitcoin Pay and free of charge for you.
80 retailers already accept bitcoin as a means of payment with Swiss Bitcoin Pay, mainly in the UK and France, but also in Spain, Switzerland, Brazil, Portugal, Germany and Italy.
Merchants can bill their customers in bitcoins via the Swiss Bitcoin Pay mobile application, by sharing invoices by e-mail or by using APIs.
Accounting and training initiatives
Regarding taxation, tools are provided to facilitate the declaration of cryptocurrency earnings, with a dedicated dashboard. At the end of each month and year, an e-mail is automatically sent with details of transactions, including the value in CHF of Bitcoin received for the past year, as at December 31.
In addition, the company offers comprehensive training to bridge the knowledge gap around Bitcoin technology, helping businesses and their staff to feel confident in using this transformative tool.
To put it plainly, the offering doesn't offer the same level of independence as a solution like BTCPay, which is what any bitcoiner worthy of the name is looking for first and foremost. But the latter is more complex to grasp, and in the end, we have here an excellent compromise in terms of autonomy, with funds in your possession within 24 hours (in bitcoin or Fiat) without KYC, which is remarkable.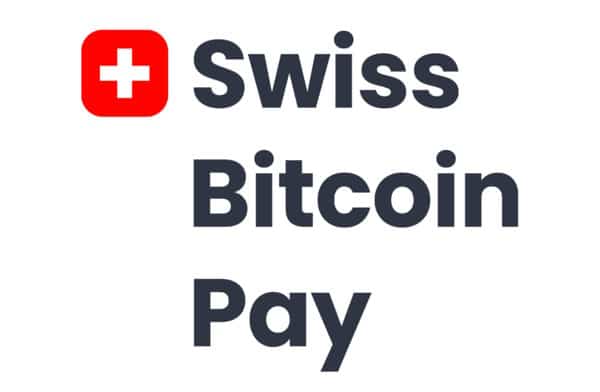 Swiss Bitcoin Pay Card: Pay instantly in bitcoins
Imagine a card that lets you pay for your purchases in Bitcoin Lightning with a simple gesture. That's the promise of the Swiss Bitcoin Pay card. Featuring Secure Unique NFC technology, this card makes Bitcoin payments instant and secure with a simple Tap-to-pay on the terminal. No more QR codes to scan, apps to open or smartphones to pull out. With zero transaction fees, it facilitates payments at all businesses that accept it, namely those with Swiss Bitcoin Pay, BTCPay server, Wallet of Satoshi, Breez or Voltpay. Here too, no registration or KYC is required (limited to CHF 1,000 on the card).
Once the card is in your possession, simply deposit BTC on the card's unique Bitcoin address. This is linked to a Lightning account at Swiss Bitcoin Pay. The card can then be used in any compatible store.
With the Bitcoin Payment Processor and the Bitcoin Pay NFC Card, Swiss Bitcoin Pay simplifies, secures and boosts Bitcoin adoption with clearly innovative solutions.
Maximize your Cointribune experience with our 'Read to Earn' program! Earn points for each article you read and gain access to exclusive rewards. Sign up now and start accruing benefits.
Entrepreneur en informatique et résident en terres africaines depuis une quinzaine d'années. Dans ce monde incertain et vacillant, je considère le bitcoin et les cryptos comme l'une des meilleures opportunités face aux défis qui nous attendent.
DISCLAIMER
The views, thoughts, and opinions expressed in this article belong solely to the author, and should not be taken as investment advice. Do your own research before taking any investment decisions.