Swissborg: Earn 9% on your Bitcoin (BTC)!
Fri 14 May 2021 ▪
3
min of reading ▪ by
Just a week after its launch, over 22,000 SwissBorg app users have deposited the equivalent of £120 million worth of BTC. They have been earning upto 9% pa paid directly in BTC every 24 hours. This is in addition to their existing yield wallets, where you can earn up to 28% pa on the likes of USDC, ETH and CHSB.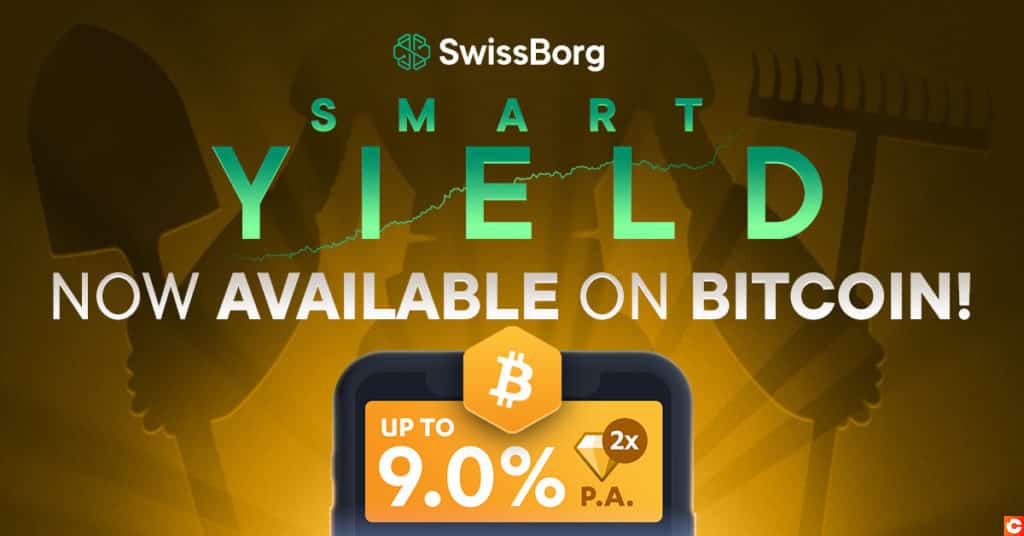 Smart Yield to the moon! 
The Bitcoin yield wallet comes with all the same benefits of the existing Smart Yield wallets:
The strategy optimiser monitors and approves all available investment opportunities on a daily basis to find the best return for the lowest risk
The wallet maximises returns by offering a variable yield, meaning you will get the highest available yield for the best risk/return ratio
The yield earnings are compounded every 24 hours, resulting in higher earnings over time
There is no minimum investment period, meaning you don't need to lock your funds for 30 or 90 days to get the highest yield
All Smart Yield wallets benefits from our Safety Net Program, which protects against smart contract risk
Not only that, you can earn even higher yields with our premium accounts. Those who upgrade to Genesis Premium (available for a limited time), will earn twice the yield of standard users, while those who upgrade to Community Premium (coming soon) will earn one and half times the standard yield!
Currently, SwissBorg offers yield-earning wallets on BTC, USDC, CHSB and ETH, and will be launching wallets on BNB and DAI in the coming months.
How to activate your yield wallet
To activate your yield wallet in the SwissBorg app:
Make sure you have the latest version of the app
Deposit, buy or exchange to a yield-eligible asset (i.e. BTC, USDC, CHSB and ETH)
On the Portfolio tab, tap on the relevant cryptocurrency
Scroll down, and tap the Yield Wallet card
Tap Top Up
Choose how much you would like to add to your yield wallet
Follow the prompts to start earning a daily yield!
Good to know: that while there is no minimum investment period, redemptions are executed every 24 hours. Once you ask to redeem funds, they will be transferred to your active wallet at 8am GMT the following day.
Want to learn more about all the exciting features on the SwissBorg Smart Yield wallet?
Receive a summary of the news in the world of cryptocurrencies by subscribing to our new daily and weekly newsletter service so you don't miss any of the essentials of Cointribune!
Derrière la signature générique « Rédaction CT » se trouvent de jeunes journalistes et des auteurs aux profils particuliers qui souhaitent garder l'anonymat car impliqués dans l'écosystème avec certaines obligations.
DISCLAIMER
The views, thoughts, and opinions expressed in this article belong solely to the author, and should not be taken as investment advice. Do your own research before taking any investment decisions.