The Complete Guide To Buying EOS
Mon 15 Feb 2021 ▪
16
min of reading ▪ by
Do you want to buy EOS in order to diversify your cryptocurrency portfolio? If you would like more information about how you can buy EOS as well as a list of the exchange platforms where you can buy it on, continue reading!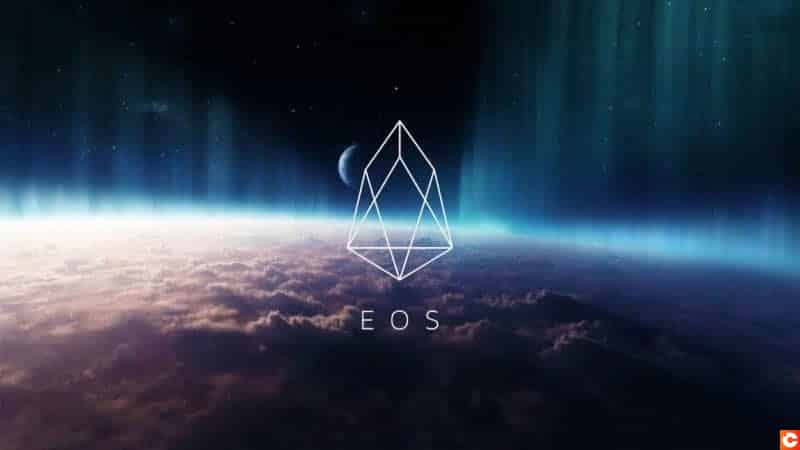 Buying EOS on exchange platforms: instruction manual
What is a cryptocurrency exchange platform?
This is a site where buyers and sellers of digital currencies go to buy and sell BTC, DASH or EOS (to name but a few). There are plenty of platforms to choose from, hence why it is difficult for new investors to find their feet and choose the right platform to buy their EOS, especially one that is secure enough.
The Financial Conduct Authority (FCA) took over the role of anti-money laundering and counter terrorist financing back in January 2020. Since then, it has rolled out a package of legislation to regulate crypto platforms' activities in the UK, from banning derivatives trading to forcing all platforms to register with it before trading.
Such financial ombudsmen across the world like the AMF recommend that you make sure that the platform which you wish to use to invest with is included in the authorised list of providers. In France, that means you can consult the Regafi Register for example.
The types of exchange platforms that can used to buy EOS
Trading platforms
Trading platforms such as eToro, Kraken, Gemini, CEX.IO, and Coinbase unite sellers and buyers. These sites derive their income from the commissions deducted from each trade. You should take their fees into account when choosing your platform based on your trading activity. These types of trading platforms also allow you to buy cryptocurrency using fiat currency, such as the €, £ or $.
Cryptocurrency exchange platforms
These exchange platforms are sites that allow you to obtain cryptocurrency by exchanging it with another cryptocurrency. Whether you use KuCoin or Binance, you can buy EOS if you already have Bitcoin, Ether or any other cryptocurrency stored in your wallet.
Remember that a wallet is your cryptocurrency storage tool and that there are different kinds available depending on your trading needs.
Note: The price of EOS will vary depending on if you exchange EOS for fiat or another cryptocurrency as fees vary.
Purchasing EOS: how to do it?
Here are the main steps to follow from signing-up to the platform to purchasing it:
Signing-up
As with all platforms, you will need to sign-up first. To make sure you are not signing-up to an unverified site, make sure to check your local financial ombudsman white list of approved exchanges. Then, fill in the information required on the registration form. Once completed (remember to check your inbox as platforms generally validate via email) do not hesitate to take a look around to try and understand its features.
Here is an example of eToro's sign-up page:
Verifying your personal data
Due to KYC (Know Your Customer) regulations, most platforms will ask you to verify your identity. Usually this is done by submitting ID (such as your passport or driving licence). In addition, and importantly, they will offer 2FA (two-factor authentication) which is paramount for account security. Please refer to our crypto-dictionary to learn about 2FA.
Here is an example of 2FA on Coinbase:
Choosing the best way to deposit funds
There are a wide range of ways to deposit funds, depending on the platform chosen. Whether you use a credit card, SEPA transfer or PayPal, check with the platforms whether they offer these solutions. You should be aware of the fees associated with each deposit method on every platform.
Depositing with fiat money
Depositing £s or a currency of your choice is straightforward as long as the platform accepts your currency. If, for example, it doesn't take your currency, you will first need to convert your money into an accepted currency which you can easily do using a service like TransferWise or your bank, but make sure you take into account the exchange rate and fees.
If you already have some cryptocurrency, you simply need to deposit it by selecting which token you want to deposit and copying the wallet address.
Buying EOS
Once your funds are deposited, your adventure begins! Once you have bought some EOS we strongly advise you NOT to leave it on the exchange where you purchased it, but rather store it in an external crypto-wallet.
Choosing the right exchange platform
The perfect trading platform does not exist, as it depends on various parameters that are set by your activity and level of knowledge/experience. That being said, here are some criteria to help you to choose the best EOS-purchasing platform!
Guarantees
Making sure your personal data and identity are effectively verified may not be the most pleasant part of your user experience, but it is essential. Platforms who comply with regulatory framework should be seen as reliable, as there are unfortunately many platforms out there run by unscrupulous individuals. Do your due diligence, ask around and just get a general feel for the company before investing your hard-earned cash.
Reputation
Reputations can be easily foiled on the internet, and since you are not the only one wondering whether the platform in question is suitable, do not hesitate to scroll through discussion forums. There are also bound to be tons of posts on specialist sites which can give you an informed opinion on the subject. They will decipher the advantages and disadvantages of a platform, and list all feedback – both positive and negative.
Payment methods
It is important to note that not all platforms offer the same payment/deposit methods. Take your time to understand which one suits you the best (credit cards, bank transfers, online payments like PayPal or Skrill) and then check if that method is available on your chosen platform.
Fees
Unfortunately, buying EOS on these platforms does not come without some sort of cost! After deposit, transaction and withdrawal fees, you may have less of your budget than expected. Therefore, be sure to compare competitors' commissions, allowing you to get the best value for money.
Exchange rates
The exchange rate you get also contributes to the costs of buying EOS. If your local currency is not accepted by the platform, you will have to buy EOS using a different fiat money. This means you will have to include those exchange rate fees into your calculations. Forgetting to check this could cause you an additional headache and hole in your pocket!
Geographical restrictions
Certain platforms are only accessible in specific geographical areas or countries. In other words, you might be able to use Binance in the UK, but not if you are based in South America. So don't forget to check a platform's geographical restrictions.
The different payment methods that can be used to buy EOS
From online payment solutions to the use of credit cards, let's take a look at the various methods you can use to acquire EOS. We will use eToro as an example because it is one of the platforms that offers the biggest range of payment methods.
Credit cards
Using a credit card remains the simplest way to invest in EOS. Most platforms accept credit or debit cards when buying EOS, some with or without fees. In order to do this you need to:
Log into your account
Choose the amount and which currency the deposit should be executed in on the 'Fund deposit' page
Select  'Debit/credit card from the drop-down menu
Enter your card details
Complete the transaction
PayPal
Being one of the best known online payment service companies in the world, PayPal can be a good solution for acquiring EOS. In fact, using Paypal means there is no need to enter your bank details directly on the platform.
In order to purchase EOS with PayPal you need to:
Choose the amount and which currency the deposit should be executed in on the 'Fund deposit' page
Select Paypal from the drop-down menu redirecting you to the PayPal webpage
Complete the transaction
Skrill
Skrill is a British company that offers an online banking service that allows you to receive and send money instantly. It also offers prepaid Skrill cards that can be used to purchase EOS. You will need to:
Choose the amount and which currency the deposit should be executed in on the 'Fund deposit' page
Select Skrill from the drop-down menu redirecting you to the Skrill webpage
Complete the transaction
Neteller
Neteller is a digital money transfer provider. It is considered to be one of the top financial services providers in the world and offers an online payment service as well as prepaid cards. To purchase EOS with Neteller, you should:
Choose the amount and which currency the deposit should be executed in on the 'Fund deposit' page
Select Neteller from the drop-down menu
Enter your Neteller ID as well as Secure ID
Complete the transaction
Cash
Although it is not possible to buy EOS online directly with cash, there are indirect ways that will allow you to acquire EOS, one way is to:
Purchase Bitcoin from a seller off a peer-to-peer reseller on a platform like localbitcoins.com
Exchange your Bitcoin for EOS on a trading platform such as Binance
Storing your EOS on a wallet!
Despite all their features, you should not be holding your cryptocurrency on trading platforms. To avoid waving goodbye to your EOS, get an EOS wallet to store your crypto-assets providing you with maximum security. But which wallets should you choose?
Choosing an EOS wallet
There are two types of EOS wallets on the market: digital (hot) wallets and offline (cold) wallets.
Digital wallets
Also known as hot wallets, digital wallets are by definition the least secure, since they are stored on the internet. As with crypto stored on platforms, they are likely to be targeted by hackers. The choice of hot wallets are as follows:
Desktop wallets like Electrum or Exodus
Online wallets integrated into platforms like Binance or Coinbase, which authorise transactions
Multiwallet wallets like Jaxx or Coinomi which are known for their versatility
Mobile wallets, which are downloadable apps
Depending on the type of wallet you use, there is still a decent level of security. These online wallets can hold multiple cryptos and often have the advantage of being very easy to use, which is valuable for those who partake in daily EOS trading. They offer users the quickest way to make transactions. However, letting your EOS wander around in the open after buying it can be dangerous. You are best off, to reduce your risk of hacking, using a desktop wallet or a mobile wallet.
Offline wallets
Also known as cold wallets, offline wallets are preferred. They have a high level of security since they are disconnected from the internet and its potential dangers. They come in several forms, such as USB sticks and even a piece of paper… you can either buy them online or from a shop.  The best known brands are Trezor and Ledger. Cold wallets are the best solution for those with a large amount of cryptocurrency.
Tip: If you choose the cold wallet option, remember to get into good habits by avoiding plugging your hardware wallet in too frequently, because each time you connect is another chance to be hacked. Make sure your recovery password is kept in the safest place possible!
Choosing the best EOS wallet
In summary, choosing the best EOS wallet for you depends on several factors:
The level of security you want
How often you trade
The practicality (connection, transport) you want
The features you want based on your experience with purchasing EOS
The simplicity of the interface and the fluidity of navigation you need (especially if you are new to buying EOS)
Why buy EOS?
In the vast universe of digital currencies, the question whether to invest in EOS rather than another cryptocurrency is a legitimate one. EOS is new to the market, having launched its blockchain in 2018 with the ambition to compete with the much larger cryptocurrency: Ethereum (ETH).
EOS: An ambitious and acclaimed project
The project started with the publication of a white paper in 2017. Block.one then put their theory into practice by opening its EOS.IO platform and making its software free the following year. This launch was accompanied by a distribution of one billion tokens on the Ethereum blockchain.  In case you've forgotten, the blockchain is the place where all information relating to a project, transactions and its cryptocurrency are stored.
This 3rd generation blockchain, nicknamed 'the Ethereum killer', organised the world's largest Initial Coin Offering (ICO) raising the equivalent of $4 billion. The issues faced by the Ethereum blockchain such as scalability (i.e. the ability to accept millions of users in real time as well as maintenance costs) is top of the EOS' project's list.
EOS asserts itself as a decentralised operating system offering the opportunity for new applications created by developers to interact with each other. One of its blockchain strengths is its consensus mechanism, which is based on evidence of Delegated Proof-of-Stake (DPoS), developed by EOS' project leader, Daniel Larimer. This mechanism puts forward delegates who are responsible for managing changes within the blockchain.
The cryptocurrency quickly became successful, and as a consequence, moved into the top 10 cryptocurrencies by market cap.
The advantages of buying EOS
Here are the arguments in favour of buying EOS:
Project backed by a recognised personality: Daniel Larimer
Very high transaction speed
Significant bandwidth boosting network responsiveness
No blockchain user fees, attracting developers
Ability to update the network in order to develop scalable apps
Transparency in fixing bugs
EOS is one of the fairly new projects within the cryptocurrency community and yet, the project sits comfortably in the top 10. Buying EOS in order to diversify your crypto portfolio is undoubtedly a good idea, but you must only invest what you can afford to lose. Given its age, it is normal to wonder what the future holds for EOS.
Recevez un condensé de l'actualité dans le monde des cryptomonnaies en vous abonnant à notre nouveau service de newsletter quotidienne et hebdomadaire pour ne rien manquer de l'essentiel Cointribune !
Just your average global millennial embracing, and interested in, the future of money and finance. Excited by blockchain tech as well as fintech but have a special passion for DeFi and Yield Farming, what will this technological disruption bring next?
DISCLAIMER
The views, thoughts, and opinions expressed in this article belong solely to the author, and should not be taken as investment advice. Do your own research before taking any investment decisions.