Web3 influence on the media - Interview with Egor Plotnikov of DCM Swiss
Mon 12 Jun 2023 ▪
15
min of reading ▪ by
▪
Non-Fungible Token (NFT)
As the world of blockchain and cryptocurrencies continues to transform, new perspectives are constantly emerging, redefining our approach to the digital future. Today, we have the pleasure of talking with Egor Plotnikov, Director of Operations and ITO Project Manager for DCM Swiss, a company whose ambition is to revolutionize our relationship with the media in the age of Web3.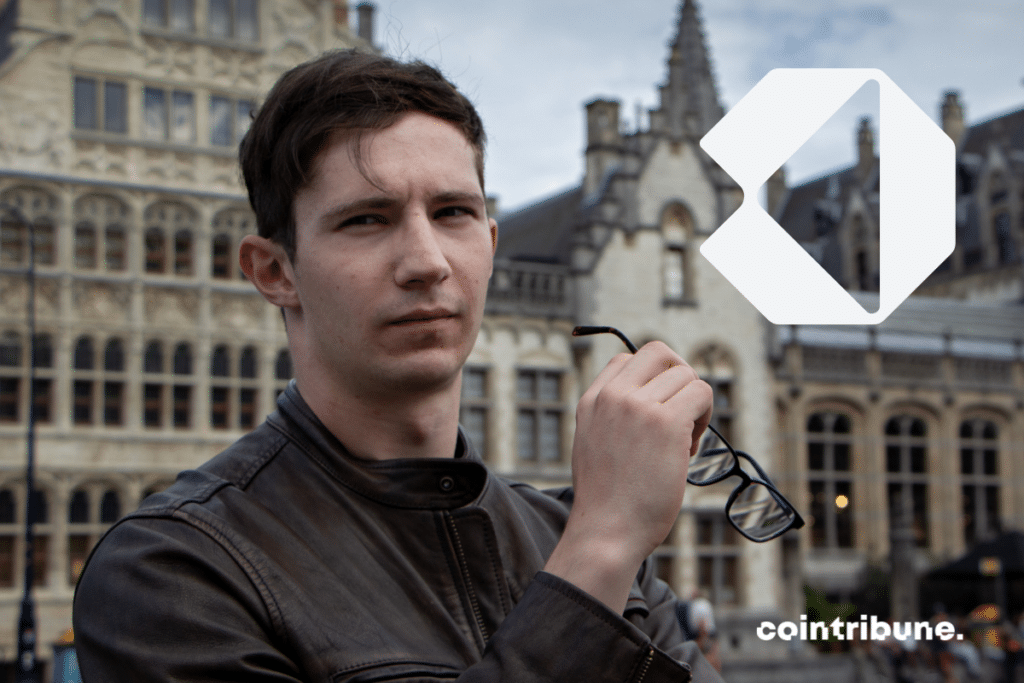 1) For our readers who don't know your project, can you tell us a little bit about yourself and how your project came to be?
Of course, and thank you for having me. My name is Egor Plotnikov. I have always been passionate about innovation, especially when it was for the betterment of peace and global society. Having studied all around the world (Russia, Hong Kong, China, America), and especially in the United World College of Hong Kong, which "makes education a force to unite people, nations and cultures for peace and sustainable future" ignited these passions only brighter. Around seven years ago I got exposed to blockchains, tokenomics, and governance, starting with Bitcoin, of course, and it pulled me in. Under any angle I tried to examine what I found, it all seemed like a better model for the people all around the world and almost any existing or nascent industry imaginable. I started by analyzing the tokenomics and DAO systems of various projects. I found a job that helped me grow some practical skills in the web3 field and got noticed for some successful projects on operations and crypto sides. The company I was working at came to realize that it can significantly expand its area of business activities in the Media Industry. So the idea for a company that would commit to increasing media trust, information ownership and privacy, and Media Industry monetization was conceived. Nowadays I am working as the Head of Operations and ITO lead at DCM Swiss, while also getting my Blockchains and Digital Currencies Master Degree from University of Nicosia.
2) Can you explain in detail how DCM Swiss uses blockchain technology and artificial intelligence to tackle information manipulation and the spread of fake news?
Sure. One of the many purposes we use Artificial Intelligence for is providing the users with content quality analysis and improvement recommendations. A significant part of it is, of course, fact-checking. The content of higher quality is easier to find on our marketplace, meaning it is more likely to be bought and get wider exposure, ultimately resulting in greater mutual benefit and higher content price. We are introducing diverse content quality metrics and creator rankings. Content creator rankings are based on the professional reputation and cumulative quality of content produced by the creator. These metrics and rankings make it possible to organize professional accountability systems that increase the content quality on the industrial level and make sure it financially benefits all the Media Industry stakeholders.
To recover the trust in the Media Industry we are combining Artificial Intelligence and blockchain technologies to enable proofs of fact-checking and content authenticity, which is securely stored on blockchain(s) and provided via immutable open ledger. What immutable open ledger provides in combination with the content licenses is proof that the content was not tempered with. In the future we might further enhance this solution with the Merkle Mountain Range (MMR), which would be a blockchain-based part of the dual accountability assurance tech system. To account for the humane component, we are building a human-centric decentralized community system for the collective verification of content credibility, which would ultimately be rewarded.
Some scholars may correctly point out that the way we judge whether information is trustworthy isn't always based on facts, but rather our pre-existing beliefs, or prejudices. This is a very interesting dilemma that must be taken into account, and which we hope our technology and human-centric approaches will solve on the collective level.
3) You claim to be one of the few Web3 start-ups with real use cases for true mass adoption. Can you give us some concrete examples of how your technology could be adopted on a large scale? 
Generally speaking, there are three major scenarios and corresponding business needs in the Media Industry. That is: 1) content creation, management, and protection; 2) Content sale and publication; 3) Content promotion.
At this time, each of these needs contains complex operations and logistics with many unnecessary intermediaries and inefficient processes, resulting in high operational costs. We are developing a platform with a user friendly interface to expedite the fulfillment of these needs, while seamlessly leveraging the strengths of blockchain and artificial intelligence technology.
We believe that blockchain-based content ownership and protection would be more transparent and incorruptible, and when combined with proper digital content management can solve many copyright and licensing disputes in the Media Industry. Furthermore, our artificial intelligence analyses and ranks content quality across different metrics. The higher the content quality, the more valuable it is, and so the publication and monetization from it is also higher.
Following content creation, the content that appears on our Marketplace platform can be sold and published on the news agencies' website(s). This process is expedited in a peer-to-peer manner with adherence to the content licenses set, and creates fair value for all parties involved. We are developing artificial intelligence to augment this process for better content SEO, awareness, and targeting that ultimately bring higher financial benefits.
We aim to organize content promotion in a technologically and socially decentralized way. That means that initial exposure to and potential publication of the content will be available not only from our Marketplace, but also through various Content Management Systems (CMS) integrations. By adding the distribution via reliably organized social media channels we will increase the acquisition rate, leading to higher awareness of products, service, and information the content contains. Recognizing the strong world trend for Web3, we aim to enable promotion and acquisition of new content formats (e.g. Non-Fungible Tokens) via a direct and decentralized way, which increases conversion rates and sales.
As a more intangible, however stills a real use case, we aim to increase the trust in the Media Industry by synthesizing trust-verifying content activities with digital asset rewards for content already analyzed with artificial intelligence. A greater confidence in media credibility will reestablish readership volumes for news agencies and advertisers, creating new value for all stakeholders.
4) How does your Promotion department work to get articles to a wide network of publishers? How does the use of NFTs establish a direct connection between consumers and brands? 
We do not have a dedicated department for article promotion. We believe automation via various technical integrations (i.e. blockchain, artificial intelligence, CMS) and a human-centric approach is much more effective and cost-efficient. Using our business partners' prior experience, we are building partnerships with world's news agencies to onboard and integrate with our platform to see instant value of our tools and services.
As NFTs are blockchain-based assets, they enable accurate analytics based on the users holding them. Thanks to NFTs, unlike ever before, it is possible to establish a direct two-way connection between brands and consumers, while also maintaining ownership and privacy. For example, brands are able to communicate with holders of their NFTs (without knowing who they are, of course) to provide updates that interest them in particular, based on the analytics. The holders can receive exclusive benefits the brands set, as well as provide feedback loop to the brands and, perhaps, even get rewarded for it. Brands are able to benefit from more accurate data about goods and services needed by none other but their consumers. This can cut production and operational costs, increase customer retention and loyalty, and generate new revenue. All this and more is reflected in the transition from shareholder to stakeholder economy.
5) Could you explain exactly what "Web3 Tours" are, and how they offer a new way of creating and managing guided tours? How can users collect and redeem rewards?
Recognizing the patterns of increasing Web3 adoption world-wide, as can be clearly seen through the efforts of Dubai, UAE, Hong Kong, and other countries, at the advice of our senior advisors we conjured a new concept for real world utility of NFTs as it pertains to travel. Web3Tours revolves around the idea of providing new experiences to travelers. Considering the past statistics of some of the most popular NFT utilities being ticketing, we think this is a great opportunity to bring more people into the world of web3, perhaps, starting with various crypto and blockchain conferences. This can be a very powerful move to befriend web2 and web3 commoners, as well as build that customer-to-brand or brand-to-brand mutually beneficial connection. Ultimately, we hope it leads to a better understanding and larger Web3 adoption in our physical world.
When we talk about collection and redemption, we believe there has to be a way to bridge the gap between web2-style convenience, and web3-style content ownership. For full ownership NFTs require crypto wallets to be installed. However, non-custodial wallets often have tedious first-comer installation experience, making many turn away from it, or might even require identity verification. While others omit this step, ultimately become custodial wallets, which isn't ideal neither for the service provider, nor the end user. What might offer a solution is a sort of redemption portal with the account abstraction. This could provide users – individuals and brands alike – with convenient onboarding experience, no need to get custodial license, and a full functionality of customer-to-brand connection.
6) How does your business model generate revenue? How does investing in the mass adoption of Web3, and in DCM Swiss in particular, present an attractive opportunity for investors, especially in the current economic climate marked by the impact of pandemics, conflicts and the global financial crisis?
DCM has a dual value accrual model, which enables a perfect balance of functionality, convenience, and value generation. That said, we are able to monetize on two layers: application and protocol. On application layer DCM charges set fees for content creation, certification, and promotion services, as well as scenario-specific commission fees that are much lower than that of the Media Industry. At the same time, by using our various technologies we enable all our users to unlock new functionality and generate much higher revenue than what they have been in the "old" digital media. Underneath for some users convenience, on the protocol level, we monetize from on-chain transaction fees. Furthermore, by tokenizing the Media Industry and opening doors to new stakeholders (content consumers) we create new value and opportunities for them and for ourselves.
At this point it is no longer a secret that Web3 is an inevitable upgrade from Web2, which is not distant at all. We are seeing early adoption take place all around the world, and even the guardians of the obsolete financial and media systems are finding it exceedingly hard to argue against the multi-faceted and objective value that Web3 brings.
The housing crisis of 2008 was, perhaps, the first cold shower upon our shoulders, revealing the illusions many have been living. The banking crisis of 2022-2023, which still unravels at fast paced has further exposed the fragility of the global financial system. But one crisis we have been far too oblivious to (like a frog slowly being boiled alive) is the information crisis. There are far too many important high quality stories that do not reach our eyes and ear, and there are far too many low and high quality fakes that do. Misinformation is arguably the largest challenge of the Information Era we live in that also impacts media monetization, and we can not afford to ignore it.
Given how sensitive the information credibility has become in recent years, we are certain that now is exactly the time to invest into projects aiming to reestablish information trust, resilience, and monetization. "Never let a good crisis go to waste": in the times of market lows and instability, as well as severe need for credible information, projects like DCM present investment opportunities on the golden platter that have high chances of paying off, especially when the market will start to recover.
Conclusion
Egor Plotnikov shares an exciting vision of the possible future of Web3 and its widespread adoption, capitalizing on the advantages of blockchain and artificial intelligence. His aim is to address the major challenges currently facing the media industry. DCM Swiss aspires to transform the media industry by establishing a new level of trust and authenticity through these forward-thinking technologies. The coming decade promises to be an exciting one for the media industry, with the rise of Web3 and the increasing adoption of these promising innovations.
Maximize your Cointribune experience with our 'Read to Earn' program! Earn points for each article you read and gain access to exclusive rewards. Sign up now and start accruing benefits.
Disclaimer:
The contents and products mentioned on this page are in no way endorsed by Cointribune and should not be construed as its responsibility.
Cointribune strives to provide readers with all relevant information available, but cannot guarantee its accuracy or completeness. Readers are urged to make their own inquiries before taking any action with respect to the company, and to assume full responsibility for their decisions. This article does not constitute investment advice or an offer or invitation to purchase any products or services.
Investing in digital financial assets involves risks.
Read more