Worldcoin and the mirror of the soul
Wed 26 Jul 2023 ▪
7
min of reading ▪ by
Getting informed
▪
The creator of ChatGPT launches Worldcoin, a shitcoin that wants the apple of your eye.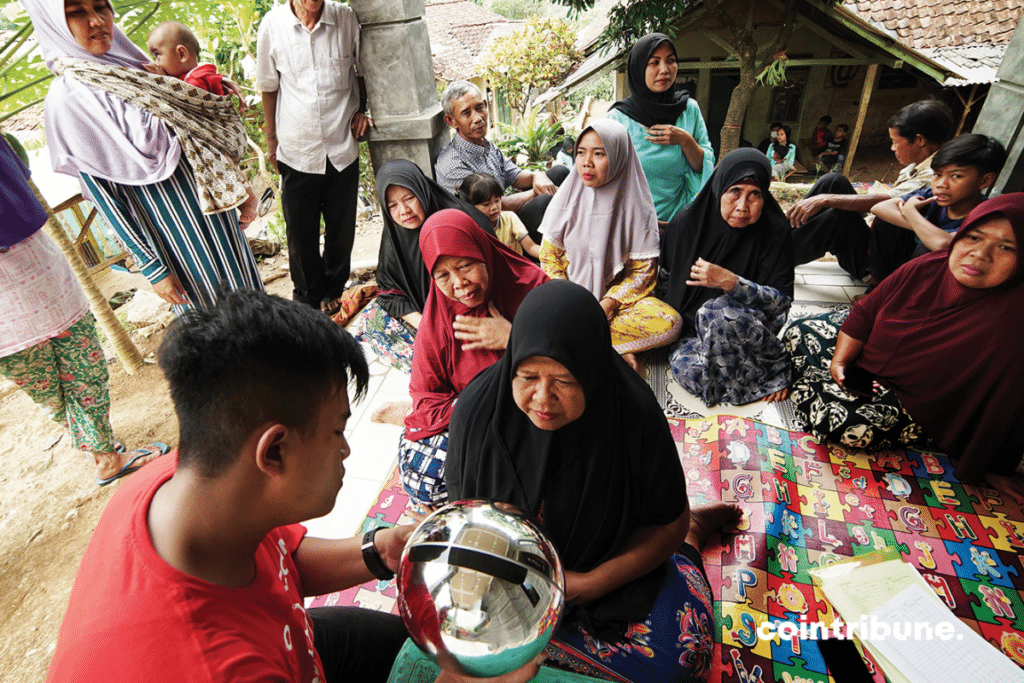 "A shitcoin to fight AI"…
The goal of the Worldcoin is "to become the world's largest financial and human identity network".
Founders Sam Altman and Alex Blania see it as a "reliable solution to distinguish humans from AI online". That solution being the sulphurous biometric identity.
Worldcoin uses iris scans. The biometric fingerprint is used to access Worldcoin and distinguish humans from AI-powered bots.
So much so that Worldcoin's success depends in part on the AI's ability to impersonate a human being. Or, to be more precise, the ability to influence elections via social networks…
So, immediately after opening AI's Pandora's box, Sam Altman gives us a digital identity. The aim is to enable things like "global democratic elections or a universal basic income financed by AI". Nothing less.
"Worldcoin is an attempt at global scale alignment," reads the letter, which has globalist overtones.
The orb
To obtain worldcoins, you need to scan your iris in an "orb". There are currently 298 such orbs in dozens of countries.
Since May 2021, just over 2 million people have sold their irises to Sam Altman (mainly from developing countries). At this rate, it will take 3,100 years to harvest the world's iris.
Why irises? Because it's characteristic of every human being. Its entropy is far greater than that of a fingerprint, and its recognition is some 10,000 times more accurate than facial recognition.
In short, and to put it bluntly, Sam Altman is trying to collect the biometric identity of every human in exchange for a crude shitcoin.
Worldcoin is being promoted as "a decentralized open source protocol supported by a global community of developers", but this is not the case. The white paper states:
That said, there are still plans for worldcoin holders to ultimately influence the direction of the Worldcoin protocol:
"Firstly, Worldcoin will give its holders the opportunity to shape the future of the protocol. Secondly, users can use Worldcoin to pay via the 'world app'. It's also possible to use worldcoins as a 'store of value' or to make payments."
"Shaping" the future of the protocol is a big word. The foundation's bylaws on governance do indeed provide for the creation of a DAO (Decentralized Autonomous Organization), but this will only be able to make "recommendations" to the foundation's board of directors.
In addition to this centralized governance, it is not clear how Worldcoin will be distributed:
How many worldcoins in all?
The primary ambition of shitcoin creators is usually quite simple: to get a slice of the pie. The case in point is Ethereum, which is 70% pre-mined…
Vitaliks and his cohorts (Gavin Wood, Charles Hoskinson, Anthony Di Iorio and Joseph Lubin) have handed out almost 20% of ETH for free. Not to mention the 50% of ETH sold to insiders for a pittance.
The same modus operandi applies to Worldcoin. In fact, the foundation has already increased the quantity of worldcoins to be distributed free of charge from 20% to 25%.
Alex Blania's Tool for Humanity will receive 13.5% of worldcoins, compared with 9.8% for the original team of developers. Plus 1.7% in reserve.
And how much precisely for Sam Altman, that intriguing member of the World Economic Forum's Global AI Council with his Bilderberg connections?…
According to dealroom.com, here's the list of investors in the Worldcoin project. It includes the same VC clique that has been behind most of the shitcoin pump & dumps:
In any case, the rest of the world will have to scan its iris to glean "one Worldcoin every week, with no maximum". Worldcoin's money supply is therefore limitless…
Put another way, the more popular Worldcoin becomes, the more diluted it will become. Just the opposite of bitcoin, which won't exceed 21 million units.
One coin to rule them all
Alex Blania recently declared that, eventually, anyone wishing to use the Internet will have to be authenticated by Worldcoin or "something like that":
"Something like World ID will eventually exist, which means you'll have to verify [that you're human] on the internet, whether you want to or not," he quipped.
That's forgetting Bitcoin and the Lightning Network, which can already rid us of bots. All you have to do is connect to Twitter, Facebook, etc., via a small deposit of a few satoshis, which will be confiscated in the event of malicious activity.
That would be the end of bots, AI or not. No need to create a dangerous global biometric identity file worthy of George Orwell's 1984.
His sidekick hopes that technology will "break capitalism" by enabling a "more efficient distribution of resources".
Add to all this the central bank currencies (CBDCs) that look set to come with an expiry date. Or Elon Musk's ambition to replace "half of the world's financial system" with his "everything app".
The billionaires' ambition is to link money to all our data via a universal, biometric digital identity. The aim is to use AI to sort out those deemed worthy of climbing the social ladder…
The monetary Great Reset promises to be cacophonous. It's a good thing bitcoin exists.
Receive a summary of the news in the world of cryptocurrencies by subscribing to our new daily and weekly newsletter service so you don't miss any of the essentials of Cointribune!
Bitcoin, geopolitical, economic and energy journalist.
DISCLAIMER
The views, thoughts, and opinions expressed in this article belong solely to the author, and should not be taken as investment advice. Do your own research before taking any investment decisions.