XRP20: A new Stake-to-Earn crypto hits the market
Getting informed
▪
The developers of XRP20 describe their project as version 2.0 of XRP. The project stands out for its functionalities designed to facilitate access to digital assets. Above all, XRP20 aims to offer a new opportunity to those who missed out on the meteoric rise of XRP.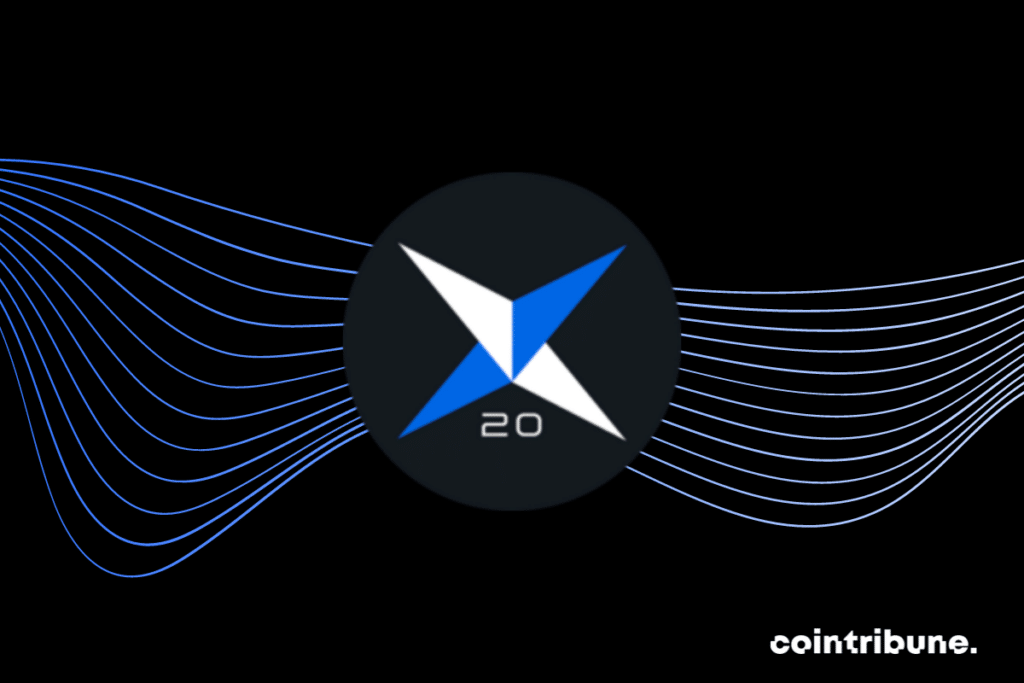 XRP20: a more accessible version of XRP?
After emerging victorious from the legal battle against the SEC, XRP is generating enthusiasm in the crypto community, particularly among influencers. Influencers are predicting even bigger gains and sky-high price targets by the end of the year. This enthusiasm is not confined to influencers. More and more financial institutions are opting for XRP, justifying Ripple's ambitious expansion into new markets.
Not everyone has had the opportunity to invest in XRP, especially as the token is reserved for institutional investors. The XRP20 project, on the other hand, is aimed at retail investors and is intended to be a more open and accessible alternative. XRP20 is an ERC-20 token on the Ethereum platform. It is a Stake-to-Earn model that enables investors to generate passive income. Designed as a deflationary token, XRP20 guarantees investors future appreciation in the asset's value, which implies an increase in profitability.
The second chance token?
XRP20 offers a fresh opportunity for those who missed the rapid rise of XRP. Developers describe the token as the "new version of XRP, a more user-friendly, accessible, secure, and inclusive version." "XRP20 marks the second coming of XRP, building upon the foundations of its predecessor while ushering in a new era of accessibility, inclusivity, utility, and simplicity," explain the project creators in their whitepaper. They further state their intent to "extend a hand to those seeking a second chance to explore the vast potential of cryptocurrencies."
The design of XRP20 draws inspiration from XRP's legacy, but its creators have aimed to evolve the concept with a focus on user-friendliness and practicality. While XRP handles tokens released intermittently from escrow accounts controlled by Ripple, XRP20 takes a different path. Everything is built on the Ethereum blockchain, which is entirely public and decentralized. This translates to more transparency and openness for all investors.
Catering to both newcomers and experienced investors, the platform has made every effort to simplify token acquisition, trading, and staking processes. XRP20 strives to democratize token access, historically reserved for institutional entities. To do so, the project fosters a more inclusive and resilient community. Anyone looking to start investing in cryptocurrencies can easily obtain XRP20 by having an ETH or USDT-powered wallet.
A transparent roadmap
The uniqueness of the "2.0" concept of XRP20 makes it an original project. This aspect has already garnered interest from investors, who have also been drawn in by its transparency. The document clearly outlines to potential investors what they can expect from the project in the future.
Presale launch and token distribution
The team explains that this initial stage primarily aims to introduce XRP20 and offer a second chance to newcomers in the evolving cryptocurrency market. The project creators also seek to boost community support through a transparently organized presale.
Educating Future Investors Pre-launch
During the presale, project developers initiated a marketing campaign to explain token accessibility and how easy it is to participate in the project. This campaign will present XRP20 as "a second chance to own and stake the token early for passive income."
DEX Listing and Burn Initialization
Following the presale's closure, the team proceeds to launch XRP20 on decentralized exchanges (DEX) before commencing the burn process. This feature will automatically reduce the token supply with each transaction, thereby increasing scarcity, as explained on the team's website.
Community Staking Implementation
Once XRP20 is listed on DEX, the team will activate the token burn. This approach ensures a gradual reduction in token supply over time, enhancing its inherent value and providing real value to early investors. In practical terms, this deflationary mechanism sends 0.1% of each purchase and sale to a burn address. According to the whitepaper, 10% of the total supply is allocated to be burned.
XRP20: Tokenomics
In terms of tokenomics, the project boasts a total reserve of 100 billion tokens. Developers have carefully planned the distribution to ensure its longevity and the ability to reward supporters. 40% of the total supply is allocated to the presale, 40% is reserved for staking, 10% goes into DEX liquidity, and the remaining 10% facilitates the burn mechanism.
Presale Closure and Uniswap Launch
XRP20 commenced its presale on August 1st. The 40% of the total supply allocated to this event sold out in just over two weeks. On August 15th, the team announced on its Twitter account that all tokens had been sold, raising $3.68 million. During the XRP20 presale, the cryptocurrency was available at a price of $0.000092, which is 30 times cheaper than XRP's lowest price. The listing of XRP20 on DEX was announced shortly after the presale closure. XRP20 was listed on Uniswap on August 22nd.
Staking
XRP20 offers a staking system where users receive rewards with each block. In total, 40% of XRP20's supply, designated for staking, will be distributed over four years. The rewards obtained are based on the locked share in the XRP20 staking pool and an estimated annual percentage yield (APY) of 49%.
Conclusion:
The XRP20 project revolves around its dynamic community, an advanced burning mechanism combined with its stake-to-earn model, all orchestrated by a team of crypto enthusiasts and professionals. Although it is not affiliated with Ripple, XRP20 aims to be the "next evolution" of XRP on the Ethereum blockchain, with a lower price point for investors, participation to earn utility, and a deflationary mechanism that helps support the price.
Receive a summary of the news in the world of cryptocurrencies by subscribing to our new daily and weekly newsletter service so you don't miss any of the essentials of Cointribune!
L'équipe éditoriale de Cointribune unit ses voix pour s'exprimer sur des thématiques propres aux cryptomonnaies, à l'investissement, au métaverse et aux NFT, tout en s'efforçant de répondre au mieux à vos interrogations.
Disclaimer:
The contents and products mentioned on this page are in no way endorsed by Cointribune and should not be construed as its responsibility.
Cointribune strives to provide readers with all relevant information available, but cannot guarantee its accuracy or completeness. Readers are urged to make their own inquiries before taking any action with respect to the company, and to assume full responsibility for their decisions. This article does not constitute investment advice or an offer or invitation to purchase any products or services.
Investing in digital financial assets involves risks.
Read more