Zelf – The first Web3 Bank of the Metaverse
Thu 16 Jun 2022 ▪ 16h31 ▪
7
min read — by
When neo-banking is discussed, we think of reduced fees and brightly colored cards; in reality, that definition is that of a classic bank, slightly modernized. That misconception is about to change. A company plans to launch a true neo-bank, a real UFO, something never seen before. Imagine for a moment seeing how your entire wealth is spread between fiat, gaming loot and NFTs; "Buy Now Pay Later" inside your favorite game or using your game items as collateral for a loan. It's not just about making new out of old, it's about bringing banking services for a new ecosystem, the metaverse. Zelf – the metaverse bank – is about to take over the world. Elliot Goykhman, Founder and CEO of Zelf, exclusively shares his vision of things with Cointribune.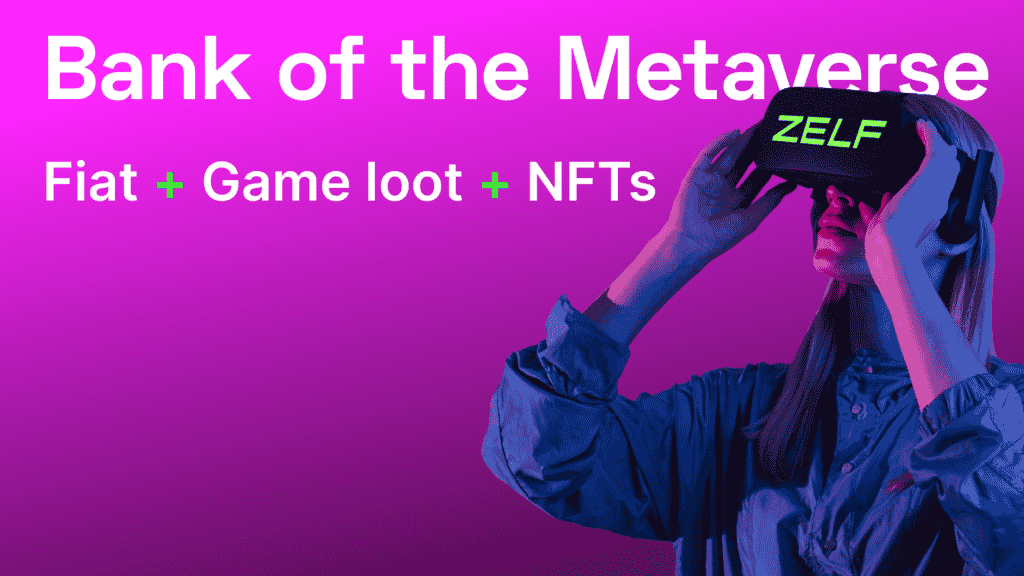 Zelf – A proposition to unify Web3
Since 2021, the world has been witnessing the seemingly unstoppable rise of Web3. NFTs have revolutionized the art market, play-to-earn (P2E) has enabled gamers to earn more than their parents, people in developing countries were quitting their day jobs to become full-time gamers and cryptocurrencies have served as the infrastructure for this whole nascent and thriving economy.
However, all these worlds – although intimately linked – have evolved independently. Cryptocurrencies are not necessarily suitable for these different uses. Take, for example, the impact of Ethereum (ETH) gas fees which slow down the explosion of the NFT market. NFTs themselves are not yet ready for widespread mainstream adoption. A platform like OpenSea is still too complex for a neophyte to use. "OpenSea is a huge marketplace for buying and selling NFTs, but is it convenient to use? Is the purchase easy for beginners? When a user connects with a wallet, he doesn't even receive notifications about the offers made to him", observes Elliot Goykhman, pointedly.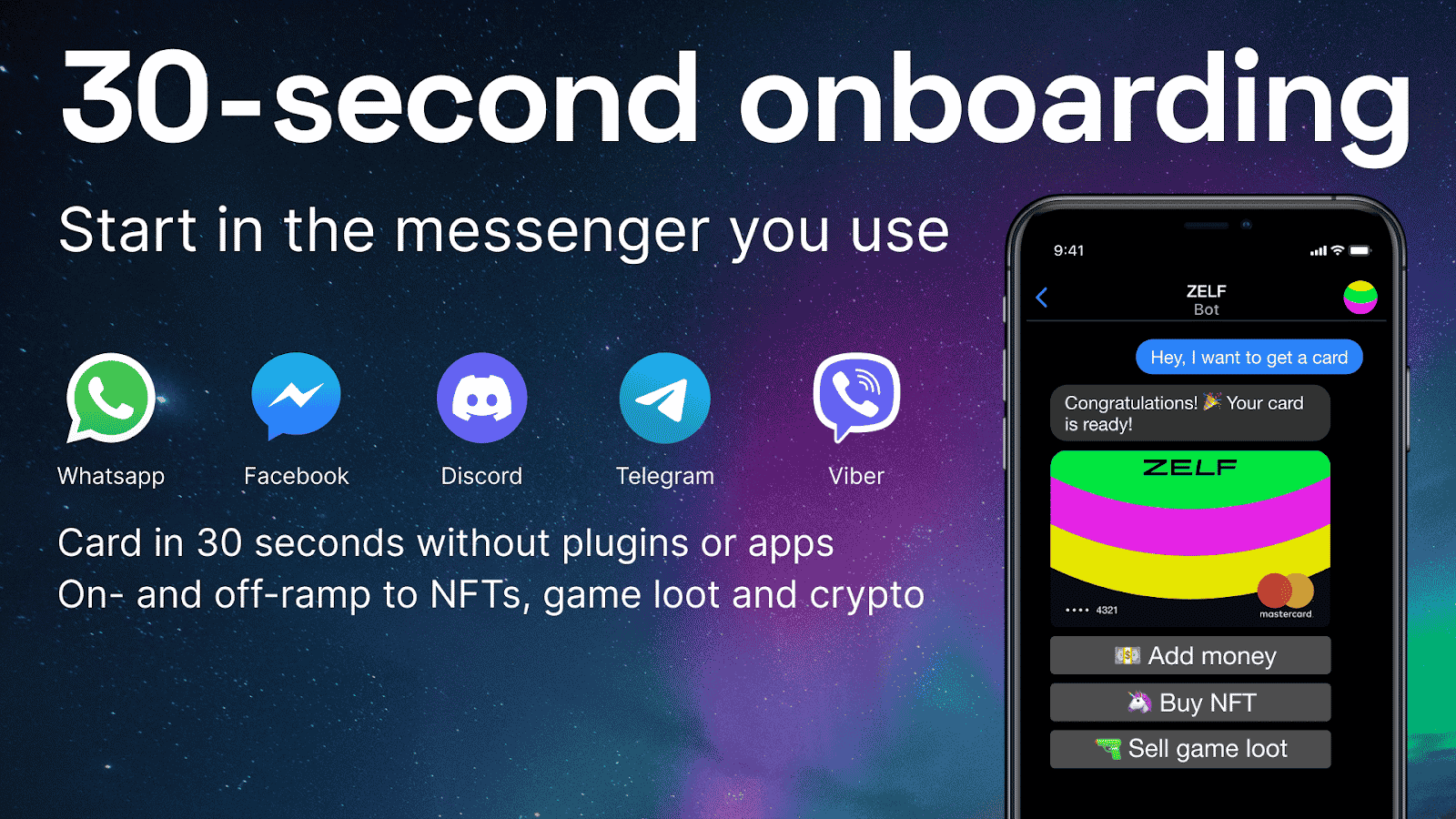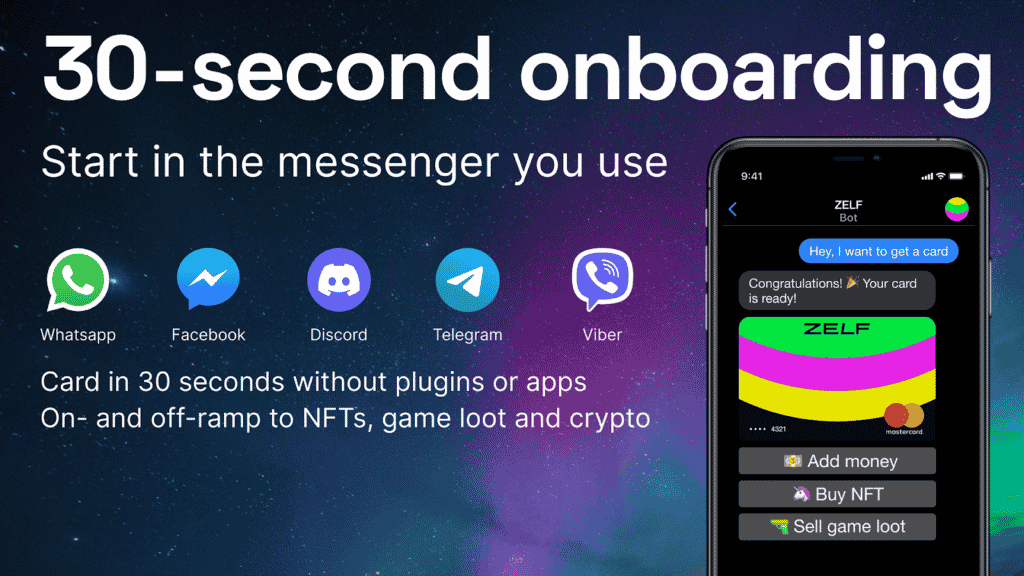 P2E games are also full of promise; sadly, after many months, the hopefuls had the rude awakening of a cold shower. Many play-to-earn games, which launched as collections of NFTs, have no visibility; they do not allow for engaging and engrossing gameplay. This means they will never be able to really compete with the gargantuan studios that dominate the video game market today. However, the idea of ​​being able to enjoy full ownership of one's inventory – to be able to sell it and capitalize on your gaming skills – seduces many people. This could really revolutionize the gaming experience of users, and make the video game market explode on a nuclear scale. 
Is play-to-earn the future of video games?
For this, Zelf has an ambition that goes far beyond the creation of a one-off play-to-earn project. Rather than launching a new video game studio, or waiting decades to reach the same popularity as Fortnite or Call of Duty, Zelf thought, "why not usher these games into the metaverse?" Why would you want to replace them when we can leverage their strengths and share our capabilities with them? This is Elliot Goykhman's vision and what he strives to create.
"The biggest challenge will be persuading the traditional gaming industry to open up the games to play-to-earn. In a way, it will be like what Steve Jobs had to do to convince music labels and audiobook publishers to allow sales on iTunes."
Contrary to their fears, game publishers would have everything to gain. Their current attempts are just "more of the same" – to offer a better gaming experience, Call of Duty has decided to implement "battle royal," a pale copy of its free competitor, Fortnite. 
Integration with a bank of the Metaverse would result in a win for all players involved–proficient gamers will gain ability to monetize their skills, those craving P2E would flock to these games, increasing the game's user base. Game manufacturers would be creating new experiences, testing new and innovative ideas, and Zelf could be the backbone of this new world–the infrastructure underlying this new economy. If the items we win in video games become goods that we can buy, trade and sell–then a market is born. And if a market exists, we can offer the traditional financial services found in existing markets. Lending, borrowing, consumer credit… 
Zelf, the first real neo-bank
This is where Zelf truly becomes a neo-bank. Or rather a Web3 bank. "Problem: young customers often have thin or poor credit and are forced to borrow unsecured at high predatory rates. Solution: imagine obtaining a loan, guaranteed by your gaming loot, at much more advantageous rate. Or picture expanding players' purchasing power by introducing the Buy-Now-Pay-Later concept to video games. Unlike a traditional bank, we can analyze your in-game performance through your Steam profile and establish a credit score based on your skills."
On top of that, this neo-bank would not be a crypto platform like Binance or OpenSea, which some would consider to be as indecipherable as the Rosetta Stone. Zelf surprises and innovates by leveraging the applications which are the most widespread and the most used in the world today: instant messaging.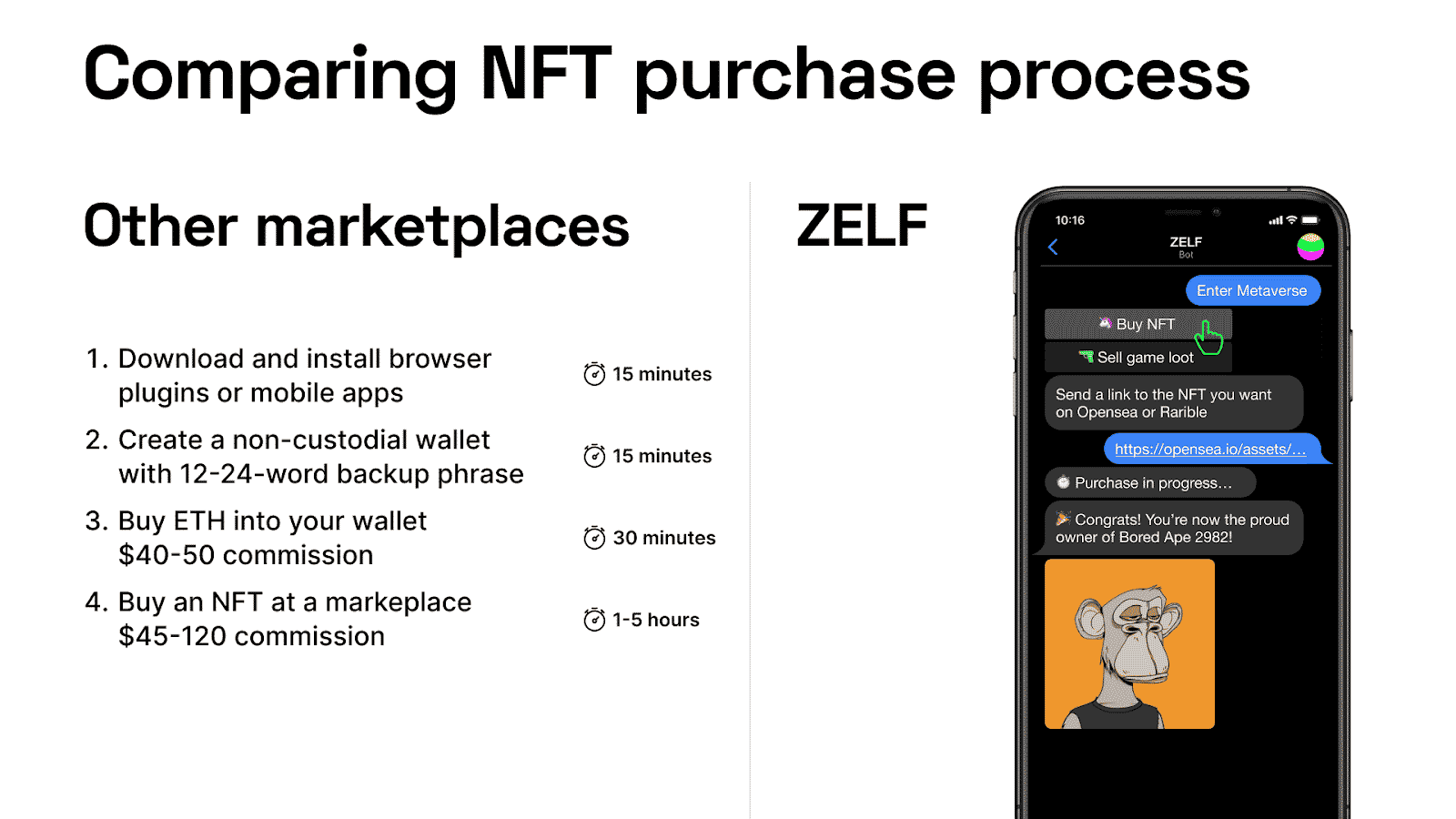 "ZELF is already available for all major messengers: WhatsApp, Facebook, Discord, Telegram, Viber. At a show in Tokyo, we demonstrated ZELF working with LINE and WeChat, and these will be fully enabled during our launch in Southeast Asia." If being able to transact via popular messengers sounds too good to be true, wait until you see what's next: "The next steps will be Instagram, iMessage and TikTok when its API becomes available."
It is therefore not a simple integration on WhatsApp, which is already a feat in itself. "The ultimate goal is a completely agnostic banking experience, a truly integrated bank, from the most primitive and inclusive SMS interfaces, to bots and fully AI-powered voice interaction." 
A future that is hard to imagine, but which is already gaining traction thanks to Zelf. And why not, eventually, apply these capabilities to real-world goods, money transfers and invoicing? Digital payment would become as quick and easy as handing over a $10 bill. In the words of Elliot Goykhman, "We must be present at every financial crossing between the real world and the virtual worlds."
Recevez un condensé de l'actualité dans le monde des cryptomonnaies en vous abonnant à notre nouveau service de newsletter quotidienne et hebdomadaire pour ne rien manquer de l'essentiel Cointribune !
Fondée par Marc-Antoine CAEN POLETTI en 2021, Alt Write SEO est une agence de rédaction de contenu spécialisée dans la cryptomonnaie, la blockchain et les NFT. Elle trouve ses racines en 2016 avec le Club Français de la Cryptomonnaie, dont Marc-Antoine est l'actuel président. Notre mission est d'accompagner les entreprises crypto francophones pour faire de la France la première crypto nation au monde.
DISCLAIMER
The views, thoughts, and opinions expressed in this article belong solely to the author, and should not be taken as investment advice. Do your own research before taking any investment decisions.