Analyse technique : Binance Coin (BNB) au cœur des polémiques
▪
Binance étant au cœur des polémiques liées aux attaques du régulateur Américain, le cours du Binance coin (BNB) en a littéralement payé les frais.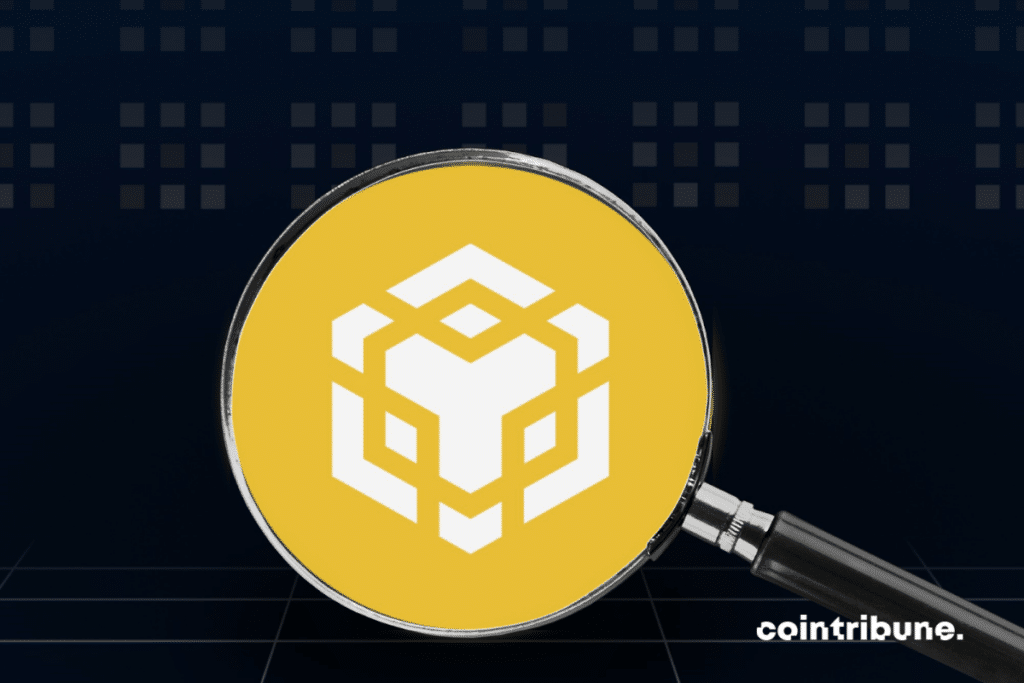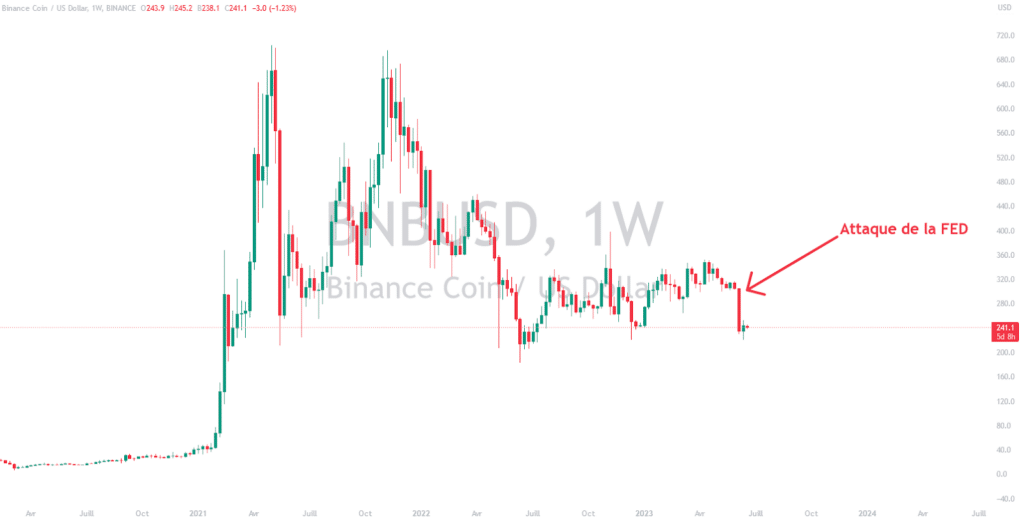 L'analyse technique actuelle a été réalisée en collaboration avec Elie BR, investisseur et trader de passion sur le marché des cryptomonnaies. Aujourd'hui formateur chez Family Trading, une communauté de milliers de traders à compte propre active depuis 2017. Vous y trouverez des lives, des contenus éducatifs et une entraide autour des marchés financiers dans une ambiance professionnelle et chaleureuse.
Fin de consolidation du BNB ?
Après la charge de la SEC face à Binance, le cours du BNB a chuté à plus de 20% laissant derrière lui les 350$. Cette baisse a su s'estomper en rebondissant pour la troisième fois sur les 220$. 
On peut voir en période de temps hebdomadaire que le cours de la crypto devise a formé un range compris entre ces derniers niveaux légèrement au-dessus des retracement des 78,6 % depuis son ascension fulgurante en 2021. Il est intéressant de voir que le cours du BNB forme un semblant de "double top" visible en période de temps hebdomadaire.
Le BNB Long/Short ratio Chart présenté par Coinglass nous montre depuis plusieurs jours une pression vendeuse à ne pas négliger.


Les Moyennes Mobiles
Le cours du Binance Coin se trouve sous les moyennes mobiles 50 et 200 globalement croisées à la baisse. Cela ne se veut pas rassurant côté bull. A côté de ça, le fait que les moyennes mobiles journalières soient plutôt à plat, peut nous dire que le cours du Binance coin se trouve dans une phase de consolidation. 
Le RSi (Relative Strengh Index)
Le RSI est un indicateur financier qui évalue la force et la faiblesse d'un actif en analysant ses variations de prix sur une période donnée. Il utilise une échelle de 0 à 100 pour identifier les niveaux de surachat et de survente.
Si l'on prête attention à cet indicateur en période de temps journalière, on peut en déduire que le BNB était tout récemment en survente étant sous le seuil des 30. Si on l'observe en 4 heures on peut voir une belle divergence haussière, suggérant une potentielle inversion de tendance à la hausse.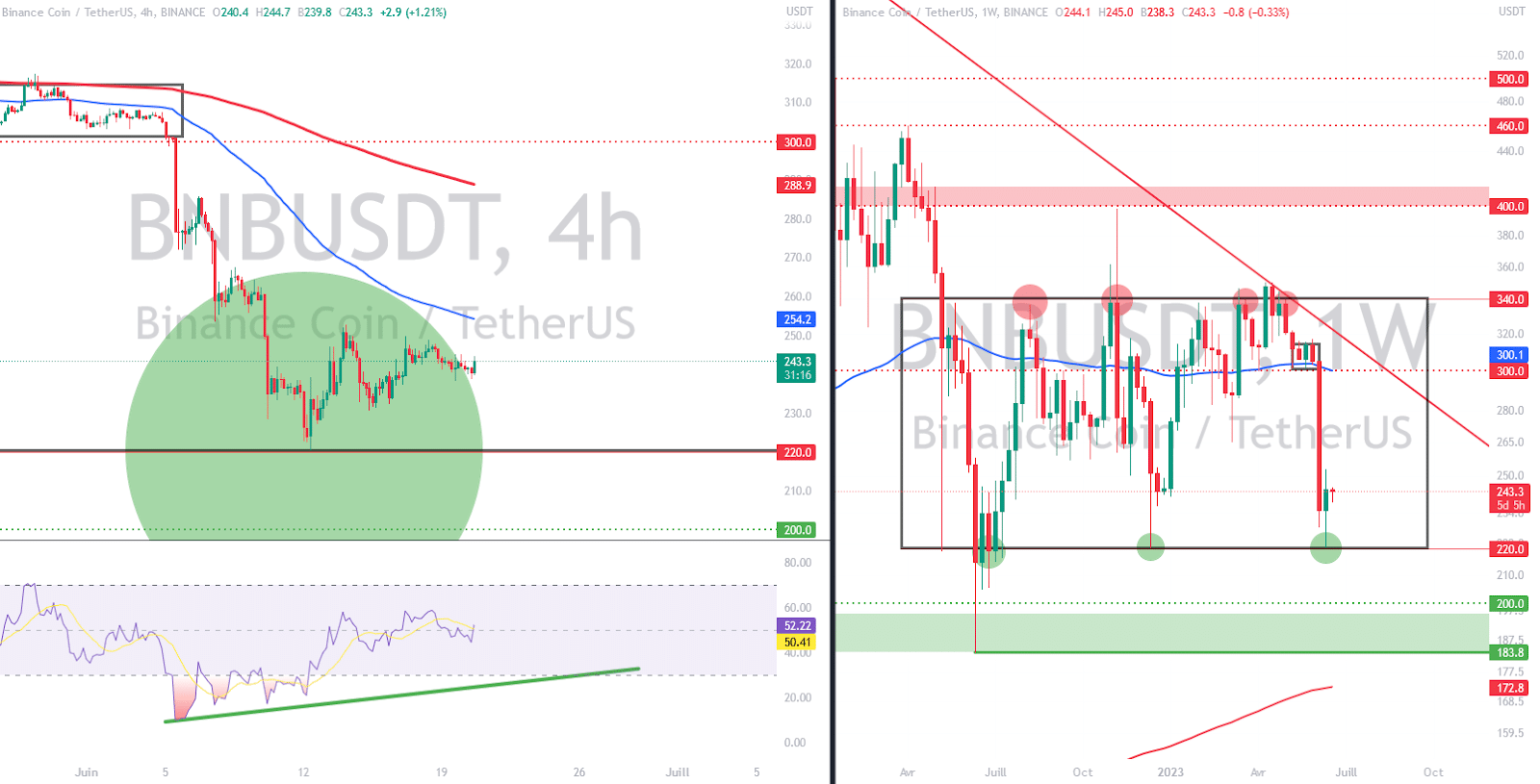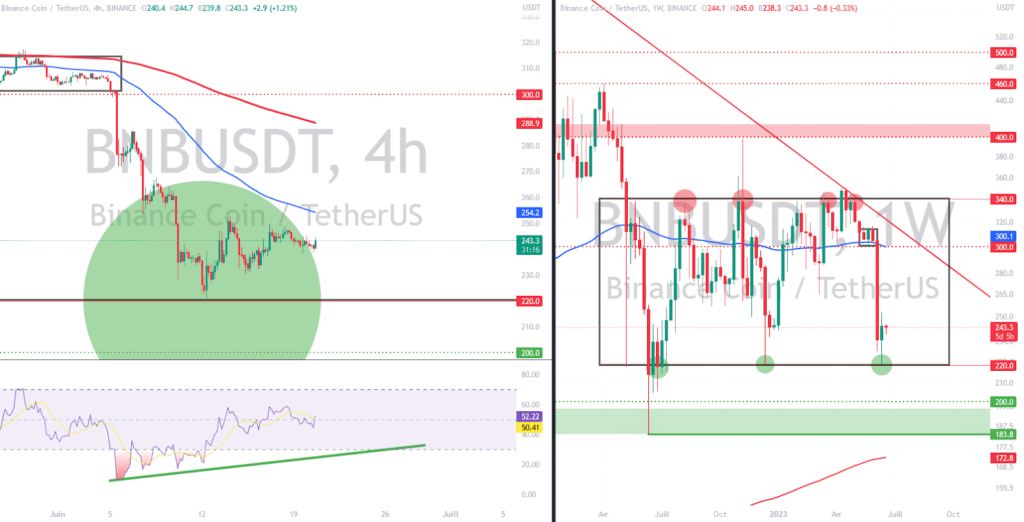 Les hypothèses pour le cours du Binance Coin
Avant de chercher des objectifs trop élevés, il faudra envisager dans un premier temps un retour en haut du range pour le cours du BNB, soit aux alentours des 340$. Avant cela il faudra que la crypto devise dépasse le niveau des 265$, Ligne de coup d'un double top visible en daily, qui pourrait être défendu au vu du VRVP. Pour finir, il faudra ensuite que le cours du BNB dépasse le seuil psychologique des 300$.
Pour un scénario plus pessimiste, il faudra franchement casser la zone des 220$ pour avoir un horizon véritablement baissier.  Ces potentiels objectifs pourrait d'abord être le seuil psychologique des 200$ puis les 183.4$, dernier plus bas depuis l'ATH du BNB. 
 Le dernier cas de figure serait plus platonique avec une large consolidation en bas du range.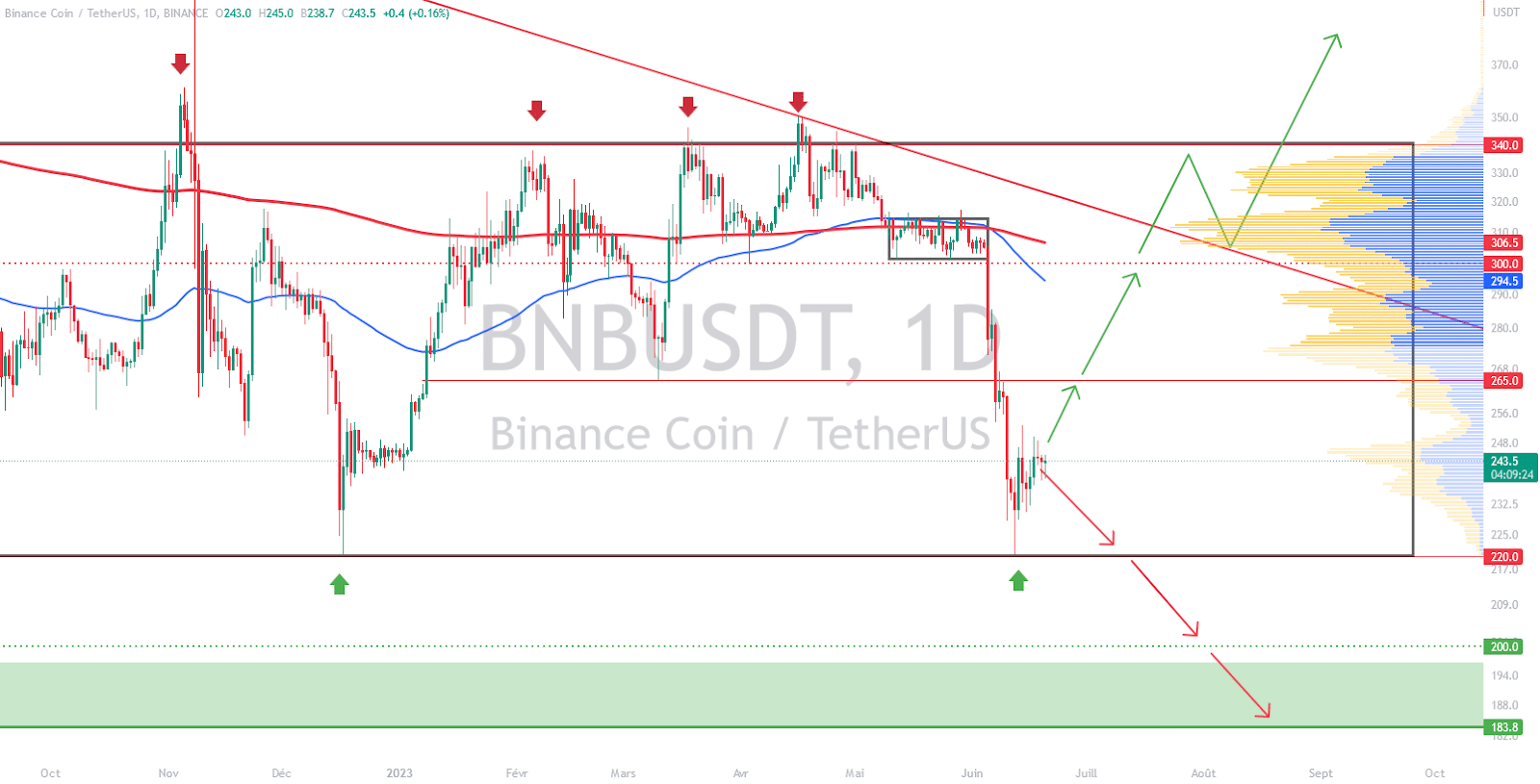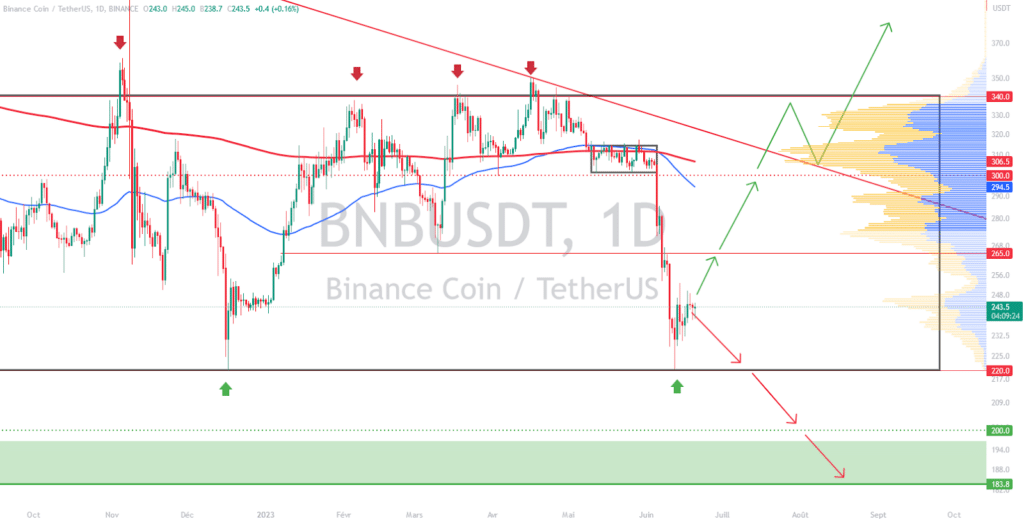 Conclusion
Le BNB fait face à de nombreux facteurs négatifs qui entraînent une certaine pression vendeuse sur son cours. Ce dernier se rapproche dangereusement de son plus bas depuis son ATH. Il faut espérer un regain de confiance et un véritable retour des taureaux, pour entraîner la cryptomonnaie à reprendre des couleurs. Il sera important de bien observer la réaction du prix sur les différents niveaux identifiables pour confirmer ou non les différentes hypothèses énoncées. Attention aux potentielles "fake out" et "squeeze de marché" sur chacune des situations. De plus, il ne faut pas oublier que ces scénarios sont basés uniquement sur une analyse technique. Le cours des cryptomonnaies peut évoluer plus ou moins vite, selon d'autres facteurs plus fondamentaux.
Receive a summary of the news in the world of cryptocurrencies by subscribing to our new daily and weekly newsletter service so you don't miss any of the essentials of Cointribune!
L'équipe éditoriale de Cointribune unit ses voix pour s'exprimer sur des thématiques propres aux cryptomonnaies, à l'investissement, au métaverse et aux NFT, tout en s'efforçant de répondre au mieux à vos interrogations.
Disclaimer:
The contents and products mentioned on this page are in no way endorsed by Cointribune and should not be construed as its responsibility.
Cointribune strives to provide readers with all relevant information available, but cannot guarantee its accuracy or completeness. Readers are urged to make their own inquiries before taking any action with respect to the company, and to assume full responsibility for their decisions. This article does not constitute investment advice or an offer or invitation to purchase any products or services.
Investing in digital financial assets involves risks.
Read more