Atomic Wallet hacked: "All the hard working money" vanished!
Mon 05 Jun 2023 ▪
3
min of reading ▪ by
Getting informed
▪
"Damn, all the hard working money disappeared in an instant on Atomic Wallet," a user expresses indignation on Twitter. Every hacking, scam, and rug pull always has its victims. And we are still far, very far, from the end of these malicious acts.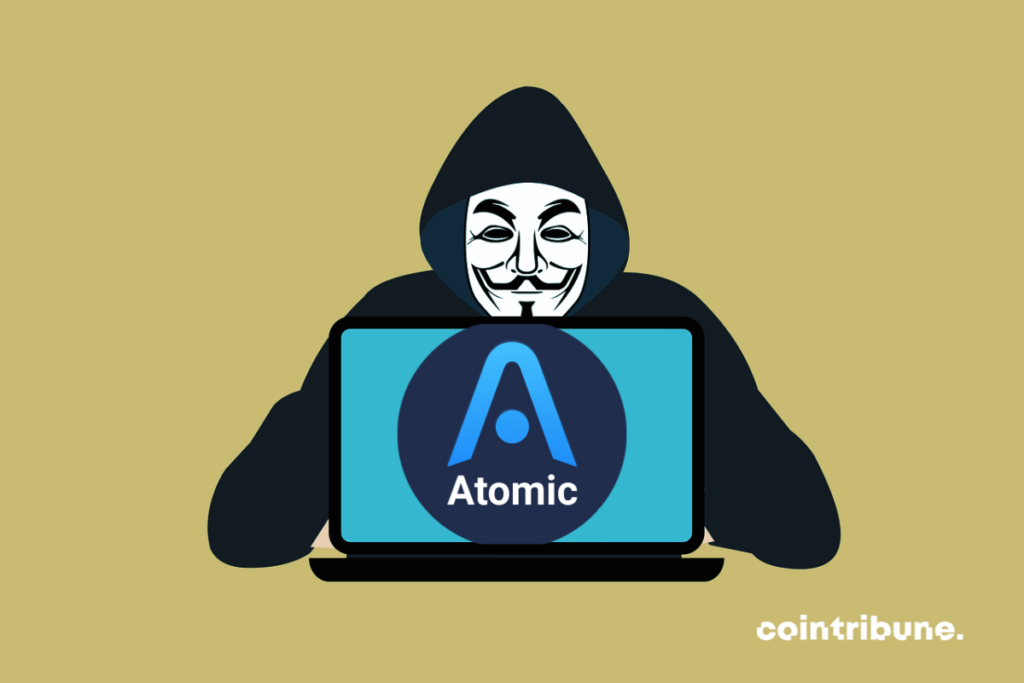 Atomic Wallet hacked
Several scam acts have deprived DeFi companies of over $45 million in May. As for hacks, we don't have statistics about them, except for the fact that hackers managed to drain $3.8 billion in 2022.
Unfortunately, these malicious acts have persisted despite alerts and the security efforts of crypto companies.
Just yesterday, Cointelegraph reported that Atomic Wallet fell victim to a hack. Here's the company's official tweet regarding the incident.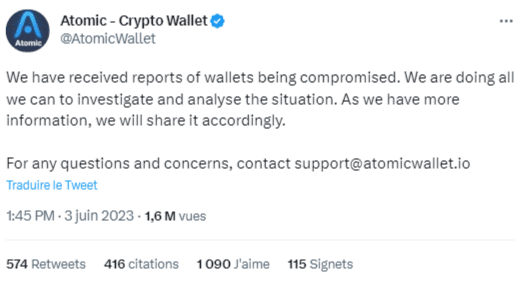 We note that no precise information regarding the amount of stolen crypto has been mentioned so far.
Several indignant users
And it's understandable because it has already experienced such a situation in the past. One victim reminded them of this below the official team's post.
"This happened to my BTC 6 months ago with Atomic. They simply replied back to protect your pw, seed phrase, blah blah… I told them NOT even possible! All I do is use U to exchange and then move crypto out. My response to them, I will use U no MORE then! Now I was right!"
Another user, Tom, also posted this heartfelt response on Twitter:

According to their fury, there will be a massive departure from Atomic to more secure wallets like Ledger soon.
Interestingly, the website Money.com included Atomic Wallet in its Top 8 crypto wallets for this month of June. Atomic was given a place alongside MetaMask, Trust Wallet, Ledger Nano S Plus…
However, with what has just happened, users will gladly delist it. And the Atomic Wallet team will also have to revise its slogan, "Your Keys – Your Crypto! Decentralized Wallet trusted by 5M+ users!"
Receive a summary of the news in the world of cryptocurrencies by subscribing to our new daily and weekly newsletter service so you don't miss any of the essentials of Cointribune!
L'équipe éditoriale de Cointribune unit ses voix pour s'exprimer sur des thématiques propres aux cryptomonnaies, à l'investissement, au métaverse et aux NFT, tout en s'efforçant de répondre au mieux à vos interrogations.
DISCLAIMER
The views, thoughts, and opinions expressed in this article belong solely to the author, and should not be taken as investment advice. Do your own research before taking any investment decisions.