Binance does a massive clean-up: Several crypto trading pairs removed!
Fri 25 Aug 2023 ▪
3
min of reading ▪ by
Getting informed
▪
Centralized Exchange (CEX)
Over the past few days, Binance has been at the center of a whirlwind of events, including the suspension of SEPA transfers. Today, the platform is bidding farewell to over 60 crypto trading pairs. What are the reasons behind this decision?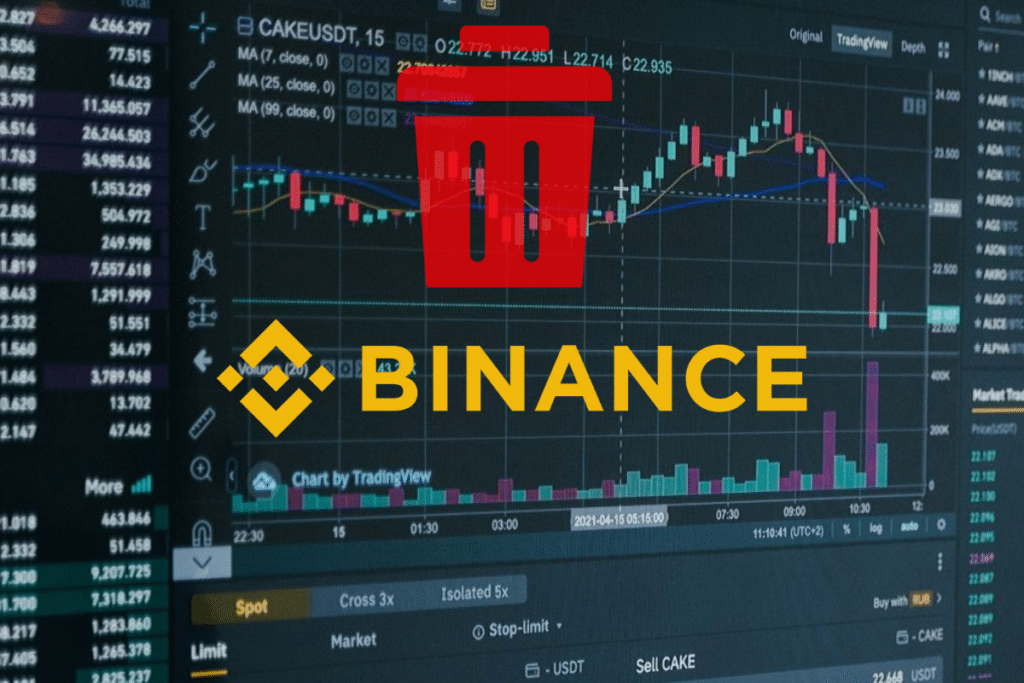 More than 60 crypto trading pairs discontinued
In the wake of the crypto market's recent downturn, Binance, the global exchange giant, has faced some significant challenges. Unusual events have agitated the platform, including the liquidation scandal and more recently the suspension of SEPA credit transfers for its European customers.
Today, the platform announced that it will be discontinuing over 60 crypto trading pairs. An announcement that no doubt aroused the curiosity of the crypto community. But unlike previous announcements, this one seems to carry a different, less gloomy outlook.
In a post published on its official blog, Binance explained that the initiative is primarily aimed at making trading more accessible and improving the overall user experience. However, this decision merely adds a new dimension to the clean-up strategy already underway.
According to the official statement, as of 1:00 pm (GMT+3) on August 31, the following pairs will no longer be available:
API3/BTC, AXS/ETH, BAT/ETH, BEL/BTC, BETA/ETH, BICO/BTC, BOND/BTC, ÉCHECS/BTC, CHR/BNB, VILLE/BTC, CTSI/BNB, CVX/BTC, DAR/BTC, DATA/BUSD, DREP/BTC, EGLD/BNB, ENJ/ETH, EOS/BNB, FERME/BTC, FUN/BNB, GLMR/BTC, GMT/ETH, GNS/BTC, HARD/BTC, HFT/BTC, HOOK/BNB, ICP/BNB, ID/BNB, IOST/ETH, IOTA/BNB, IOTA/BTC, IOTA/ETH, JOE/BTC, KAVA/BNB, KLAY/BTC, KNC/BNB, LOKA/BNB, MASK/BNB, MDX/BTC, MLN/BTC, MOB/BTC, MULTI/BTC, NEAR/ETH, ONE/BNB, ONG/BTC, ORN/BTC, PLA/BTC, POLS/BNB, PROM/BTC, PSG/BTC, PUNDIX/ETH, RAY/BNB, RSR/BNB, SCRT/BTC, STX/BNB, SYN/BTC, VOXEL/BTC, WAXP/BTC et WING/BTC.
This decision seems to stem from the platform's desire to streamline its offering and focus on the pairs that generate the most activity and interest.
Despite the many challenges currently facing Binance, the platform remains resolutely committed to continuous innovation and improving the user experience. It is precisely this attitude that has enabled it to maintain its dominant position in the global crypto sector.
Receive a summary of the news in the world of cryptocurrencies by subscribing to our new daily and weekly newsletter service so you don't miss any of the essentials of Cointribune!
Passionné par le Bitcoin, j'aime explorer les méandres de la blockchain et des cryptos et je partage mes découvertes avec la communauté. Mon rêve est de vivre dans un monde où la vie privée et la liberté financière sont garanties pour tous, et je crois fermement que Bitcoin est l'outil qui peut rendre cela possible.
DISCLAIMER
The views, thoughts, and opinions expressed in this article belong solely to the author, and should not be taken as investment advice. Do your own research before taking any investment decisions.