$CATCH Token Airdrop Officially Announced, Offering Lucrative Free Earning Opportunity
Just a few months after the initial announcement of the upcoming $CATCH launch, SpaceCatch — the driving force behind this groundbreaking token — has exciting news to share once again. The official launch of $CATCH token airdrops is now underway.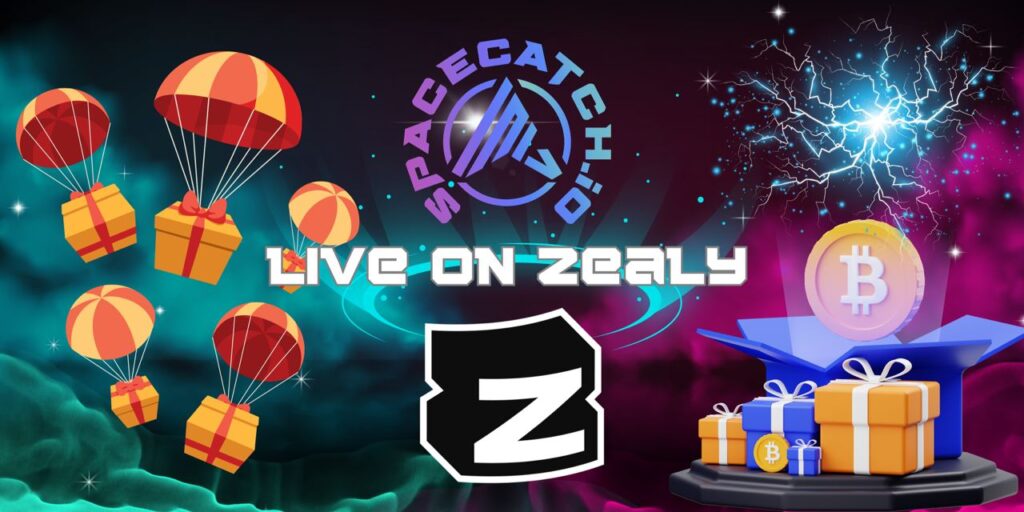 As the trend of airdrops continues to gain traction, new projects are emerging at a steady pace. Airdrops have become a favored tool for building communities, often requiring only your time as an investment — that's why the SpaceCatch team also thought of launching airdrops. 
Today, the SpaceCatch team is focused on the confirmed airdrop of the new $CATCH token, which presents an opportunity to potentially receive a valuable airdrop worth thousands of USD — all for free.
Confirmed $CATCH Airdrop 
In a remarkable display of gratitude towards its dedicated supporters, SpaceCatch has taken a definitive step by officially announcing the eagerly anticipated $CATCH token airdrop. The official confirmation resounded across their official Twitter account just a few days ago, embodying the core values of transparency that SpaceCatch holds dear.
SpaceCatch has unreservedly shared the prerequisites for securing this exclusive airdrop to illuminate the path toward participation. This entails engaging in a series of tasks on the Zealy platform, each contributing to accumulating invaluable experience points (XP).
The mechanics of the airdrop have now been unveiled: the extent of your reward will be intricately linked to the volume of XP garnered through your concerted efforts. Amongst the ranks of participants, the most dynamic and committed individuals stand poised to seize an extraordinary opportunity — the chance to receive $CATCH tokens of substantial value, ranging from the hundreds to potentially even thousands of USD. This bounty stands as a testament to the immense potential that resides in the users' proactive involvement.
Moreover, for those eager to delve into the intricacies of accumulating $CATCH through this exceptional airdrop initiative, a comprehensive guide awaits in the official communication issued by SpaceCatch. The details of this transformative process have been meticulously outlined in a dedicated post, accessible on SpaceCatch's official Medium page.
This knowledge repository promises to unravel the path to earning $CATCH tokens, enabling all interested individuals to navigate the terrain of opportunity with precision and assurance.
Introducing the Genesis Box NFT
For those aiming to maximize their airdrop returns, the Genesis Box NFT is the pinnacle choice. This exclusive box contains pieces from the upcoming "Genesis Armor Set," anticipated to be the game's rarest collection.
Limited to 10,000 boxes, only 500 will be available in the initial sales phase, followed by the gradual release of the remaining 9,500 over two years. This scarcity enhances the allure of the initial boxes.
Owners of the Genesis Box gain a special role in the SpaceCatch Discord server and access to new bonus tasks on Zealy. These tasks allow them to earn free daily/weekly/monthly bonus XP, potentially tripling the overall airdrop value.
Furthermore, the box itself offers a range of benefits surpassing its pre-sale price of $50 per box.
About SpaceCatch 
SpaceCatch is the first game of its kind that combines a classic mobile game with blockchain technology and NFTs (Non-Fungible Tokens). It also supports Augmented Reality (AR), similar to the popular game Pokémon GO. This combination will allow players to discover an entirely new gaming experience, but more importantly, it will unlock blockchain's possibilities. 
Players of the SpaceCatch game will have the opportunity to own in-game items in the form of NFTs through this technology. They can sell them for real money, rent them out, or engage with them in various ways. 
The game has been in development for a year now, with the full launch expected by the end of this year. The developers of this game follow the motto "product first." 
Therefore, there is no risk of a scenario like in 98% of "metaverse projects," where they release their token and NFTs for sale while the actual game arrives several years later (if at all), leaving investors at a significant loss. 
Keep in Touch
Keep in touch with the latest developments in the $CATCH airdrop, a potential standout of the year. Meanwhile, SpaceCatch is transforming the gaming landscape by seamlessly merging Web 2.0 and Web 3.0 realms. 
Explore this integration of traditional and blockchain gaming, featuring innovative concepts like Move-to-Earn and Play-to-Earn. 
Stay informed through SpaceCatch's official website, Twitter, Discord, Telegram, Instagram, and YouTube platforms to explore new possibilities and insights.
Maximize your Cointribune experience with our 'Read to Earn' program! Earn points for each article you read and gain access to exclusive rewards. Sign up now and start accruing benefits.
L'équipe éditoriale de Cointribune unit ses voix pour s'exprimer sur des thématiques propres aux cryptomonnaies, à l'investissement, au métaverse et aux NFT, tout en s'efforçant de répondre au mieux à vos interrogations.
Disclaimer:
The contents and products mentioned on this page are in no way endorsed by Cointribune and should not be construed as its responsibility.
Cointribune strives to provide readers with all relevant information available, but cannot guarantee its accuracy or completeness. Readers are urged to make their own inquiries before taking any action with respect to the company, and to assume full responsibility for their decisions. This article does not constitute investment advice or an offer or invitation to purchase any products or services.
Investing in digital financial assets involves risks.
Read more