Crypto: Ethereum, the empire of cybercrime
Tue 08 Aug 2023 ▪
4
min of reading ▪ by
▪
In the crypto sector, Ethereum presents itself not as an idyllic asylum, but rather as an unsuspected empire of cybercrime. On this digital stage, an alarming manifestation of crime thrives, the titanic scale of which was recently unveiled by insightful researchers.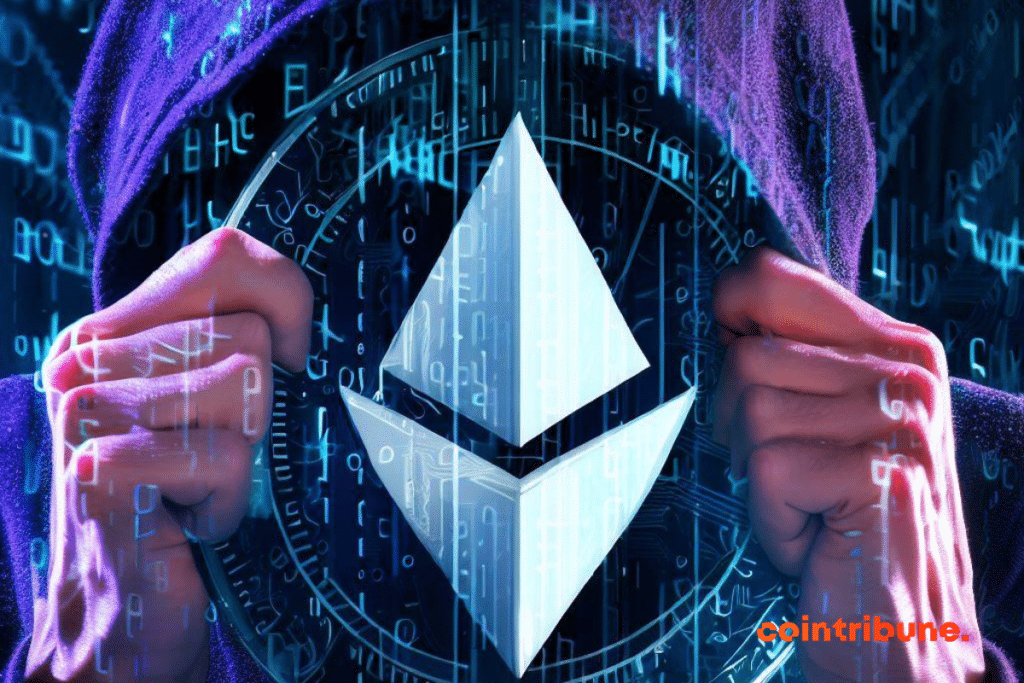 The proliferating shadow of cybercrime on Ethereum
The spectre of cybercrime is spreading in the shadow of the Ethereum network. While bitcoin remains the undisputed behemoth of the cryptosphere, Ethereum stands out for the complexity of its fraudulent activities, according to researchers.
Its ability to host smart contracts offers a wider range of digital crimes. This characteristic transforms Ethereum into a veritable cybercrime empire.
According to information extracted from blockchain explorers such as Etherscan, an alarming number of over 5,600 Ethereum addresses have been identified as being linked to cybercrime activities.
What's more, these findings find a powerful echo in the rigorous analyses carried out by Whale Alert's ScamAlert. Together, these data reveal the frightening extent of cybercrime in the Ethereum ecosystem.
These tagged addresses traced over 1.78 million transactions from unsuspecting victims, totaling a staggering $1.65 billion in stolen funds. This figure is almost 16 times greater than self-reported losses to the FTC, revealing the severe extent to which crypto cybercrime is under-reported by regulators.
The many faces of cybercrime on Ethereum
On the throne of Ethereum crime, Ponzi schemes reign supreme. They account for 60% of stolen funds, far surpassing the scale of traditional financial Ponzi schemes. Fraudulent donations follow at 18%, followed by mining (13%) and hacking (5%).
The pseudonymity offered by blockchain has given Ponzi scams a mask of anonymity. This makes them harder to detect and crack down on.
What's more, the global reach of cryptocurrencies has widened the scope of these scams. As a result, crypto-Ponzi scams have become a ubiquitous and worrying threat to investors worldwide.
But the evil doesn't stop there. New cybercrimes are emerging, specific to the cryptocurrency ecosystem. Rug pulls", for example, lure investors into new projects only to abandon them abruptly, draining all liquidity. Phony token scams create worthless imitations of real coins to fool traders.
Repercussions and the need for a shift in direction
Beyond simple quantification, the researchers analyzed the impact of cybercrime on investor behavior.
In the short term, victims obtain higher returns by taking greater risks. But over the long term, their risk-adjusted returns significantly underperform those of non-victims.
Improved consumer protection is urgently needed to safeguard mainstream investors as cryptocurrency adoption grows. Regulators must also step up their efforts to curb illicit crypto activity, before it seriously undermines confidence in blockchain technology as a whole.
Only increased diligence on the part of legislators and investors will enable decentralized finance innovation to continue to flourish. What's more, Bitcoin's spectacular spike to $150k during its halving could attract an influx of newcomers, unfortunately opening the door to a potential multiplication of scams. Stay safe!
Receive a summary of the news in the world of cryptocurrencies by subscribing to our new daily and weekly newsletter service so you don't miss any of the essentials of Cointribune!
Fasciné par le bitcoin depuis 2017, Evariste n'a cessé de se documenter sur le sujet. Si son premier intérêt s'est porté sur le trading, il essaie désormais activement d'appréhender toutes les avancées centrées sur les cryptomonnaies. En tant que rédacteur, il aspire à fournir en permanence un travail de haute qualité qui reflète l'état du secteur dans son ensemble.
DISCLAIMER
The views, thoughts, and opinions expressed in this article belong solely to the author, and should not be taken as investment advice. Do your own research before taking any investment decisions.