Crypto: India sparks regulatory revolution at G20!
Fri 08 Sep 2023 ▪
3
min of reading ▪ by
Getting informed
▪
Crypto regulation
In the vibrant financial hub of Mumbai, an announcement rings out, echoing like the dawn of a new era in the crypto universe. India's Finance Minister, Nirmala Sitharaman, has revealed that the Indian presidency of the G20 has initiated crucial discussions, aiming to establish a global regulatory framework for cryptocurrencies. But what does this move mean for the sector? And what role is India playing in this regulatory revolution?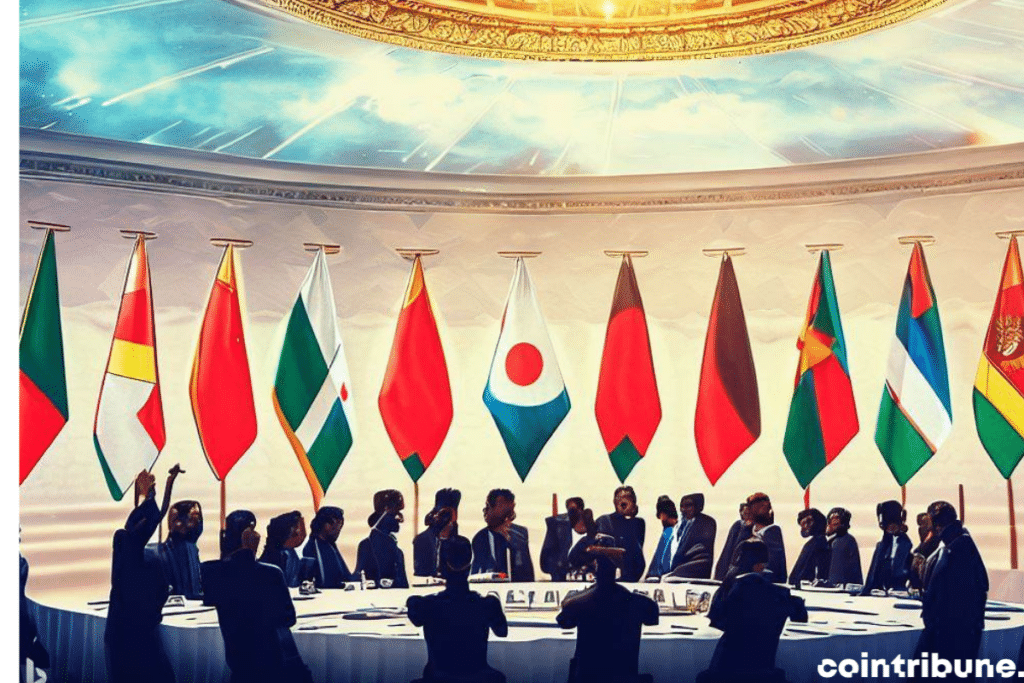 A Global Convergence for Crypto Regulation
As the highly anticipated G20 summit approaches on September 9th and 10th, the world holds its breath. India, currently presiding over the G20, has clearly expressed its intent to place crypto regulation at the center of discussions. This is a significant gesture, underscoring the need for global cooperation to effectively regulate this dynamic sector.
According to reports from Reuters, Nirmala Sitharaman emphasized the crucial importance of establishing a well-defined framework. Furthermore, she stressed the imperative need to precisely address the inherently complex issues related to cryptocurrencies. This cry is echoed by the global crypto community, which aspires to greater clarity and consistent guidelines.
Crypto, as a borderless asset, requires a unified approach, paving the way for regulation that transcends national borders.
In a concerted effort to shed light on the shadows of the current cryptocurrency landscape, the Financial Stability Board (FSB) and the International Monetary Fund (IMF) are joining forces. As a result, they are set to jointly present a report at the upcoming summit. This report will highlight crucial aspects of the current crypto domain and outline potential strategies for more effective and appropriate regulation.
India: A Determining Player
Although India has taken a relatively restrictive approach to crypto so far, thereby limiting innovation and impeding its economic potential, the country seems ready to embrace the inherent potential of this technology.
Leaders in the crypto industry have pointed out that India can no longer ignore the substantial economic benefits these assets can bring.
Indeed, we stand at the dawn of a regulatory revolution, with India at the forefront. This initiative, though in its infancy, holds the promise of a future where global cooperation is not just an aspiration but a tangible reality. A future where crypto could flourish under harmonized regulation, fueling innovation while ensuring greater financial stability.
In this rapidly changing landscape, India could well transform into a visionary leader, shaping the future of crypto on a global scale. The next step? A G20 summit that could mark the beginning of a new era. Stay tuned. Meanwhile, China speculates between legalization and regression.
Receive a summary of the news in the world of cryptocurrencies by subscribing to our new daily and weekly newsletter service so you don't miss any of the essentials of Cointribune!
Fasciné par le bitcoin depuis 2017, Evariste n'a cessé de se documenter sur le sujet. Si son premier intérêt s'est porté sur le trading, il essaie désormais activement d'appréhender toutes les avancées centrées sur les cryptomonnaies. En tant que rédacteur, il aspire à fournir en permanence un travail de haute qualité qui reflète l'état du secteur dans son ensemble.
DISCLAIMER
The views, thoughts, and opinions expressed in this article belong solely to the author, and should not be taken as investment advice. Do your own research before taking any investment decisions.