Crypto: Tron dethrones Bitcoin
Tue 12 Sep 2023 ▪
4
min of reading ▪ by
Getting informed
▪
In the crypto world, a revolutionary dynamic is underway. Recent figures confirm this unequivocally: Tron, Bitcoin, and BNBChain are currently the titans of the sector.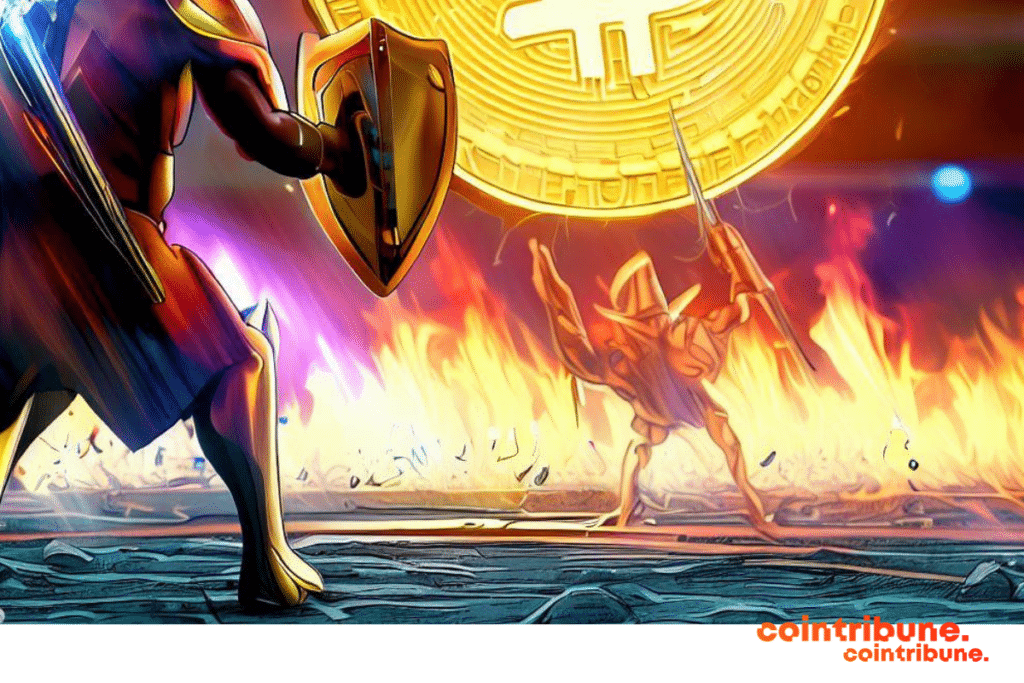 Tron: an emerging leader in the crypto sphere
Tron stands out for its meteoric rise, proudly establishing itself in pole position thanks to a remarkable influx of daily active users. Dominating the scene, it attracts a massive audience of 1.23 million daily followers. It is closely followed by the flagship crypto, bitcoin, which maintains a solid second place with 1 million users. BNBChain closes the top three with 970,000 loyal daily users.
This sudden rise is a testament to its agility and capacity. Indeed, it offers innovative solutions to the persistent challenges that stand in the way of established giants like Ethereum. The latter is only in sixth place, with 328,000 active users.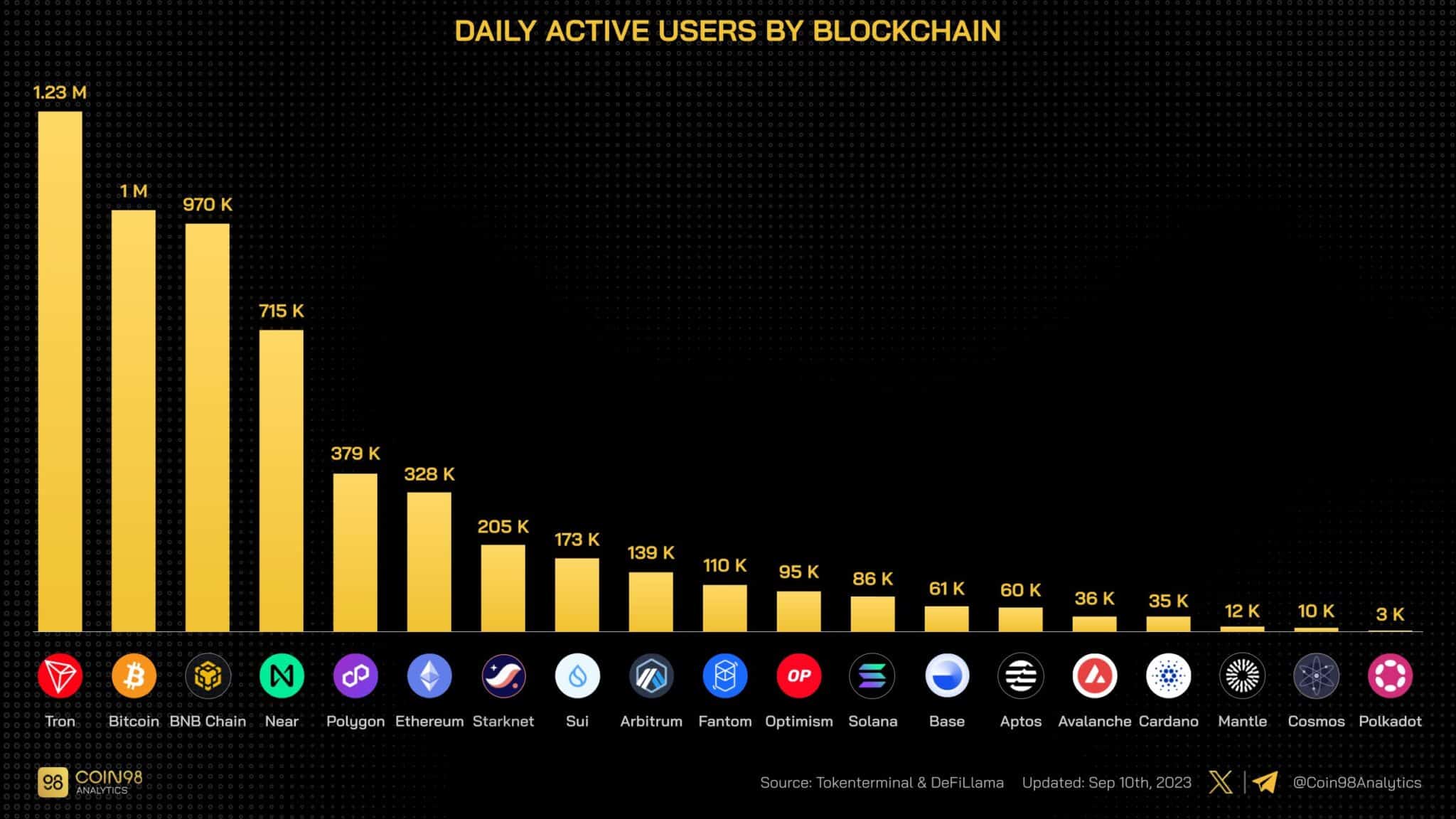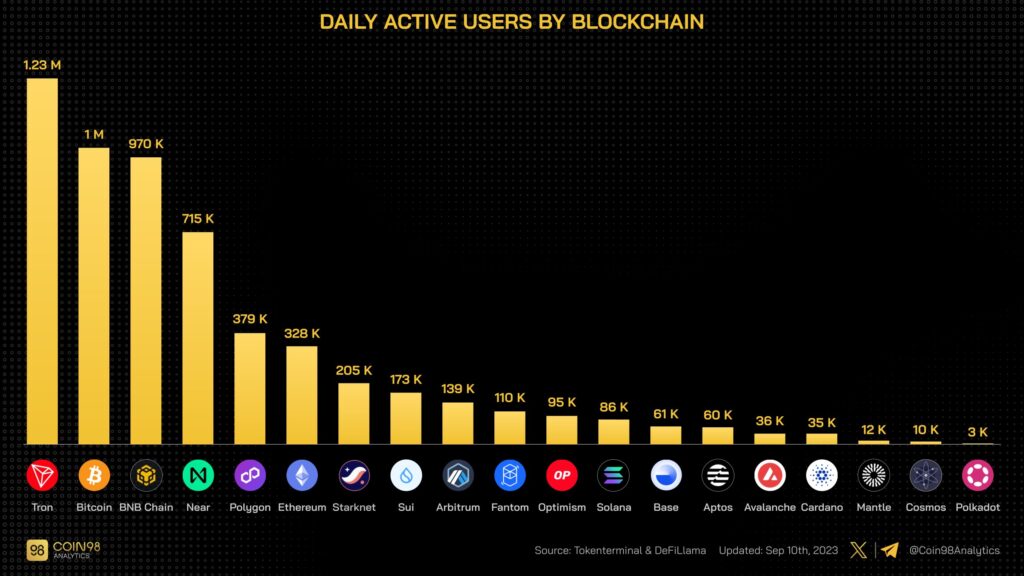 Under the leadership of its audacious founder, Justin Sun, Tron has brilliantly shaped a revolution in the crypto field. Firstly, it has created a vibrant ecosystem, pulsing with innovative and relentless energy. Secondly, it has transcended traditional boundaries, going far beyond simple decentralized financial applications. In this way, the project bears witness to a vision that embraces a wider range in the crypto sector.
At the heart of Tron lies an innovative consensus model: Delegated Proof of Stake (DPoS). While promising transactional speed, it also presents a centralization of power, creating a dynamic that could potentially reshape the crypto governance landscape.
The undisputed pioneer
Despite the rise of competitors such as Tron, Bitcoin remains an indomitable force, having redefined our perception of finance and currency. Its recent adoption as the official currency in El Salvador attests to its enduring power and ability to adapt to an ever-changing world.
Although Tron seems to be leading the way in terms of daily engagement, it's crucial to recognize that Bitcoin still occupies a central place in the crypto landscape. These two giants, though distinct in their approaches and functionalities, represent the diversity and richness of the crypto ecosystem, offering a range of opportunities that promise to redraw the contours of our world.
We are witnessing a revolution, where old and new players in the crypto sector coexist in a precarious balance. In this financial transition, one thing remains certain: we are witnessing a redefinition of our understanding of the financial world.
As we navigate through this era of transformation, one question persists: who will be the next leaders to emerge in this evolving crypto landscape? Only time will reveal the mysteries of this bold venture into the unknown. India isn't waiting and is leading the BRICS revolution at the G20.
Receive a summary of the news in the world of cryptocurrencies by subscribing to our new daily and weekly newsletter service so you don't miss any of the essentials of Cointribune!
Fasciné par le bitcoin depuis 2017, Evariste n'a cessé de se documenter sur le sujet. Si son premier intérêt s'est porté sur le trading, il essaie désormais activement d'appréhender toutes les avancées centrées sur les cryptomonnaies. En tant que rédacteur, il aspire à fournir en permanence un travail de haute qualité qui reflète l'état du secteur dans son ensemble.
DISCLAIMER
The views, thoughts, and opinions expressed in this article belong solely to the author, and should not be taken as investment advice. Do your own research before taking any investment decisions.