Crypto: Valkyrie Makes History by Launching the First Ethereum ETF
Fri 29 Sep 2023 ▪
4
min of reading ▪ by
▪
Event
In a frantic race of crypto ETFs, Valkyrie Investments, already renowned for its Bitcoin Mining ETF, has once again eclipsed its competitors. The firm proudly presents the first Ethereum ETF in the US, reinforcing its pioneering status in the sector.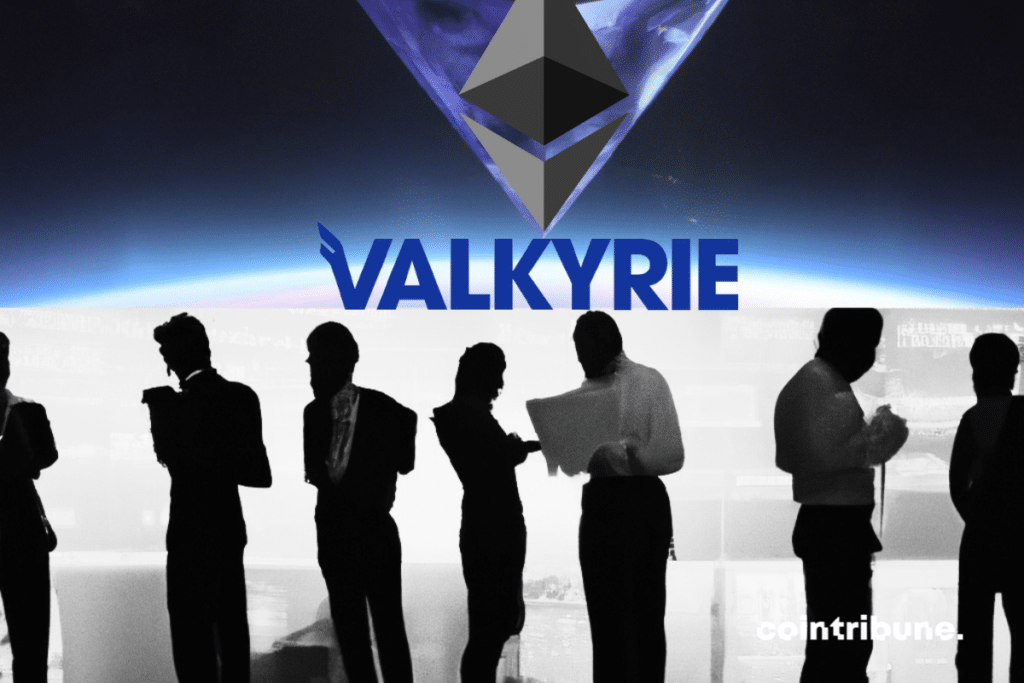 Valkyrie Investments: Pioneering the Ether ETF revolution
Valkyrie Investments, renowned for its Bitcoin Mining ETF, holds a privileged position as one of the best-performing crypto ETFs in the US.
According to FOX Business, the company has received approval for its ETF based on the Ethereum futures contract.
While investors can acquire Ethereum tokens on platforms such as Coinbase, the advent of ETFs is part of a strategy to further democratize the crypto universe. These funds, traded on renowned exchanges such as Nasdaq and the New York Stock Exchange, accentuate their accessibility.
Since October 2021, the SEC has authorized Bitcoin ETFs based on futures contracts. However, the expansion into Ethereum derivatives remains unexplored territory for companies.
Valkyrie stands out as the pioneer in this field, although it is not isolated. Eight other issuers, including key players such as VanEck, Grayscale Investments and Bitwise, also have ambitions to launch Ethereum ETFs.
In addition, several of these companies, backed by Wall Street titans such as BlackRock and Fidelity, are exploring the possibility of launching cash-based Bitcoin ETFs. This alternative would offer broader access to Bitcoin at its current price, an option usually reserved for sophisticated investors.
However, the SEC is approaching these Spot ETFs with calculated caution, considering the implications of a deeper merger between cryptos and the conventional financial system.
SEC Chairman Gary Gensler has expressed reservations about this. Resolutions on these Bitcoin cash ETFs remain pending, with decision deadlines scheduled for mid-October.
Next steps for Valkyrie
Valkyrie Investments has ambitious plans in sight, with the intention of transforming its existing Bitcoin futures ETF into a diversified fund, offering futures contracts on both Bitcoin and Ether.
The innovative fund will now bear the name "Valkyrie Bitcoin and Ether Strategy ETF", while preserving its Nasdaq BTF ticker symbol. The Ethereum futures ETF is scheduled to hit the market next Tuesday.
Steven McClurg, Valkyrie's Chief Investment Officer, made no secret of his enthusiasm.
"It is with immense pride that we are the first to offer Ether futures to our investors, as interest in this asset has grown exponentially over the past year," he said.
Valkyrie Investments' endorsement of the Ethereum futures ETF represents a significant milestone in crypto adoption in the United States. This breakthrough ushers in a new era in investments in Ether, the world's second-largest cryptocurrency by market capitalization.
As interest in digital assets continues to grow, the financial industry remains in the spotlight, anticipating future transformations in the crypto landscape.
Maximize your Cointribune experience with our 'Read to Earn' program! Earn points for each article you read and gain access to exclusive rewards. Sign up now and start accruing benefits.
Passionné par le Bitcoin, j'aime explorer les méandres de la blockchain et des cryptos et je partage mes découvertes avec la communauté. Mon rêve est de vivre dans un monde où la vie privée et la liberté financière sont garanties pour tous, et je crois fermement que Bitcoin est l'outil qui peut rendre cela possible.
DISCLAIMER
The views, thoughts, and opinions expressed in this article belong solely to the author, and should not be taken as investment advice. Do your own research before taking any investment decisions.