Shibarium disappointments: The Shiba Inu army chooses a different approach
Wed 23 Aug 2023 ▪
4
min of reading ▪ by
▪
This is far from the expected effect for Shibarium. Normally, the advent of Shiba Inu's Layer 2 ETH blokckchain would give SHIB wings. But what's happening now is shattering the hopes of many crypto investors. What can be done about it? The Shiba community seems to have found a solution.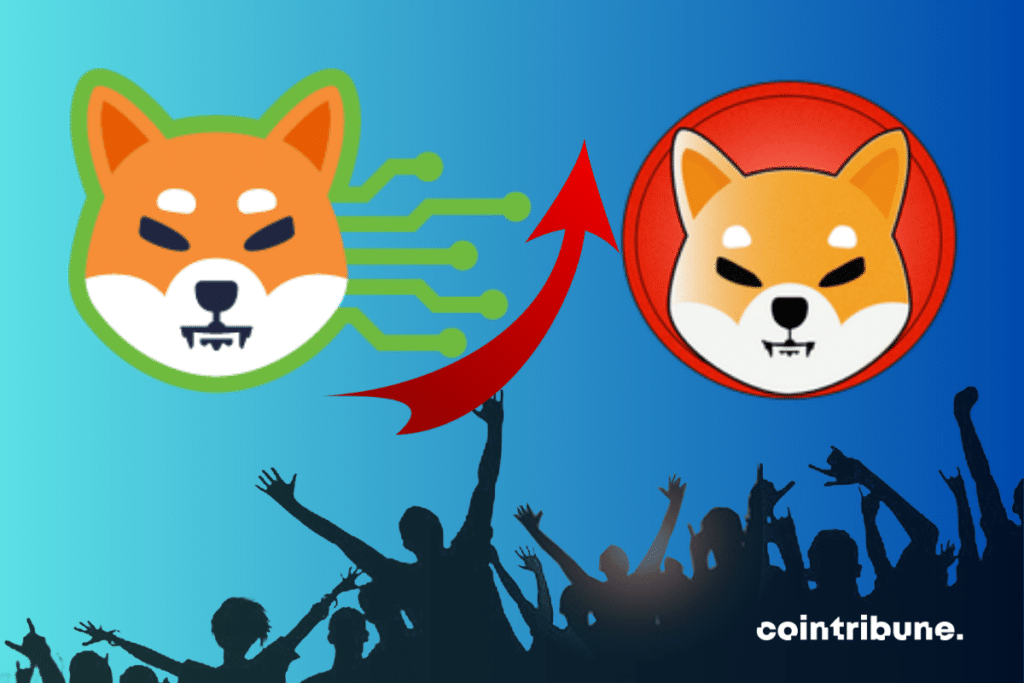 Shibarium, a failure?
On August 16, the Shiba Inu team was able to activate Shibarium after months of waiting. As a reminder, Shibarium is an ETH layer 2, or secondary layer of the Ethereum blockchain. Its particularity lies in its ability to support multiple transactions.
As far as Shibarium is concerned, this sub-layer developed by Shiba Inu is intended to set up a low-cost ecosystem. At the same time, it will propel SHIB to the moon, the 1 cent.
However, as soon as it was deployed on the mainnet, Shibarium disillusioned the crypto community. First, there was the story of a connection failure that led to the blocking of nearly 2 million ETH on the bridge.
As for the SHIB bull run, there's still no hope: the 2nd memecoin continues to plummet. A 22.5% drop has been reported in 7 days for Shiba Inu. At the time of writing, America's favorite crypto was trading at 0.000 007 90 a coin.
SHIB whales remain silent
Things aren't looking up for the Shiba Inu cryptocurrency any time soon. Indeed, analysts have observed a hibernation among the SHIB whales.
At the moment, a very low number of SHIB transactions by institutional crypto investors is being reported. While statistics have previously shown 120 similar transactions, current figures speak of just 20 Shiba Inu whale activities.
CoinTurk News believes that "this decrease in whale activity is being interpreted as a double-edged sword". Why is that? Because:
on the one hand, it indicates a lack of confidence among institutional investors, and therefore an indication of price instability ;
and on the other, it favors a more decentralized distribution of SHIB cryptocurrencies, helping to reduce the impact of mass selling on its price.
Burning has always worked!
Shytoshi Kusama's team has already warned SHIB investors that Shibarium will not directly impact the memecoin price. Bull run means burn, not the establishment of a secondary blockchain layer like Shibarum.
Although explicit, these explanations didn't stop the ShibArmy from dreaming of a $0.001 SHIB when the advent of Shibarium was announced.
But CoinTurk News has revealed that Shiba Inu's burn rate has surged 800% recently. All the more reason for crypto investors to speculate on a possible rise in the memecoin price.
Why such a turnaround? The Shiba Inu community has always been in favor of reducing the total supply of SHIBs in circulation. That's where the scarcity of this cryptocurrency comes from. And, by the same token, an increase in its value?
Also, the Shiba army intends to pull their favorite crypto out of the mud, whatever the cost. So they're taking proactive decisions to improve their image.
Right now, we're witnessing the provocation of a SHIB bull run through increased token-burning activity. Memecoin has everything it takes to shine and far outstrip its competitor, Dogecoin, which will literally be heading for the moon in November.
Receive a summary of the news in the world of cryptocurrencies by subscribing to our new daily and weekly newsletter service so you don't miss any of the essentials of Cointribune!
La révolution blockchain et crypto est en marche ! Et le jour où les impacts se feront ressentir sur l'économie la plus vulnérable de ce Monde, contre toute espérance, je dirai que j'y étais pour quelque chose
DISCLAIMER
The views, thoughts, and opinions expressed in this article belong solely to the author, and should not be taken as investment advice. Do your own research before taking any investment decisions.