Dedollarization accelerates
Mon 05 Jun 2023 ▪
6
min of reading ▪ by
Getting informed
▪
Payment
Nine countries led by Iran launch an alternative to the SWIFT network. Simultaneously, BRICS discusses the end of the dollar in Cape Town.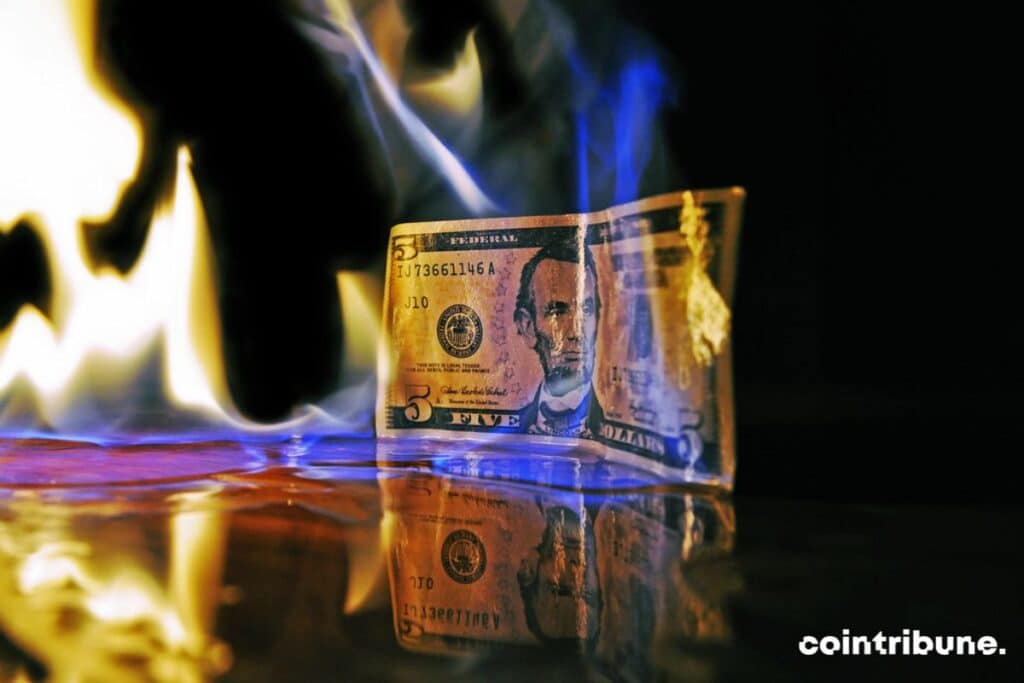 Iran seeks revenge against SWIFT monopoly 
Members of the Asian Clearing Union (ACU) will launch a new cross-border financial messaging system this month. 
Having been disconnected from SWIFT for years, Iran has developed an alternative. Participating in this system are the central banks of Bangladesh, Bhutan, India, Maldives, Nepal, Pakistan, Sri Lanka, Myanmar, and Iran. 
It's worth noting that earlier this year, the Islamic Republic connected its banking system to the Russian equivalent of the SWIFT network (SPFS). 
"De-dollarization is not a voluntary choice by countries anymore, it is the countries' inevitable response to the weaponization project of the dollar," said Iranian First Vice President Mohammad Mokhber. 
According to Economy Minister Ehsan Khandouzi, Iran currently conducts less than 10% of its trade in US dollars, compared to nearly 30% in 2021. 
Russian Deputy Prime Minister Alexander Novak stated last month in Tehran that 80% of the trade between Russia and Iran is now conducted in their national currencies. 
Moreover, Iran is expected to soon join the BRICS economic bloc, which is considering the creation of a new international reserve currency. 
BRICS talks big money 
Foreign ministers of the five BRICS member countries called for a "rebalancing" of the global order during discussions taking place in South Africa until June 3rd. 
"Our gathering must send out a strong message that the world is multipolar," said Indian Foreign Minister Subrahmanyam Jaishankar. "We are a symbol of change and must act accordingly." 
"For two decades, we have heard calls for reform of multilateral institutions, only to be continuously disappointed. It is, therefore, imperative that BRICS members demonstrate sincerity in regard to reforming global decision-making, including that of the UN Security Council," he added. 
Indeed, the BRICS nations, representing 42% of the world's population, only hold 15% of the voting rights within the IMF and World Bank.
Russian Minister Sergey Lavrov stated that "over a dozen" nations want to join BRICS. Ministers from Saudi Arabia, Iran, the United Arab Emirates, Nigeria, Argentina, the United Arab Emirates, Egypt, Indonesia, and Kazakhstan were present in Cape Town.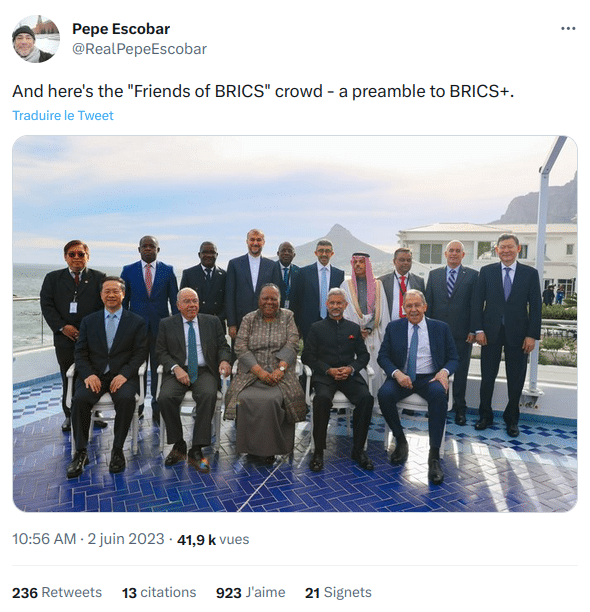 "We expect more countries to join our big family," said Chinese Minister Ma Zhouxu. It is worth noting that BRICS already represents 31.5% of the global GDP (PPP), compared to 30.7% for the G7. 
Group's emissaries also discussed the possibility of a new reserve currency to replace the US dollar. 
"The New Development Bank (NDB) created by BRICS countries may become a kind of a clearing center if the idea of creating a common currency for BRICS members materializes," said Finance Minister Anton Siluanov on Wednesday. 
"The idea of creating a common currency, although I would probably call it a payment unit inside BRICS countries, is floating around and is being discussed. We also have proposals about using digital financial assets supported by real assets, for example gold – stablecoins," he added. 
Bitcoin > Dollar 
After all, Iran is already using Bitcoin to pay for some of its imports. What's more, two US presidential candidates have clearly shown their affinity for Bitcoin. 
Robert Kennedy stated that Bitcoin "opens up an exciting future with the guarantee of transactional freedom which is as important as freedom of speech."
Republican DeSantis criticized CBDC while accusing Washington of "don't like it is because they don't control it. Bitcoin represents a threat to them."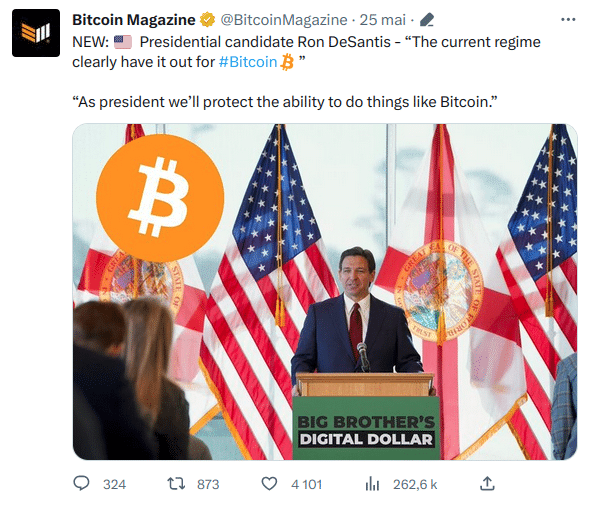 Similarly, the Iranian parliament is also not enthusiastic about CBDC. "The Central Bank should halt the current process of entering the realm of digital currency," said Deputy Ali Khezrian. 
Bitcoin has the advantage of being both a payment system and a store of value. It's a two-in-one. BRICS could start using it overnight. 
There's no need for stablecoins backed by gold. Who would be responsible for the gold supposed to back these stablecoins? China? Can we guarantee that China won't pull a 1971 move again? 
It would be a shame not to consider the Bitcoin Standard. And maybe Russia is secretly considering it, judging by recent remarks from Anatoly Aksalov, a member of the State Duma: 
"Exchanges will be used for cross-border settlements, including bypassing sanctions restrictions, so new restrictions may be introduced against them. At the same time, other organizations will constantly be able to appear."
Stablecoin, CBDC, gold, a complicated system backed by several commodities? Or simply the stateless Bitcoin as the international reserve currency?
Receive a summary of the news in the world of cryptocurrencies by subscribing to our new daily and weekly newsletter service so you don't miss any of the essentials of Cointribune!
Bitcoin, geopolitical, economic and energy journalist.
DISCLAIMER
The views, thoughts, and opinions expressed in this article belong solely to the author, and should not be taken as investment advice. Do your own research before taking any investment decisions.