WineTV ICO: Why invest in wine streaming?
Tue 30 May 2023 ▪
5
min of reading ▪ by
Invest
▪
Invest
A new player has emerged in the world of streaming platforms. It offers a generous catalog dedicated to wine lovers and spirit enthusiasts, with a wide range of video content exclusively focused on the wine industry. The initiative comes from the independent producer E-Studi'OZ. Join us as we explore BlueWine and the reasons to support the WineTV token's ICO.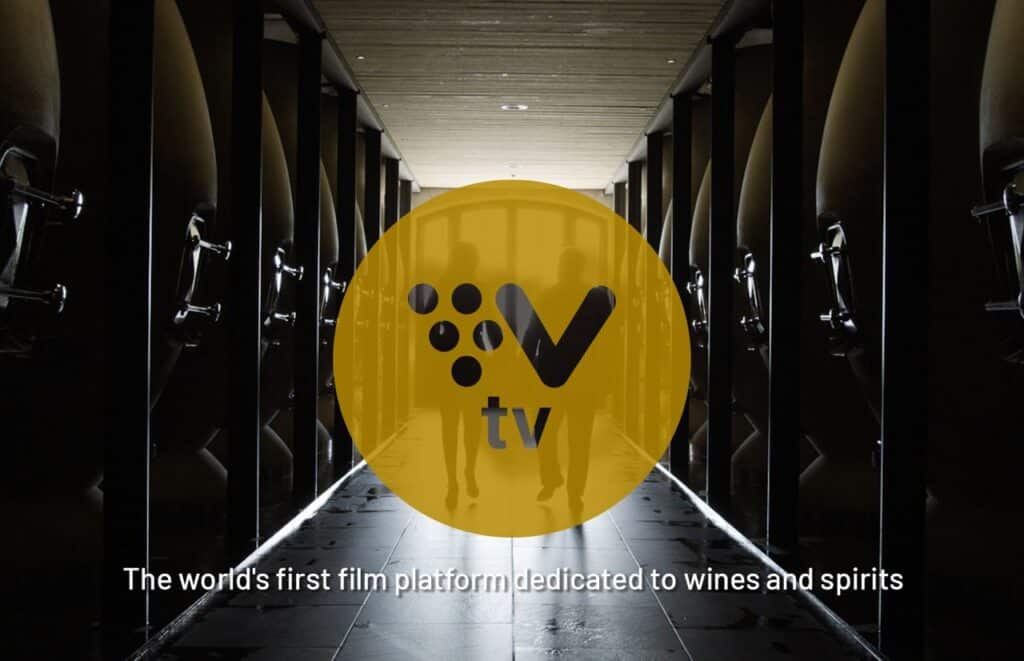 E-Studi'Oz: 100% Dedicated Wine and Spirits Streaming
Created in January 2023 by E-Studi'Oz, the independent production company specializing in wine and spirits content, BlueWine is a revolution in the world of thematic streaming. 
It marks the first time that a platform exclusively dedicated to the distribution of wine and spirits-related content has made its debut. BlueWine will offer its audience hundreds of films, documentaries, reports, and more, all centered around the theme of wine and spirits.
As pointed out by Gérard Spatafora, co-founder of E-Studi'Oz SAS, while enthusiasts from various fields have access to thematic streaming platforms, there isn't one truly dedicated to wine and spirits. Similarly, the few wine-related contents available on major platforms are difficult to find amidst the vast sea of videos.
Now, wine enthusiasts will have the opportunity to immerse themselves in a universe entirely devoted to their passion, exploring landscapes, terroirs, grape varieties, and stories told by individual and family producers from all over the world. 
These diverse formats of content form a rich catalog that will be accessible through subscription or on-demand. Gone are the days of scouring dozens of websites in search of wine-related content. Simply visit BlueWine, and like a mini search engine, you'll find everything you're looking for.
However, BlueWine does not plan to remain exclusively focused on video content about wines and spirits. The platform also aims to contribute to the dynamism of the industry by stimulating the creation of creative content on the subject. 
BlueWine wants to actively participate in the production and financing of original content. The numerous offerings currently available are designed to generate excitement around the projects and expand the community of passionate individuals supporting the venture.
The team's objective is to bring together all wine and spirits enthusiasts, including film producers, on a single platform to create hype around wine and introduce its richness to others. And for that, the founders of E-Studioz are wasting no time.
Investing in BlueWine: 10 million WineTV tokens at €0.15
To finance the development of their project, E-Studi'Oz launched an Initial Coin Offering (ICO) on April 24, 2023, in Bordeaux, simultaneously introducing their native token named "WineTV." Through this token, investors can actively engage in the project and co-produce nearly 10 original pieces of content annually.
The token has been deployed on the BNB Chain, the multichain blockchain created by Binance. The founders aim to raise €1,500,000 in crypto tokens. The fundraising campaign was launched through IBEx Launchpad.
Investment will be made through crowdfunding. A total of 10,000,000 tokens have been released to the market, with a unit price of €0.15. 
The company has prepared an exclusive offer for this initial token sale, called "TRUST PACK", which involves holding the purchased tokens in a "long" account on IBEx to benefit from a 100% increase in the initial number of WineTV tokens acquired.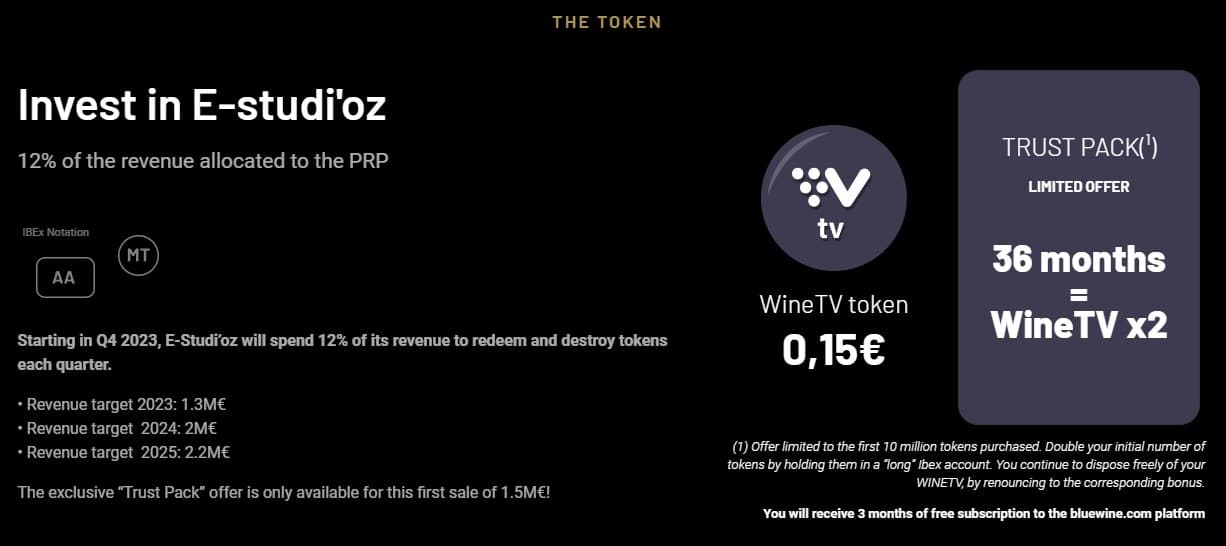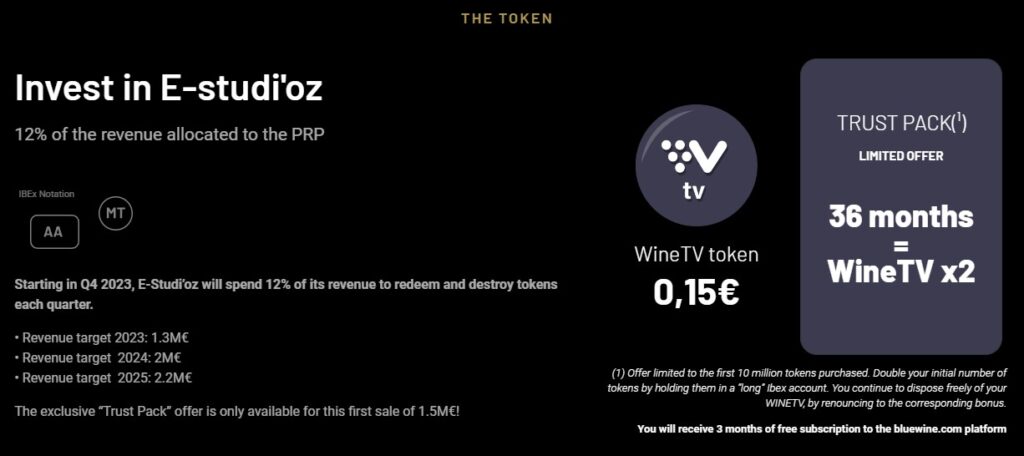 Quarterly burn to boost the price of WineTV token
According to Gérard Spatafora, co-founder of E-Studi'Oz SAS, the company has implemented a Permanent Buyback Program, allocating 12% of its expected revenue of €1.3 million in 2023, which amounts to a potential of €156,000.
The purpose of this burn is to gradually reduce the volume of tokens in circulation on the market and, through the principle of scarcity, increase the price of the token to create value for investors.
Conclusion
Through BlueWine, E-Studi'Oz aims to fill a glaring gap in the streaming platform market for enthusiasts. Indeed, according to statistics, there are 384 million people who consume wine and spirits at least once a week. The company aims to achieve a revenue of €1.3 million by the end of 2023. If this ambitious project interests you and you want to participate in the ICO, visit the WineTV website for more information.
Maximize your Cointribune experience with our 'Read to Earn' program! Earn points for each article you read and gain access to exclusive rewards. Sign up now and start accruing benefits.
L'équipe éditoriale de Cointribune unit ses voix pour s'exprimer sur des thématiques propres aux cryptomonnaies, à l'investissement, au métaverse et aux NFT, tout en s'efforçant de répondre au mieux à vos interrogations.
Disclaimer:
The contents and products mentioned on this page are in no way endorsed by Cointribune and should not be construed as its responsibility.
Cointribune strives to provide readers with all relevant information available, but cannot guarantee its accuracy or completeness. Readers are urged to make their own inquiries before taking any action with respect to the company, and to assume full responsibility for their decisions. This article does not constitute investment advice or an offer or invitation to purchase any products or services.
Investing in digital financial assets involves risks.
Read more