Blockchain, your crypto and the world in 3 years
Mon 14 Aug 2023 ▪
9
min of reading ▪ by
Getting informed
▪
At the intersection of technology and finance, digital assets and blockchain are emerging as inescapable forces shaping our future. Indeed, from one sector to the next, these technologies are finding more relevant and innovative applications than ever before, promising a freer, more personalized future. But given current trends, what can we expect from the blockchain and crypto industry in the next 3 years? We've investigated the question for you.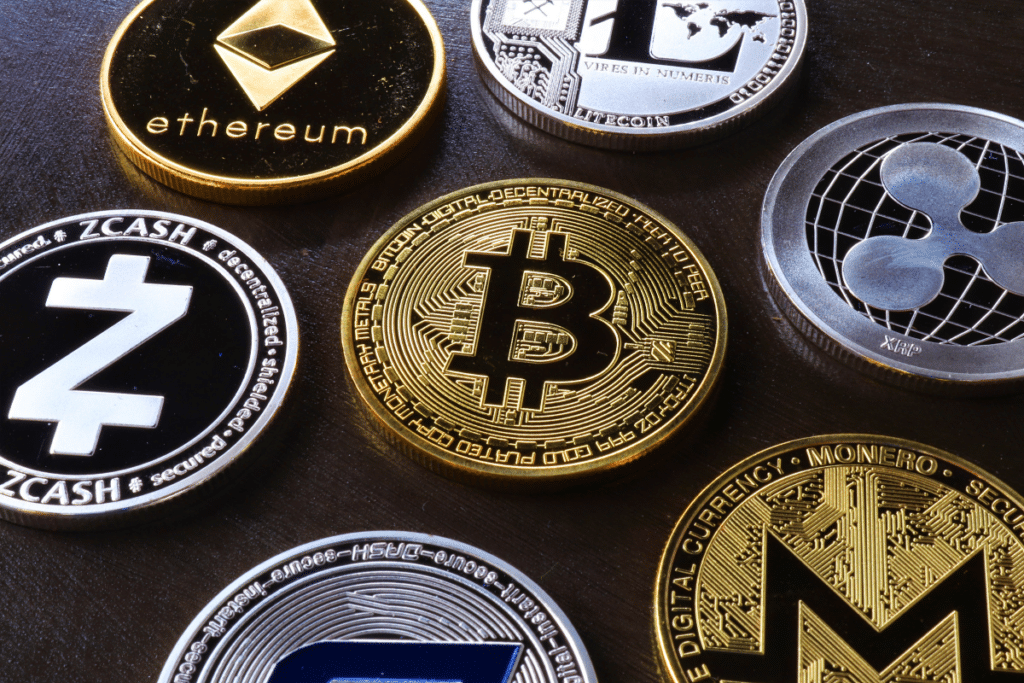 Crypto in 2025: Towards global domination or coexistence with fiat?
This is a fact. In a few years' time, paper money will be nothing more than an old, forgotten memory in economics textbooks. We won't just be talking about the dematerialization of fiat currency, since cryptocurrencies are already establishing themselves as an alternative to fiat. There's even reason to believe that it could soon become the new version of money.
In the USA alone, for example, we expect to see "tens of millions of crypto users by 2025", as CoinsPaid CEO Max Krupyshev asserts in a recent interview. But Max doesn't believe that the exponential growth in cryptocurrency use will only happen in the US.
He also believes that when it comes to crypto adoption, Asia has greater potential than the USA in the long term. At the same time, he notes that the African crypto market is growing so fast that we can expect a massive increase in adoption on this continent too from now until then.
Yet, crypto and blockchain have already changed the game in the international payments and transfers sector.
Cryptos and international transfers and payments
In one of his recent interviews, Marketing Director at DeFi Unizen, Brandon Dallman, highlighted the increasingly important role of cryptocurrencies in international transfers and payments.
Indeed, he believes that cryptocurrencies have significantly changed the mapping of the cross-border payments and remittances ecosystem, which was predominantly controlled by Western Union, Stripe and PayPal, which now has its own stablecoin.
This thesis on the influence of crypto is confirmed in the Web3 2023 Barometer, a survey conducted by Deloitte SAS in January 2023. The survey involved online questioning of around one hundred companies located in France, employing between less than 10 and over 5,000 people and operating in a dozen traditional business sectors.
30% of the companies surveyed said they had turned to cryptocurrencies to make international transfers and payments due to the relatively high cost of these foreign currency transactions. The most widely used cryptocurrencies include ETH, stablecoins and BTC, with stablecoins preferred for transfers and ETH for payments.
Implementation of MiCA regulations: a new boost for crypto
The absence of crypto regulations has always been considered one of the obstacles to crypto adoption worldwide. If things are struggling to get off the ground in the US, this is far from being the case in Europe. Indeed, on April 20, 2023, the European Parliament adopted MiCa (Markets in Crypto-Assets), the European regulation on cryptoasset markets.
The adoption of the MiCA (Markets in Crypto-Assets) regulation by the European Parliament marked a decisive turning point in Europe's cryptocurrency regulatory landscape. Designed to provide a framework for the entire cryptoassets market, MiCA aims to establish a secure and transparent environment for investors and consumers.
The main aim of this regulation is threefold: to protect investors from potential risks, to ensure fair competition between cryptoasset market players, and to ensure the financial stability of the European Union. By establishing clear standards for cryptoasset issuers and service providers, MiCA seeks to eliminate the grey areas that have long surrounded the industry.
Since the adoption of MiCA, other regulatory initiatives have emerged to complement this framework. These new directives address specific challenges, such as the rise of DeFi platforms (decentralized finance) and the constant evolution of NFTs (non-fungible tokens).
MiCA's impact is not limited to investor protection. By providing a clear legal framework, Europe hopes to attract more cryptoasset innovators and entrepreneurs. The introduction of harmonized EU-wide regulation also facilitates cross-border transactions and strengthens Europe's position as a major hub for blockchain innovation.
With MiCA scheduled for implementation by the end of 2024, the European crypto industry is on the verge of a major transformation. The renewed confidence of businesses, institutions and individuals in cryptocurrencies is set to drive exponential growth in the European cryptoasset market over the coming years.
Recognizing the benefits of blockchain and cryptocurrencies
Today, there are countless use cases for blockchain in the world of finance, healthcare, supply chain, agriculture and more. The possibilities are manifold: the issuance of financial securities, the transfer of digital currency or other digital property titles, the programming and deployment of smart contracts, etc.
Cryptocurrencies and blockchain have therefore quite simply deconstructed the myth of the supremacy of the traditional financial sector. Unbanked or low-banked populations, startups without pledges, businesses unable to meet the conditions to benefit from facilities, financial products and traditional banking financial services, etc. can now bypass the system's obstacles.
For example, several startups are now managing to raise huge amounts of funding through ICOs, which are innovative and unconventional new forms of financing, without having to turn to banks. In addition, its ability to collect, organize and secure information through the principle of cryptography, has enabled blockchain technology to offer a society and marketplaces without trusted third parties.
NFTS and the metaverse: the convergence of reality and the digital world
The concept of the metaverse, a parallel digital universe, is redefining the way we interact with the digital world. More than just a virtual space, it is seen as an extension of our reality, where the boundaries between the physical and the digital are becoming blurred.
NFTs (non-fungible tokens) play a crucial role in this evolution. As unique digital assets, they enable the authentication and monetization of virtual objects, works of art, land and even identities within the metaverse. These tokens guarantee the authenticity, ownership and rarity of the items they represent, offering tangible value in a virtual space.
A concrete example of this fusion is Lacoste's initiative to launch a virtual boutique, combining the traditional shopping experience with the exclusivity of NFTs for members of their loyalty program.
But the metaverse goes far beyond transactions and commerce. It offers unprecedented opportunities for education, entertainment, collaboration and socialization. Imagine attending a virtual concert, training in a digital classroom, or even exploring worlds created by other users. The possibilities are almost endless.
Major technology companies, aware of the potential of the metaverse, are investing heavily in its development. These investments are aimed not only at creating robust, immersive platforms, but also at establishing standards and protocols to guarantee an optimal user experience. As this new kind of virtual space continues to evolve, it's clear that it will play a central role in our digital future by 2025, offering us enriched experiences and redefining the way we interact with the digital world.
Conclusion
As we stand at the dawn of a new digital era, blockchain and cryptocurrencies are no longer mere technical terms, but pillars of our socio-economic future. Technological advances, coupled with appropriate regulation, are paving the way for mass adoption, redefining our relationship to money, property and the way we interact in virtual spaces like the metaverse. By 2025, we could well see these technologies go from "novelty" to "standard".
Receive a summary of the news in the world of cryptocurrencies by subscribing to our new daily and weekly newsletter service so you don't miss any of the essentials of Cointribune!
Diplômé de Sciences Po Toulouse et titulaire d'une certification consultant blockchain délivrée par Alyra, j'ai rejoint l'aventure Cointribune en 2019. Convaincu du potentiel de la blockchain pour transformer de nombreux secteurs de l'économie, j'ai pris l'engagement de sensibiliser et d'informer le grand public sur cet écosystème en constante évolution. Mon objectif est de permettre à chacun de mieux comprendre la blockchain et de saisir les opportunités qu'elle offre. Je m'efforce chaque jour de fournir une analyse objective de l'actualité, de décrypter les tendances du marché, de relayer les dernières innovations technologiques et de mettre en perspective les enjeux économiques et sociétaux de cette révolution en marche.
DISCLAIMER
The views, thoughts, and opinions expressed in this article belong solely to the author, and should not be taken as investment advice. Do your own research before taking any investment decisions.