MEXC Integrates SWIFT and Fedwire, Buy Crypto using USD
Tue 14 Jun 2022 ▪
3
min of reading ▪ by
MEXC clients from the U.S. and Canada can, for the first time in four years, make direct USD fiat deposits via SWIFT and Fedwire transfer, an announcement on June 8, 2022, reveals. This follows the launch of the Global Bank Transfer Program implemented on June 7, 2022, from 1300 hrs UTC.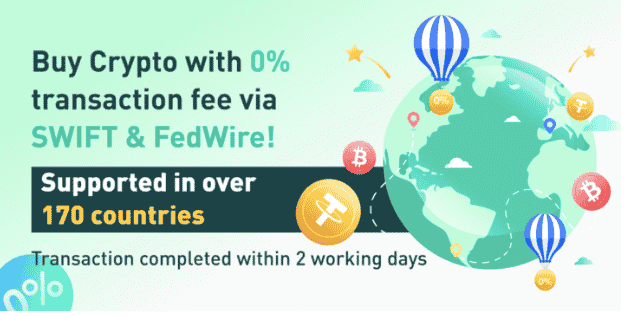 The announcement is a welcomed relief for MEXC traders and investors in the U.S. and Canada who, before this launch, had to incur additional transaction fees and higher exchange rates. However, following this activation of the Global Bank Transfer Program, it will be incredibly easier for users to make direct fiat deposits into their MEXC account faster and, most importantly, without paying extra fees. MEXC clients who wish to make direct USD deposits must submit their banking and personal details as part of KYC. 
This advantage stems from the global presence of SWIFT, whose network is used by over 11,000 financial institutions, including all major global banks. SWIFT has been a choice settlement layer for over 40 years for banks and many payment processors. Its integration to enable fluid and cheap fiat transfer between enablers of cryptocurrency, an emerging industry revolutionizing finance, is a massive endorsement of the underlying technology. On the other hand, Fedwire provides a reliable and secure real-time gross settlement layer for Federal Reserve banks in the U.S. to move central bank money. 
The Global Bank Transfer Program launch is also a massive milestone for MEXC clients in over 170 countries besides the U.S. This support would significantly enhance the ramp's user experience. According to the exchange, traders and investors can now buy their preferred digital assets, including Bitcoin and DeFi tokens, with zero transaction fees. All transfers would be settled in less than two days, providing a convenient route for crypto enthusiasts eager to participate and become part of the global crypto movement.
MEXC is a global exchange whose services are accessible by all users, including those in the U.S. and North America. Their integration of SWIFT and Fedwire is strategic. It allows the exchange to have a global presence and fast-track crypto adoption by delivering a smooth, seamless, and efficient trading experience. Complementing this feature are the exchange's unparalleled levels of liquidity, a long list of supported digital assets and pairs, and irresistible promotions and reward programs. Besides crypto spot trading, MEXC also supports exciting derivatives products, permitting Margin, Futures, and ETF trading.
Maximize your Cointribune experience with our 'Read to Earn' program! Earn points for each article you read and gain access to exclusive rewards. Sign up now and start accruing benefits.
Lorsque j'ai commencé à travailler dans la crypto en 2017, 95% des gens ne savaient presque rien à ce sujet. À vrai dire, peu de choses ont changé depuis. Cependant, il semble y avoir une lumière au bout du tunnel, et je tiens à l'opportunité d'y être impliquée
DISCLAIMER
The views, thoughts, and opinions expressed in this article belong solely to the author, and should not be taken as investment advice. Do your own research before taking any investment decisions.