OVR Land Map: The Most Detailed 3D Map of the Real World With NFTs
Wed 17 Nov 2021 ▪
5
min of reading ▪ by
The OVR AR Metaverse is finally upping its game. The Italian company OVR has announced the creation of its next big thing – the OVR Land Map.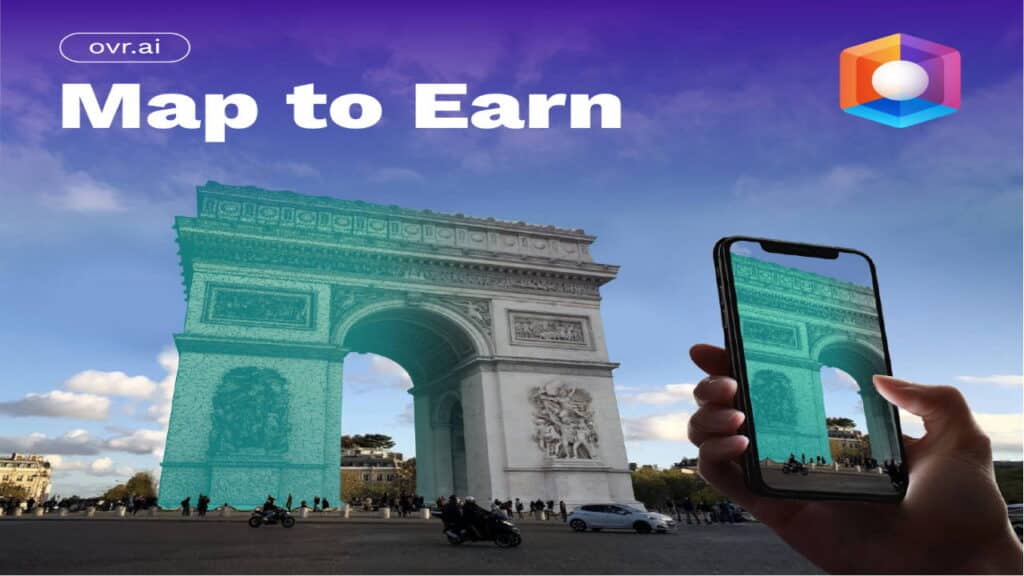 OVR Land Mapping: taking the metaverse to a new level
One major feature OVR can boast is that it can generate a full-blown 3D map of the physical world starting from nothing but simple images, all thanks to the powers of AI. No need to use lidar or other expensive hardware. All it takes is the smartphone you have in your pocket. Every single OVR user can now become a valuable contributor to creating the biggest and the most detailed 3D map of the world yet.
This groundbreaking core of open mapping tech is about to take the OVR AR Metaverse to a whole new level. At the moment, when locating an AR asset in OVRLand, there's a GPS accuracy limitation that has meters of error outdoors while being completely unreliable indoors; a scanned piece of OVRLand will have a geolocation precision of up to 10 cm.
A brand-new type of AR experience
That opens up a whole new realm of opportunities for creating AR experiences that previously were not technically feasible. These include localising experiences on a specific wall or a statue outdoors, superimposing AR onto existing buildings with precision and geolocating assets indoors across multiple floors, to name just a few. No other platform, neither on the blockchain nor in the real world, currently boasts these features.
But it's not just about AR precision and bridging the gap between the physical and the digital; it's also about creating entire new economies based on OVR.
Take Axie Infinity, for example, the undisputed #1 case study of play-to-earn done right. It allowed countless players worldwide to make a living entirely within the Metaverse while also building up an atmosphere of social inclusion among some of the poorest populations on the planet.
With its state-of-the-art technology, OVR will unleash the potential of Map-to-Earn so that anyone with a smartphone in their pocket can become an OVRLand Scanner and earn OVR tokens by simply scanning the world around them.
OVR's amazing infrastructure
As for the funding of the project, it will come from three sources: from the revenues from OVRLand sales, from OVRLand owners that will decide to make their OVRLands even more valuable and usable by enhancing them with 3D mapping, and finally, from institutions that will harness the OVR platform to populate the Public Utility Layer of their territories.
Over the last year, treasure hunters physically visited over one million locations to collect the tokens, which would translate into 300,000 square kilometres of mapped area!
But that's not all. Another important question to ask here is: what parts of the world should be mapped?
As you would expect, OVR has an answer. 
OVRLand buyers generated a map based on "Wisdom of the Crowds", where 6k+ investors vote with their wallets on what locations are most important.
Here's what Davide Cuttini, CEO of OVR, says about the future of AR Metaverses:
"When I imagine a world where reality and virtuality are fused, where thanks to small contact lenses I can't distinguish real and unreal projections, the crowdsourced 3D world scanning is the fundamental brick to create an amazing new infrastructure. Without the complete understanding of the real world through AI models available from commodity devices, no AR platforms will see a real adoption. I think that OVR is in the right direction to democratize access to this amazing new way to live our lives!"
If any of the above has tickled your interest and you think you'd like to participate in this global movement, make sure to sign up to get an exclusive offer on your next OVRLand purchase! 
Maximize your Cointribune experience with our 'Read to Earn' program! Earn points for each article you read and gain access to exclusive rewards. Sign up now and start accruing benefits.
Derrière la signature générique « Rédaction CT » se trouvent de jeunes journalistes et des auteurs aux profils particuliers qui souhaitent garder l'anonymat car impliqués dans l'écosystème avec certaines obligations.
DISCLAIMER
The views, thoughts, and opinions expressed in this article belong solely to the author, and should not be taken as investment advice. Do your own research before taking any investment decisions.