Crypto, FTX Trial: A $10 Billion Bankruptcy We Won't Forget Soon!
Wed 04 Oct 2023 ▪
6
min of reading ▪ by
Getting informed
▪
Centralized Exchange (CEX)
Before November 2022, no one expected the American crypto exchange FTX, valued at over $32 billion, to meet such a tragic end. Colossal losses for the company, its creditors, and its founder Sam Bankman-Fried, investments worth thousands, if not hundreds of thousands, of dollars lost for its creditors (including individuals and institutions), plummeting cryptocurrency prices (Bitcoin, Ethereum, etc.). The toll is heavy. Now that the fallen young CEO of FTX is summoned to court to answer for his actions, we share some details that will send shivers down your spine.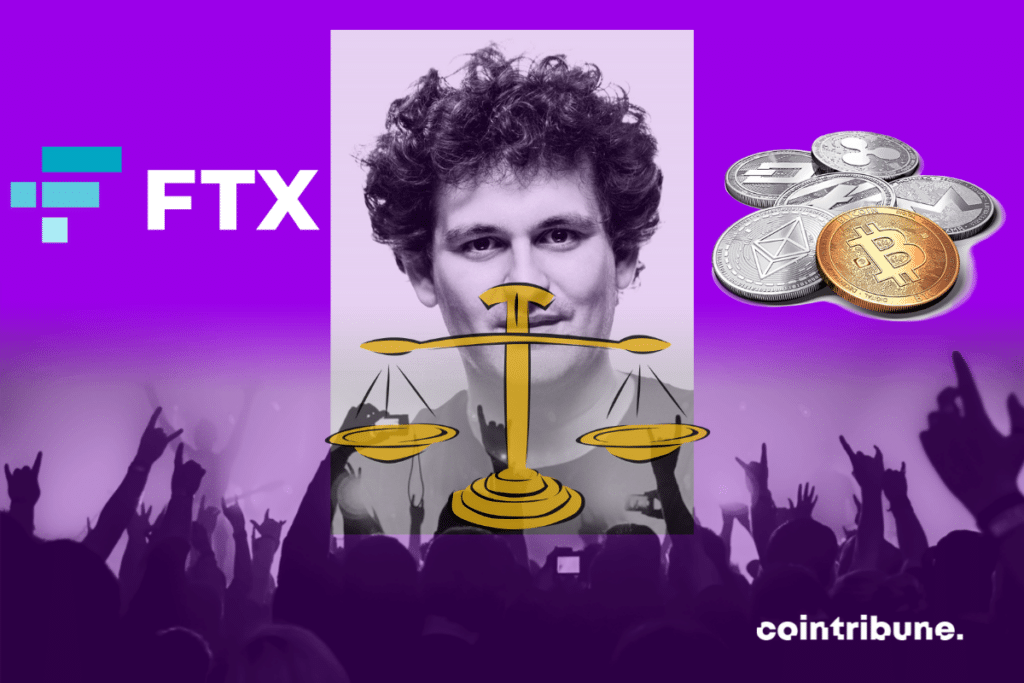 FTX, the Biggest Crypto Scam of the Century?
A crypto scam like no other. Do you remember Bernard Madoff, the man who swindled the world's largest financial institutions out of $65 billion in 2008? The world was in shock when his Ponzi scheme was exposed.
Sam Bankman-Fried, a young man who looked like a student and headed the world's second-largest crypto exchange, behind Binance, pulled off the same trick 14 years later. Crypto media didn't hesitate to draw parallels between the two scammers once the news broke.
Tens of billions of dollars in losses were reported immediately after FTX's fall. About $10 billion, to be more precise, including liquid and illiquid assets. In this crypto storm, the crypto holdings of creditors (wealthy investors, companies of all kinds, retail investors, etc.) went up in smoke. It's said that nearly 130 companies, including Alameda Research, collapsed in the aftermath.
At the same time, FTX's market value (FTT), estimated at $32 billion earlier in the year, plummeted drastically. Similarly, the total crypto market value plunged: the $3 trillion mentioned in November 2021 turned out to be a mere mirage after SBF's exchange collapsed.
Whose Fault Is It?
For now, the blame for this crypto disaster falls on this pampered Palo Alto kid, Samuel Bankman-Fried. His escapades (naming of sports infrastructure, lavish advertising spending, financial support for Democratic candidates, buying various luxury goods, etc.) didn't go unnoticed in the crypto community.
However, young Sam didn't hesitate to point the finger at others for FTX's downfall. Among others, he mentioned Changpeng Zhao (CZ), his eternal rival, who he claimed engaged in unfair competition to monopolize the crypto market. Our colleagues at Cointelegraph published an article detailing these mutual accusations on the day of FTX's collapse.
SBF also mentioned other names among his inner circle, such as Caroline Ellison, his ex-girlfriend and former CEO of Alameda Research. Her name is constantly circulating in court.
But given how things are evolving, the court dealing with the FTX case will not hesitate to summon Sam Bankman-Fried's parents, Barbara Fried and Joseph Bankman. Both are indeed involved in the launch of the native FTT crypto.
The U.S. Securities and Exchange Commission (SEC) has not escaped criticism in this earthquake. Supposed to constantly oversee the evolution of financial markets, this institution allegedly failed in its role as a watchdog. The U.S. Congress has called for an investigation into Gary Gensler and his team's failure to exercise due diligence.
The list could get longer. We are merely waiting for the outcome of the FTX case to hope for the beginning of compensation for the unfortunate victims.
FTX Case, Trial of the Crypto Prince Ongoing
Like his elder Bernard Madoff, Sam Bankman-Fried was arrested after a confirmed Ponzi scheme. For the ousted CEO of FTX, it took a few months before the trial began.
According to CoinDesk, SBF's trial in the Southern District of New York's trial court, presided over by Judge Lewis Kaplan, began yesterday. However, on the same day, there was a problem with the composition of the jury. The court had to review its list of jurors, which consisted of about sixty people.
For the rest of the trial in one of the biggest crypto frauds in history, Judge Kaplan will have to select twelve jurors and six alternates. The selection process is based on religious beliefs, physical handicaps, etc.
Other crucial points regarding the FTX case: the young Sam Bankman-Fried is not facing the death penalty, notes the judge. Also, he won't appear in this court with handcuffed hands. Although he no longer resides in his parents' luxurious Palo Alto mansion and is currently in a cell at the Metropolitan Detention Center in Brooklyn, he is not deprived of comfort during his trial. It was even reported that he arrived at the mini courtroom with a laptop.
Maximize your Cointribune experience with our 'Read to Earn' program! Earn points for each article you read and gain access to exclusive rewards. Sign up now and start accruing benefits.
La révolution blockchain et crypto est en marche ! Et le jour où les impacts se feront ressentir sur l'économie la plus vulnérable de ce Monde, contre toute espérance, je dirai que j'y étais pour quelque chose
DISCLAIMER
The views, thoughts, and opinions expressed in this article belong solely to the author, and should not be taken as investment advice. Do your own research before taking any investment decisions.