Ripple joins forces with AWS for an unprecedented revolution
Tue 15 Aug 2023 ▪
3
min of reading ▪ by
▪
Payment
The sun rises on a new era of financial transactions. As the winds of change blow across the banking sector, Ripple and AWS are poised to launch an unprecedented revolution. The alliance of these two powerhouses heralds a metamorphosis of the monetary landscape, promising to revolutionize the way we send, receive and think about money.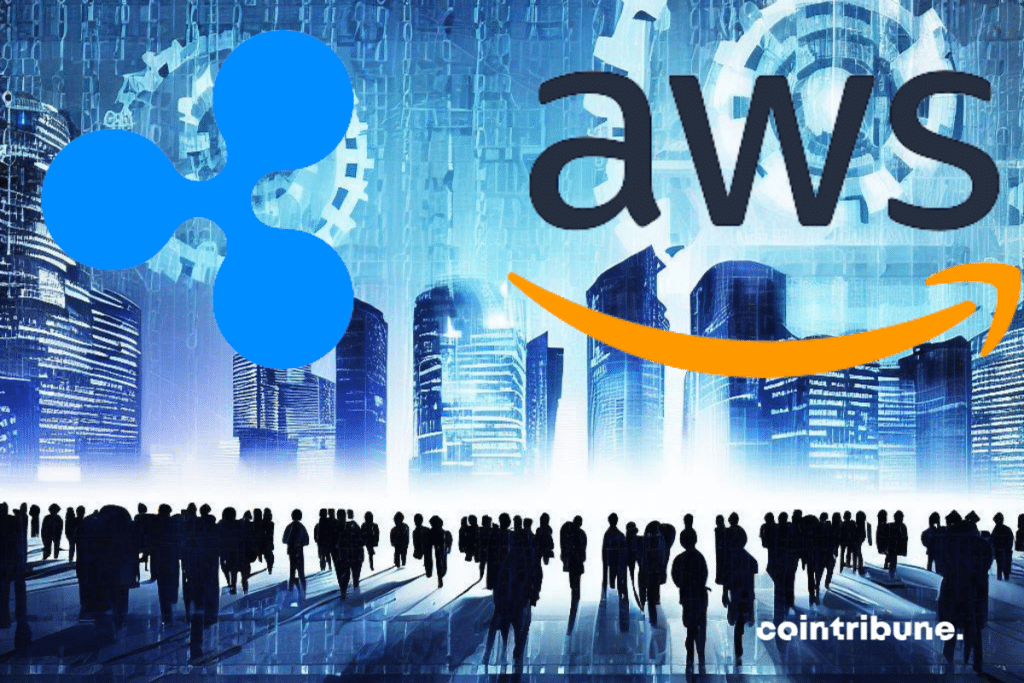 The RippleNet symphony orchestra
While Ripple is going through legal turbulence with the SEC, its determination to expand remains unwavering. This attitude is a testament to its strategic vision. In the face of challenges, its resilience never ceases to impress.
Like a symphony in which each instrument plays a harmonious melody, RippleNet brings together a decentralized network of banks and payment providers. With its distributed financial technology, it offers real-time messaging and clear, rapid transaction settlement.
Flagship products such as xCurrent enable banks to distinguish themselves by offering innovative cross-border payment services. These tools also help to reduce their costs.
Imagine a river whose course adapts to the twists and turns of difficult terrain: that's what xCurrent does, integrating seamlessly into banks' existing infrastructures.
As for xRapid, it offers financial institutions a liquidity lifeline. Where emerging markets often require pre-funded accounts in local currency, resulting in high liquidity costs, xRapid, like an alchemist, uses XRP to transform these costs into competitive advantages.
The promise of a titanic alliance
Beyond RippleNet, it is the association with AWS that promises to breathe new life into global transactions. This partnership evokes the image of a majestic bridge linking two technological continents.
AWS offers power and reach. For its part, Ripple focuses on flexibility and innovation. Together, they could create revolutionary solutions. For example, xVia stands out for its simplicity. It provides businesses with transparent international payments.
On the horizon, a new dawn is breaking. Over 100 financial institutions have joined RippleNet, from Santander in the USA to Siam Commercial Bank in Thailand. This figure is just the tip of the iceberg. With the support of AWS, Ripple plans to transform financial transactions. Indeed, it also aspires to redefine the norms of the digital age.
At the crossroads of technology and finance, this alliance between Ripple and AWS opens the door to a bright future, where every transaction becomes a note in a global melody of efficiency and innovation. It remains to be seen what other surprises these two titans have in store for us… The journey has only just begun, and Ripple is already breaking boundaries.
Maximize your Cointribune experience with our 'Read to Earn' program! Earn points for each article you read and gain access to exclusive rewards. Sign up now and start accruing benefits.
Fasciné par le bitcoin depuis 2017, Evariste n'a cessé de se documenter sur le sujet. Si son premier intérêt s'est porté sur le trading, il essaie désormais activement d'appréhender toutes les avancées centrées sur les cryptomonnaies. En tant que rédacteur, il aspire à fournir en permanence un travail de haute qualité qui reflète l'état du secteur dans son ensemble.
DISCLAIMER
The views, thoughts, and opinions expressed in this article belong solely to the author, and should not be taken as investment advice. Do your own research before taking any investment decisions.