Ripple vs. SEC: Here's what this legal battle is costing investors!
Mon 12 Jun 2023 ▪
3
min of reading ▪ by
▪
Invest
There's no doubt that the SEC lawsuits have cost the crypto firm Ripple a fortune. But what about the financial consequences of this case for XRP users and enthusiasts? That's the question addressed in a recent report by Valhil Capital.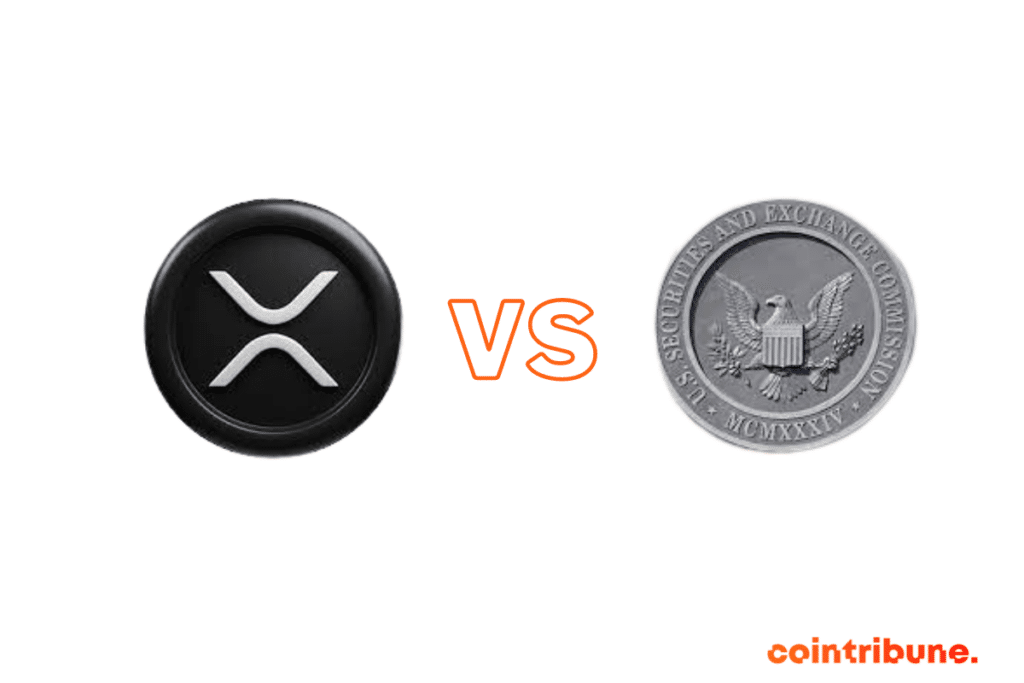 Investors, millionaires without SEC lawsuits?
Recently, the Ripple CEO revealed that around $200 million had been spent to defend the company against the SEC attacks. Apparently, Ripple isn't the only one losing funds in this lawsuit. The situation seems to be the same for XRP users, Ripple's native cryptocurrency.
The big question so far has been about the actual financial loss suffered by the users. In a study spanning almost two years, the investment firm Valhil Capital provides some answers. These answers show what the current market value of XRP would be if this lawsuit had never existed.
Valhil Capital estimates that XRP would be worth between $3,500 and $21,900 today. This conclusion is based on a set of six asset pricing models. The investment company believes that at the very least, one XRP would be worth $3,500. This is because the Ripple lawsuit would have hindered the adoption of their cryptocurrency.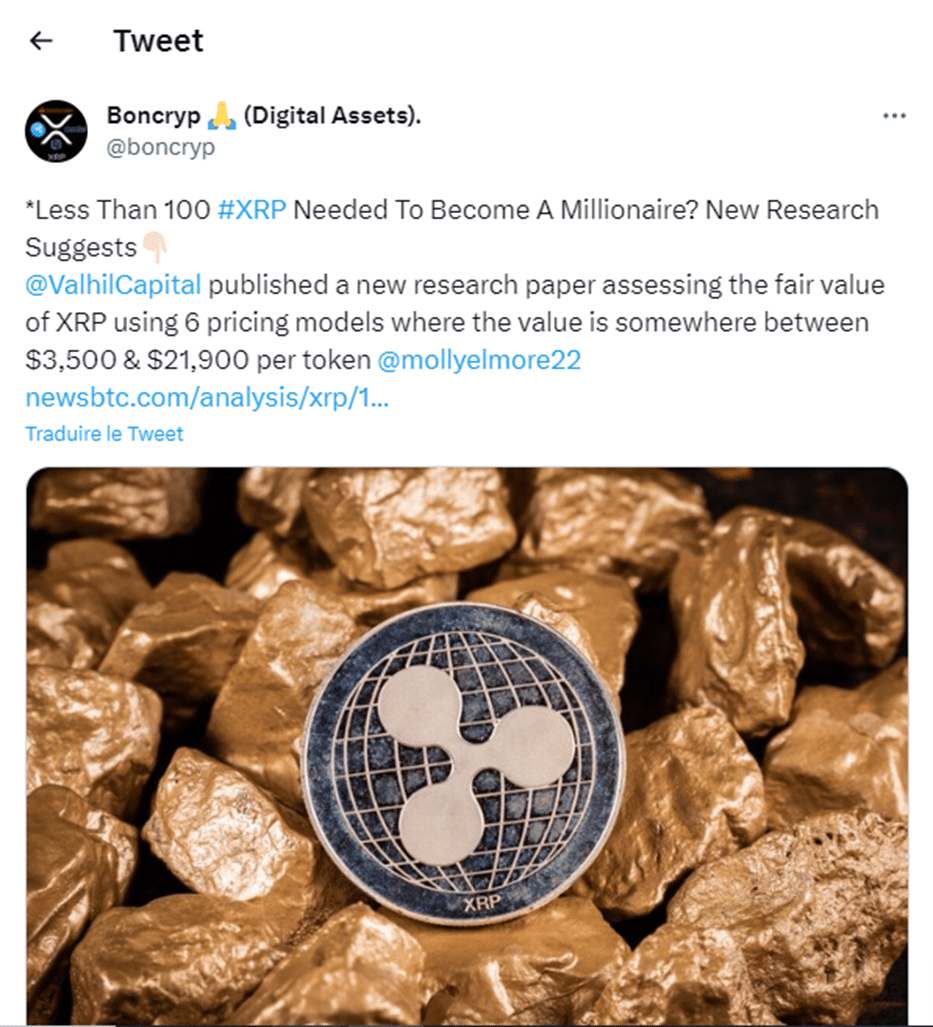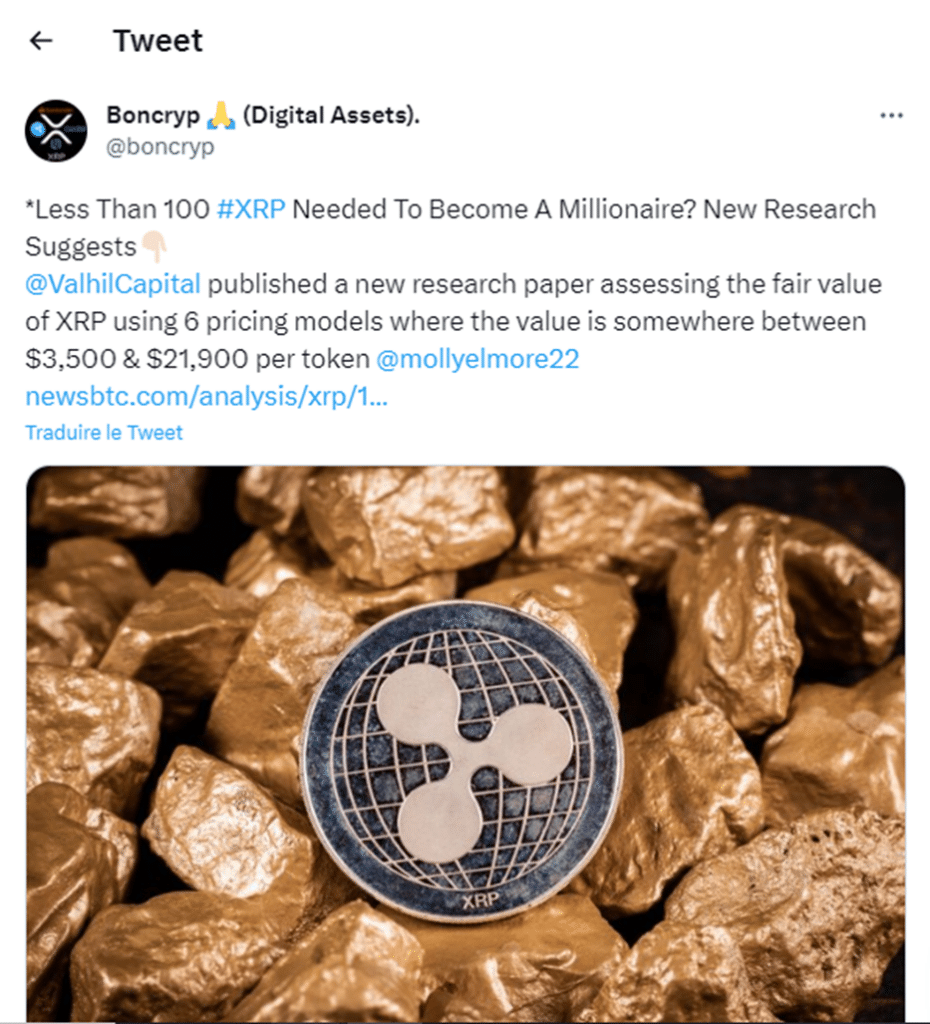 These findings suggest that a user would have needed to hold between 77.9 and 285.8 XRP to become a millionaire. These prospects may raise eyebrows but should be taken with caution. There's no guarantee that XRP would have gained the necessary enthusiasm to skyrocket in value, regardless of the lawsuit.
Furthermore, it's important not to forget that some optimistic projections about XRP have failed to materialize. In 2021, Jimmy Vallee, the founder of Valhil Capital, predicted that the asset would become a global reserve currency, contingent on public debt reaching unsustainable levels.
As of now, XRP is valued at $0.53, up 3.09% in the past 24 hours. Several analysts, including Kaleo, still expect its price to soar. However, this question remains highly controversial within the crypto analyst community.
Maximize your Cointribune experience with our 'Read to Earn' program! Earn points for each article you read and gain access to exclusive rewards. Sign up now and start accruing benefits.
Diplômé de Sciences Po Toulouse et titulaire d'une certification consultant blockchain délivrée par Alyra, j'ai rejoint l'aventure Cointribune en 2019. Convaincu du potentiel de la blockchain pour transformer de nombreux secteurs de l'économie, j'ai pris l'engagement de sensibiliser et d'informer le grand public sur cet écosystème en constante évolution. Mon objectif est de permettre à chacun de mieux comprendre la blockchain et de saisir les opportunités qu'elle offre. Je m'efforce chaque jour de fournir une analyse objective de l'actualité, de décrypter les tendances du marché, de relayer les dernières innovations technologiques et de mettre en perspective les enjeux économiques et sociétaux de cette révolution en marche.
DISCLAIMER
The views, thoughts, and opinions expressed in this article belong solely to the author, and should not be taken as investment advice. Do your own research before taking any investment decisions.