Cardano revolutionizes smart contracts with Marlowe
Fri 02 Jun 2023 ▪
3
min of reading ▪ by
▪
The revolution of smart contracts is right at our doorstep with Marlowe, an innovation by Cardano (ADA). This domain-specific language (DSL) aims to democratize access to contracts and financial agreements without the need for programming expertise. Marlowe's first steps on the Cardano mainnet herald a promising future for smart contracts.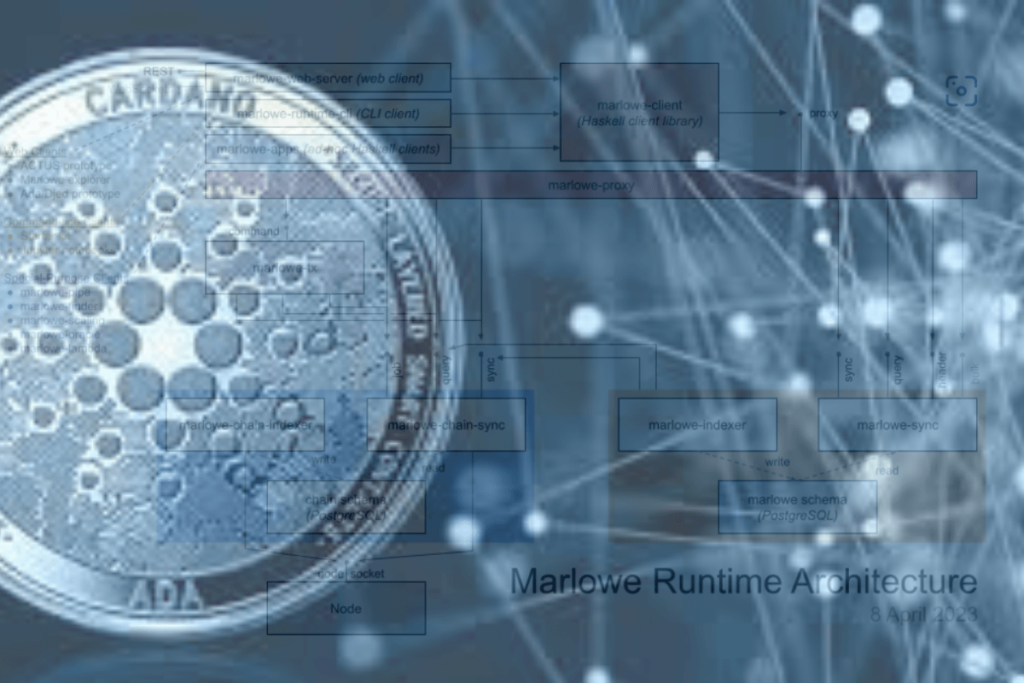 Marlowe: A security-oriented design
Cardano continues to make waves in the crypto ecosystem, not only positioning itself as a serious alternative to Bitcoin's Ordinals but also paving a new path for smart contracts.
It doesn't stop at just proposing a superior ecosystem. In fact, with Marlowe, Cardano seeks to revolutionize the realm of smart contracts. The objective? Promoting accessibility to a wider audience.
Marlowe, born out of rigorous internal and external audits, stands out with its emphasis on security. Leveraging the power of Plutus, Marlowe provides robust guarantees through formal proofs, testing, and analysis tools.
This focus on security, fundamental in Marlowe's design, promises a serene and reliable use of smart contracts.
The simulation environment, Marlowe Playground, adds an extra layer of security. It allows users to test their contracts before deploying them with real funds on the mainnet, thereby enhancing users' trust in this new tool.
Unprecedented accessibility and efficiency
With Marlowe, accessibility is no longer a pipe dream but a reality. Thanks to a range of tutorials, guides, and best practices, Marlowe proves to be accessible to everyone.
Furthermore, its compatibility with JavaScript and Haskell greatly facilitates the integration of smart contracts into DApps.
Moreover, Marlowe's efficiency is enhanced by its reusable contract models and seamless integration with the Marlowe Runtime API. These features make Marlowe a valuable tool for developers looking to build within the Cardano ecosystem.
The deployment of Marlowe on the Cardano mainnet marks the beginning of a new era for smart contracts. With a comprehensive toolkit for creating, deploying, and monetizing smart contracts, Marlowe emerges as an essential choice for the Web3 community and blockchain newcomers.
As it evolves, IOG invites developers to provide feedback to make this tool even more efficient and accessible, marking the rise of a fruitful collaboration in the field of smart contracts on the Cardano blockchain. These advancements have significant implications for Cardano, with its Total Value Locked (TVL) skyrocketing.
Receive a summary of the news in the world of cryptocurrencies by subscribing to our new daily and weekly newsletter service so you don't miss any of the essentials of Cointribune!
L'équipe éditoriale de Cointribune unit ses voix pour s'exprimer sur des thématiques propres aux cryptomonnaies, à l'investissement, au métaverse et aux NFT, tout en s'efforçant de répondre au mieux à vos interrogations.
DISCLAIMER
The views, thoughts, and opinions expressed in this article belong solely to the author, and should not be taken as investment advice. Do your own research before taking any investment decisions.